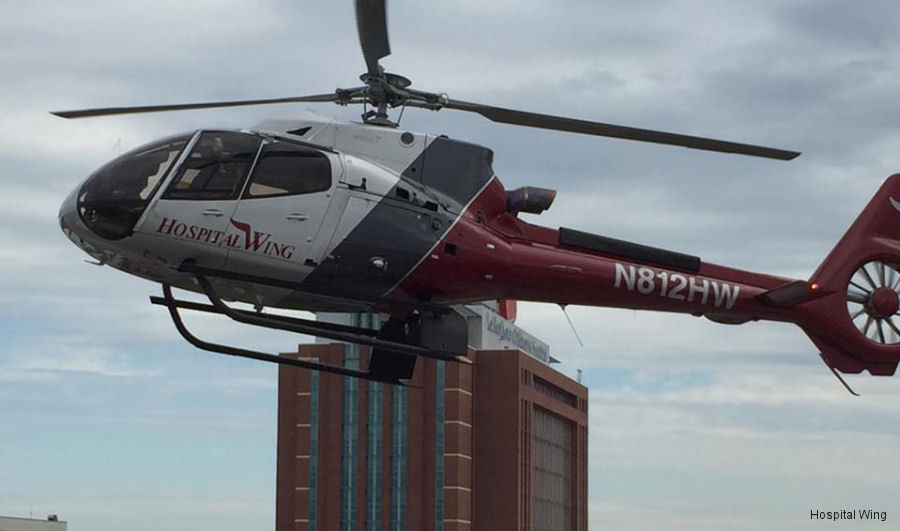 Airbus Helicopters, July 27, 2017 - Grand Prairie, Texas – Airbus Helicopters Inc. has delivered a new H130 to Hospital Wing, a Memphis, Tenn.-based nonprofit air medical transport service, which will join three H130s already in service.

The acquisition is part of Hospital Wing's long-term strategy to transition its entire fleet to this helicopter model. The nonprofit also currently operates three EC130B4s, which is an earlier model, in addition to three H125s.

"We chose to standardize on the H130 for its large cabin size, excellent safety features and strong service record," John Butora, CEO of Hospital Wing. "The H130 has really met our expectations and is the perfect fit for our mission."

Hospital Wing serves a consortium of Mid-South area hospitals. It operates from five bases, serving 27 hospitals and providing service to residents within a 250-mile radius of Memphis, which includes West Tennessee and parts of Arkansas, Mississippi, Missouri, Alabama and Kentucky.

Six of the nine helicopters are staffed 24 hours a day, seven days a week. Hospital Wing transports an average of 250 patients a month, 35 percent of whom are trauma patients.

"We're proud to support Hospital Wing as it continues to transition its fleet to the H130. The H130 is an economical, high-performance helicopter that allows medical operators to provide the highest quality care to critically ill and injured patients," stated Treg Manning, Vice President of Sales and Marketing for Airbus Helicopters Inc.

Airbus Helicopters H130 is considered the global reference for single-engine helicopter air ambulance missions. It has a wide, unobstructed cabin with large hinged and sliding doors for rapid loading and unloading of stretchers and allows medical personnel easy and unobstructed access to care for patients. The low interior sound levels and flat floor of the H130 provide a flexible cabin environment capable of accommodating up to three medical crew and specialty team equipment required to care for complex patients.

About Airbus: Airbus is a global leader in aeronautics, space and related services. Airbus contributes nearly $17 billion to the U.S. economy annually and supports more than 264,000 American jobs through its network of suppliers. In addition to corporate offices, engineering centers, training facilities, MROs and spare parts distribution centers, Airbus has manufacturing facilities producing commercial aircraft, helicopters and satellites throughout the U.S.

Hospital Wing
State of Tennessee
Airbus H130