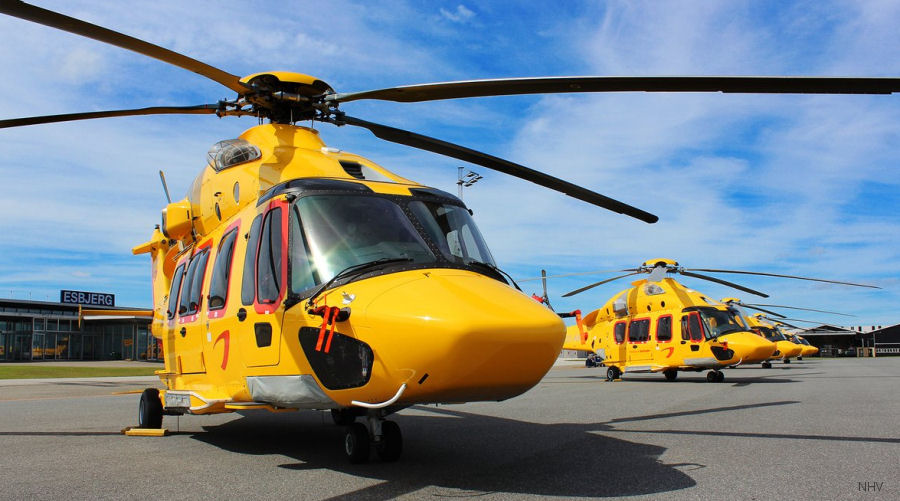 NHV, February 28, 2018 - NHV Group is pleased to announce that its H175 fleet has logged its first 20,000 flight hours.

This significant milestone proves this super-medium-sized rotorcraft's capabilities and reliability in highly demanding operations, especially the transportation of personnel and supplies to offshore oil and gas platforms.

The 20,000 hours have been accumulated by NHV's fleet of ten H175s. NHV was the global launching customer of this platform, whose first two aircraft entered into service in December 2014.

Since then the NHV fleet has expanded with an increasing number of H175s with the last helicopter - of the first batch of ten aircraft ordered in 2012 - delivered in October 2017. The deliveries of the remaining six aircraft, following a second batch confirmed by NHV in 2014, will take place in the coming years to broaden the company's capabilities.

"Being the launching customer and fleet leader for this aircraft, the H175 program was very remarkable for NHV so far. By quickly reaching the 20,000 hour mark and maximizing the helicopter's potential, we successfully positioned the H175 as the new standard for oil and gas missions. I am proud that, today, NHV is the only operator with a vast experience in flying this aircraft. We explicitly thank our valued customers, staff and Airbus Helicopters for being our partners in reaching this milestone," says Eric Van Hal, the CEO of NHV Group.

The H175's high level of reliability enables NHV to meet tight flight scheduling in the North Sea, thereby underscoring the aircraft's high level of maturity from service entry, as well as the suitability of associated services provided by Airbus Helicopters.

Initially operated from Den Helder, NHV gradually expanded H175 operations to other bases in the North Sea and West Africa, where the aircraft has accumulated experience and gained maturity. The aircraft is currently in operation in NHV North Sea bases of Den Helder (Netherlands), Aberdeen (Scotland) and Esbjerg (Denmark).

The H175 is designed to meet evolving mission needs in the oil and gas industry, offering outstanding performance and unmatched cost efficiency – with the capability of carrying a full payload to 90 percent of the North Sea's offshore installations. It also is well tailored for search and rescue in support of such off-shore operations, emergency medical services, public services, VIP and executive transport.
H175 in

NHV
NHV Celebrates 3 Years and 15000 Hours of H175