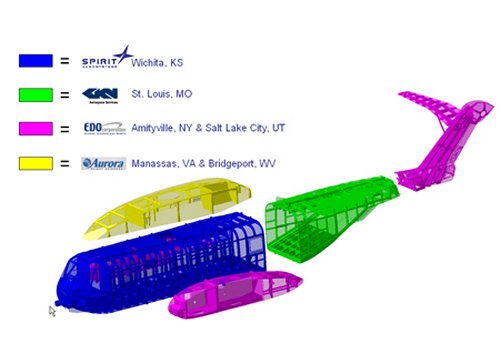 Sikorsky, May 09, 2007 - STRATFORD, Connecticut - Sikorsky Aircraft announced today that it has selected four subcontractors to design and fabricate the major fuselage sections for its new CH-53K heavy-lift helicopter currently under development for the United States Marine Corps. Sikorsky Aircraft is a subsidiary of United Technologies Corp.

Sikorsky's Fuselage Team will consist of Aurora Flight Sciences, EDO Corp., GKN Aerospace, and Spirit AeroSystems. They were selected following an extensive solicitation and evaluation of multiple bids over a 12-month competition.

"Sikorsky is pleased to welcome four new team members to the CH-53K helicopter program. This evaluation was one of the most complex undertaken by Sikorsky to date, and we are confident that the sources selected provide the best value and lowest risk for our Marine Corps customer. The combination of Aurora, EDO, GKN, and Spirit brings world class capability, experience and innovation to the CH-53K team," said Dave Haines, Sikorsky's CH-53K Program Manager.

These selected sources will design and manufacture the CH-53K primary and secondary structures. Sikorsky will conduct the integration and test program on the complete fuselage structure. The major subcontracted sections include the cockpit and cabin (Spirit), aft transition (GKN), tail rotor pylon and sponsons (EDO), and main rotor pylon (Aurora). The fuselage development program will employ the latest advanced design tools, manufacturing processes and materials.

Design will be conducted in a collaborative environment between supplier sites and Sikorsky's Heavy Lift Development Center using model management systems paired with Sikorsky data collaboration and knowledge management systems. Composite and titanium materials are being employed extensively to provide superior fatigue and corrosion durability at minimum weight. State-of-the-art manufacturing processes such as co-curing, automated part fabrication, super high speed machining, and determinant assembly are intended to make the structure very affordable.

Under the System Development and Demonstration (SDD) contract, Sikorsky is responsible for selecting and managing the subsystem suppliers. Other major subsystems recently awarded on the program include the engines, fly-by-wire flight controls, and electric power system. Additional major subsystem awards anticipated in the coming months will be for the secondary power system, landing gear, hydraulic, fuel, and drive systems.

The SDD contract is expected to lead to production of 156 CH-53K aircraft to replace the CH-53E SUPER STALLION™ helicopters currently in the Marine Corps' inventory.

The three-engine Sikorsky CH-53E SUPER STALLION is the largest, most powerful maritime helicopter in the world. It is deployed from Marine Corps amphibious assault ships to transport personnel and equipment, and to carry external (slung) cargo loads.

The CH-53K will maintain virtually the same footprint as the CH-53E but will nearly double the payload to 27,000 pounds over 110 nautical miles under "hot high" ambient conditions. The CH-53K's maximum gross weight will increase to 84,700 pounds from 73,500 pounds for the CH-53E.

The CH-53K also is expected to result in reduced operation and support costs. Upgrades include joint interoperable glass cockpit; fly-by-wire flight controls; fourth generation rotor blades with anhedral tip; low-maintenance elastomeric rotorhead; gross weight expansion; upgraded engine system; cargo rail locking system; external cargo handling improvements; and survivability enhancements.

Aurora Flight Sciences develops and provides robotic aircraft and other advanced aerospace vehicles for scientific and military applications. Aurora's advanced composite structures for the CH-53K will be designed and fabricated at the company's Virginia and West Virginia facilities. Aurora is headquartered in Manassas, Va., and operates production plants in Bridgeport, W.Va., and Columbus, Miss., and a Research and Development Center in Cambridge, Mass.

EDO Corp. is a high technology company that designs and manufactures advanced structures and equipment for the military, space, aviation, marine and industrial markets. EDO's advanced composite structures for the CH-53K will be designed and fabricated at business units in three states. The design and final assembly will be centered in Amityville, N.Y. The composite fabrication will be conducted predominantly in Salt Lake City, Utah, with select resin transfer molded (RTM) parts fabricated in Walpole, Mass.

GKN Aerospace is the aerospace operation of GKN plc, one of the world's largest engineering companies. GKN Aerospace has a turnover exceeding $1.3 billion and some 6,650 personnel employed in 24 Centres of Manufacturing Excellence around the globe. The company specializes in the supply of lightweight metallic and high performance composite structures, transparency systems and equipment, and engineering services to prime airframe manufacturers. The CH-53K program will be conducted at both the company's engineering facility in Nashville, Tenn., and manufacturing facility in St. Louis, Mo.

Spirit AeroSystems designs and builds fuselage, nacelles, and wing components for some of the best-selling commercial aircraft in the world, including the Boeing 737, 747, 767, and 777. Spirit also recently delivered the first production forward fuselage for the new all-composite 787 Dreamliner. Spirit has extensive capability in the management of integrated design, build, test, certification, procurement, and support programs on a global basis. The CH-53K program will be conducted from the company's state of the art engineering and manufacturing/tooling facility in Wichita, Kan.

Sikorsky Aircraft Corp., based in Stratford, Conn., is a world leader in helicopter design, manufacturing, and service. The company's long commitment to safety and innovation is reflected in its mission statement: "We pioneer flight solutions that bring people home everywhere...every time™." United Technologies Corp., based in Hartford, Conn., provides a broad range of high-technology products and support services to the aerospace and building systems industries.

This press release contains forward-looking statements concerning future business opportunities. Actual results may differ materially from those projected as a result of certain risks and uncertainties, including but not limited to changes in government procurement priorities and practices or in the number of aircraft to be built; challenges in the design, development, production and support of advanced technologies; as well as other risks and uncertainties, including but not limited to those detailed from time to time in United Technologies Corporation's Securities and Exchange Commission filings.
CH-53K King Stallion in

Sikorsky Helicopters - supplier


Aurora Flight Sciences

Spirit AeroSystems
State of Kansas

GKN Aerospace
Twenty-Two CH-53K in Production