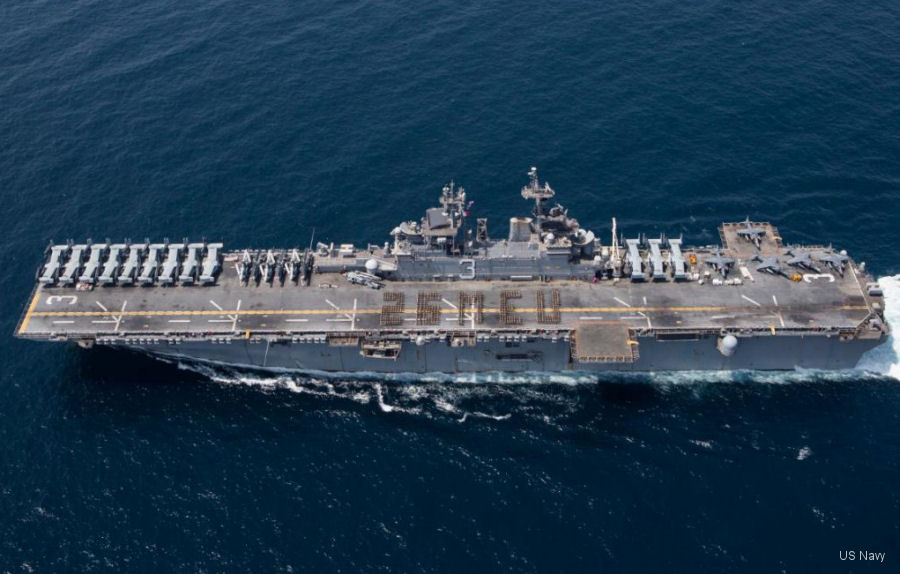 US Marine Corps, August 30, 2017 - MARINE CORPS BASE CAMP LEJEUNE, NC - Approximately 690 Marines from the 26th Marine Expeditionary Unit, II Marine Expeditionary Force, embarked aboard USS Kearsarge (LHD 3) as part of prudent preparatory measures in anticipation of future tasking to support relief efforts in the aftermath of Hurricane Harvey, Aug. 30, 2017.

If requested, the MEU's aviation and lift capabilities will include (8) MV-22B Ospreys, (3) CH- 53E Super Stallions and (3) UH-1Y Hueys.

Additional capabilities include water purification and storage, engineering, aerial reconnaissance and aid distribution.

In anticipation of future tasking, II MEF also alerted the Camp Allen Logistics Command team, which bolsters the II MEF logistics capability, and deployed a liaison/ planning team to Expeditionary Strike Group-2.

The Marine Corps can rapidly respond with air, ground and logistics assets when requested for Defense Support of Civil Authorities.

The 26th MEU stands ready and capable to provide assistance, in support to the Federal Emergency Management Agency, U.S. Northern Command, and state and local response efforts. If tasked with DSCA, the MEU's efforts will be in support of the lead federal agency and coordinated closely with state and local officials.

Marines conduct regular training and have gained real-world experience with Humanitarian Assistance/Disaster Relief from relief efforts across the globe.
Location :

Camp Lejeune


VMM-162

Marine Medium Tiltrotor Squadron 162
US Marine Corps

USS Kearsarge ( LHD-3, Wasp class )
Hurricane Harvey