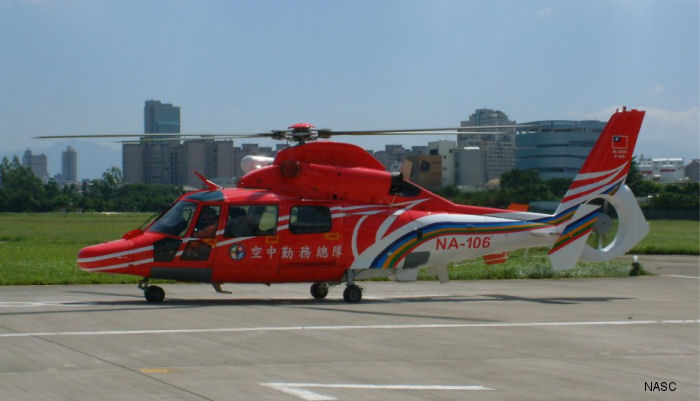 Airbus Helicopters, April 01, 2015 - Singapore - The fleet of 10 AS365 Dauphin rotorcraft operated by Taiwan's National Airborne Services Corps (NASC) will be covered by Airbus Helicopters' HCare Infinite Fleet Availability services under a five-year agreement valued at 54.5million Euros.

Providing an all-inclusive turnkey solution, HCare Infinite will provide NASC with a full fleet management service backed by an availability commitment across three bases in the country. Airbus Helicopters will perform all maintenance operations and manage end-to-end logistic needs, enabling NASC to concentrate on fulfilling critical flight missions in Taiwan. The service will be supported by Airbus Helicopters' connected services products, relying on Rusada ENVISION Maintenance Information Software.

"NASC is the first customer in Asia to take advantage of our newly-redefined services offer, which provides the most comprehensive coverage in the helicopter industry today," explained Derek Sharples, the Managing Director of Airbus Helicopters Southeast Asia in Singapore. "This builds on our long-standing relationship with NASC, during which Airbus Helicopters has delivered on its service commitments over the years – leading to the operator's choice for the new HCare Infinite package."

The HCare strategy is focused on providing tailor-made, competitive services for customers' daily operations, and is part of Airbus Helicopters' company-wide transformation that is delivering continuous improvement across its offerings.

"HCare is part of Airbus Helicopters' commitment to keeping its customers flying, anytime, anywhere – with the emphasis on safety, customer satisfaction and operational availability," said Matthieu Louvot, Airbus Helicopters' Senior Vice President Customer Service.

NASC is the Taiwan Interior Ministry's agency responsible for search and rescue, disaster relief, emergency medical services, transportation, monitoring, reconnaissance and patrol. Its AS365s are based in three locations across the country at Taipei, Taichung and Kaohsiung.

About HCare: Customer Service by Airbus Helicopters

HCare is Airbus Helicopters' redefined services offer, which emphasizes the company's commitment to service quality and performance and provides the rotorcraft industry's most comprehensive service coverage to keep customers flying, anytime, anywhere. HCare is the product of a company-wide transformation, and underscores a commitment to continuous improvement across the entire offer, bringing tailor-made and competitive services to the customers' doorstep. Airbus Helicopters remains 100% at the service of its customers, with:

- 100% of spare part orders planned at least 15 days in advance delivered on time
- 100% of customers to receive a visit from an Airbus Helicopters TechRep in 2015
- 100% around-the-clock availability for all customer support queries

Airbus Helicopters' HCare offer brings superior customer service support in 5 domains: Material Management, Helicopter Maintenance, Repair and Overhaul (MRO) and upgrades, Technical Support, Training & Flight Operations and Connected Services. As part of this commitment to constantly support customers around the world, HCare encompasses a new one-stop 24/7 customer support platform to manage all customer queries, accessible via the Keycopter customer portal, by telephone or by email. HCare also includes the January 1, 2015 introduction of enhanced warranty conditions covering 3 years or 2,000 flight hours, with the first year of labor included. This new warranty offer further emphasizes the company's no- compromise approach to the quality and reliability for its products.
AS365 Dauphin 2 in

Taiwan National Airborne Services Corps
Airbus Helicopters Southeast Asia

HCare
Airbus Helicopters France