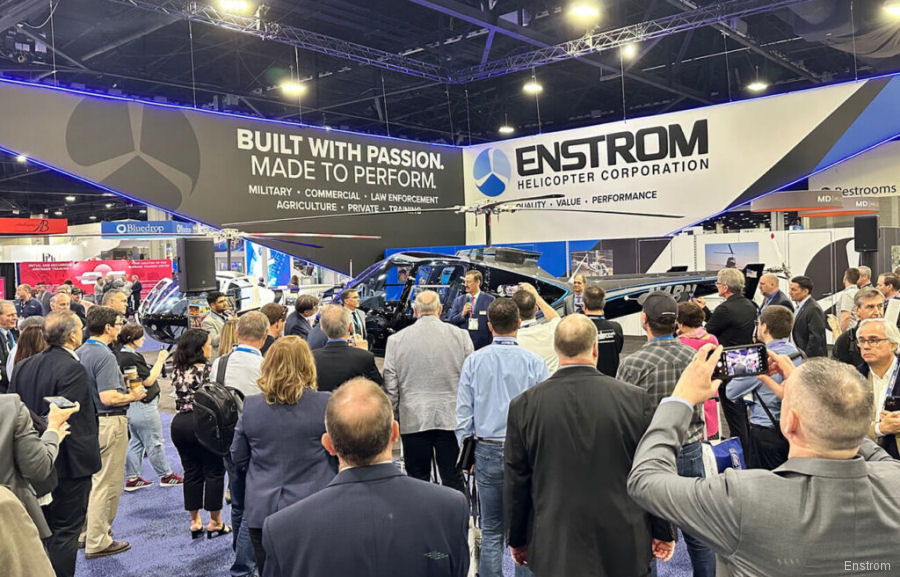 Enstrom, March 10, 2023
- Menominee, Michigan - Enstrom Helicopter is proud to announce that they have sold 12 helicopters at the HAI HELI-EXPO!
"We came into the show with some very high sales expectations, and we are thrilled with the results," said Dennis Martin, Vice President Sales & Marketing.
In addition to a new glass panel system available on both the 480B and 280FX models, Enstrom helicopters will also be equipped with a brand-new interior as well as having a signature paint scheme by the renowned artist Dean Loucks.
"I've meet with many people this week who have come to our booth expressing interest in our aircraft and even more who have said how happy they are to see that Enstrom's back and how excited they are that we're manufacturing helicopters again," said Chuck Surack, owner of Enstrom Helicopter.
The New Enstrom at HAI HELI-EXPO 2023

The annual event features networking opportunities and hundreds of education courses with more than 14,000 industry professionals.

A lot has changed for Enstrom since last year's HELI-EXPO. New, visionary ownership has brought about company-wide revitalization. We are ramping up production and reenergizing our current product line with new features we can't wait to tell you about.

"Enstrom is back and buzzing with activity," said Incoming President Todd Tetzlaff. "We are looking forward to sharing the latest on our progress and where we are headed with our customers and anyone else who is curious about the new Enstrom."

Todd will be on the show floor this week alongside our new Chief Operating Officer Adam Richardson and new owner Chuck Surack. We invite all HELI-EXPO guests to come and connect with Enstrom's new leadership team in booth C2820. Todd, Adam, and Chuck each share a contagious passion for helicopters, a passion that will prove instrumental in crafting Enstrom's next chapter.

Two of Enstrom's latest helicopter models will also be on display at our booth.


New RPM governor for Enstrom piston helicopters

Enstrom Helicopter Corporation is pleased to reveal the development of a new RPM governor for Enstrom piston helicopters. Designed to aid pilots in maintaining rotor RPM, the new governor uses a digital controller and fast-acting servo motor to accurately control RPM.

According to Bill Taylor, Enstrom's VP of Engineering. "The pilot can set the RPM anywhere in the green, and then beep it up and down within the allowable range, just like on a turbine helicopter. During autorotation training, it will automatically maintain the RPM just below the green. During the power recovery, it will quickly and reliably increase engine RPM and marry the needles, meaning the student and the instructor won't 'forget to roll the throttle back on', and the engine won't overspeed during recovery."

According to Enstrom's incoming CEO, Todd Tetzlaff, safety and convenience are what drove the design of the new governor. "Enstroms are known to be some of the safest and easiest flying helicopters in their class, and the existing correlator system is a big part of that. This new digital governor takes it to a whole new level."

The governor system will be available on new model 280FX and F28F helicopters and available as a retrofit to any 28-volt 280FX and F28F helicopters in the field.


Enstrom Helicopter Glass Panel

Enstrom is excited to announce new all-glass instrument panels for 2023. Available on both the 480B and 280FX, the new panels bring state-of-the-art avionics and incredible capability to Enstrom helicopter cockpits.

The new panels are designed around a Garmin G500H TXi EFIS display. Replacing traditional flight and navigation instruments, the G500 features a robust and easy-to-use digital flight display.

According to Bill Taylor, Enstrom's VP of Engineering. "Its touch screen interface makes it much quicker and more intuitive to use than the old button and knob systems. That's less head down and hands off the controls time for increased safety, and quicker training." The G500 is backed up by a Mid-Continent SAM which provides redundant flight instrumentation in a small digital format.

Accompanying the G500 is a Howell digital engine instrument system (EIS). Incorporating all the engine monitoring functions, as well as the airframe Caution and Advisory System (CAS), the new EIS provides a wealth of information to pilots, without distracting them. And it's fully redundant, with two displays, each of which can display all of the EIS information in a reversionary mode

Rounding out the new cockpits are new avionics from Garmin, including the GTN 750 and 650 TXi, remote transponder and audio panel options, and new com radio options. "The ability for the avionics to interface with each other and utilize remote options saves panel space and simplifies operations," noted Taylor. "And the new systems data log, which will make maintenance technician's jobs much easier."

These upgrades, and more, will be available on all new 2023 model Enstrom helicopters.

About Enstrom Helicopter : From Rudy Enstrom's early designs in 1943 to initial testing in a Michigan Quarry in 1957 to aircraft operating on six continents, Enstrom Helicopter Corporation has maintained a reputation for safety, value and performance. Based in Menominee, Michigan and proudly made in the United States, Enstrom has a rich history for design innovation. The goal is to provide helicopters to the customer's exact specification and deliver support and maintenance worldwide.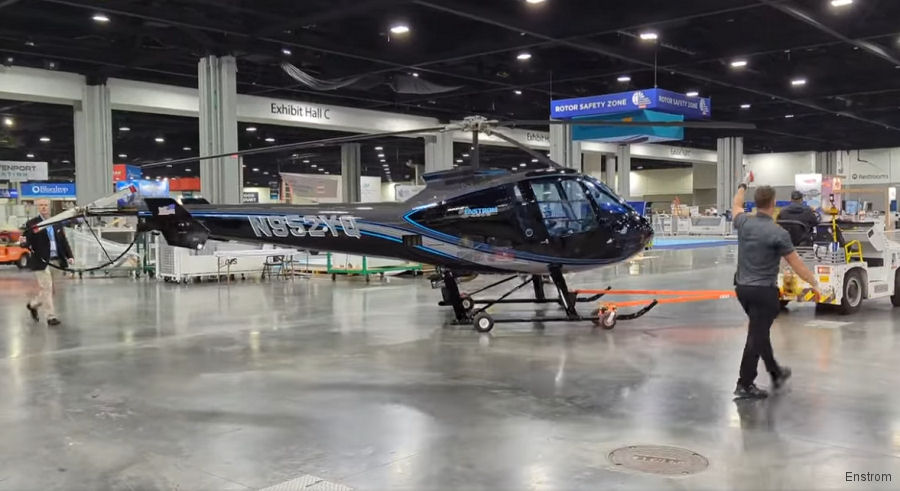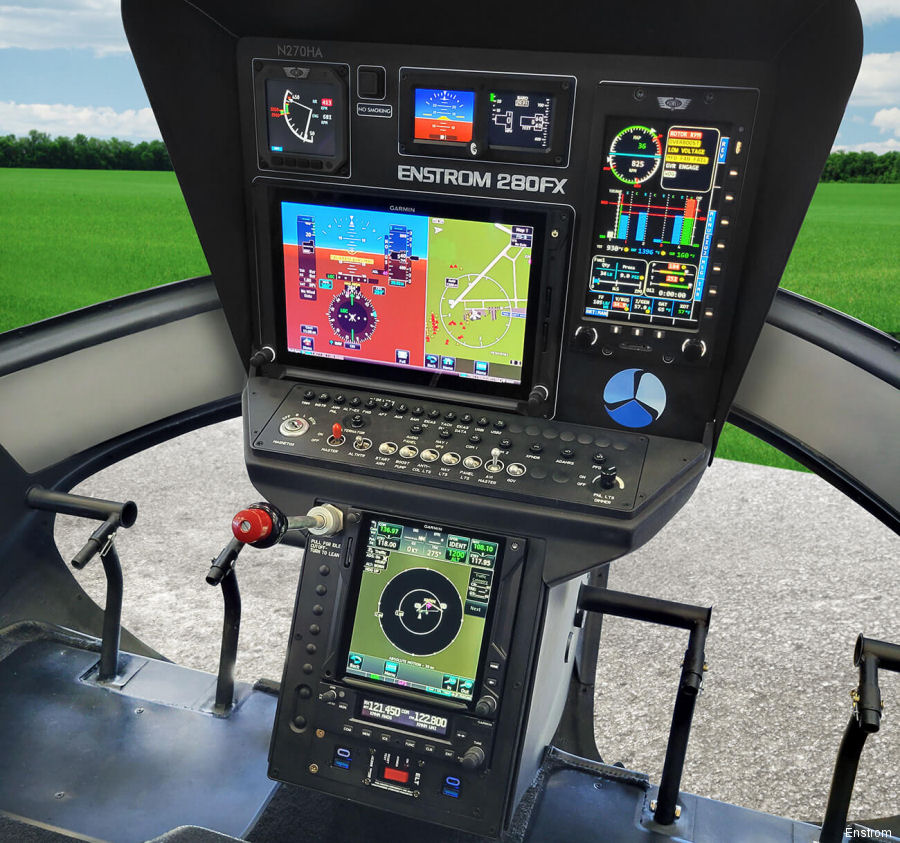 Enstrom 280FX new glass cockpit Garmin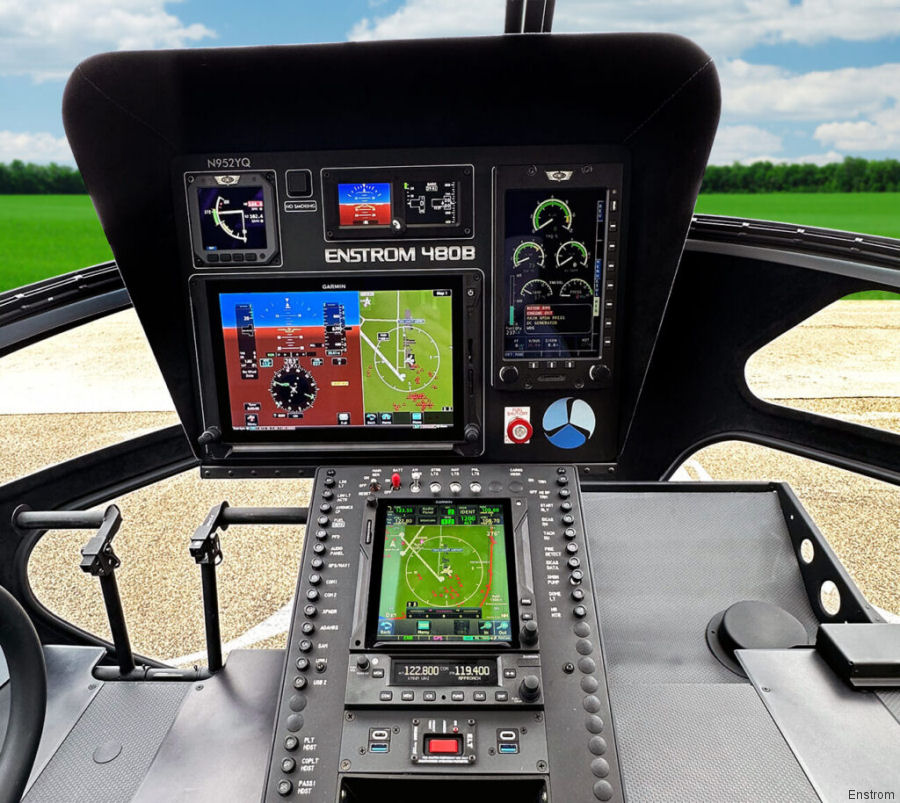 Enstrom 480B new glass cockpit Garmin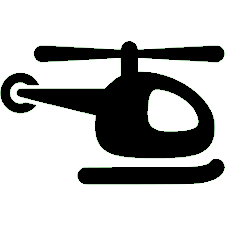 Aircraft mentioned in this article :
480B-G N952YQ 280FX N28N




Enstrom
Enstrom 280FX
Enstrom 480