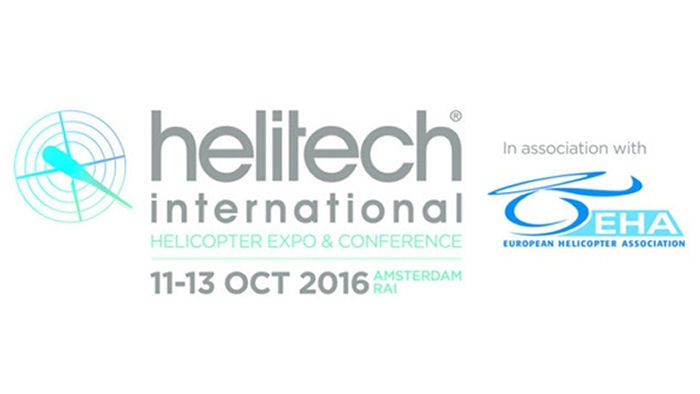 Vector Aerospace, October 04, 2016 - Gosport, UK – Vector Aerospace a global independent provider of aviation maintenance, repair and overhaul (MRO) services, will be showcasing its latest rotorcraft support capabilities at Helitech International, Europe's leading rotorcraft trade show, which runs from 11-13th October, 2016 at the Amsterdam RAI Exhibition and Convention Centre, Netherlands.

Simon Jones, Vice President - Business Development at Vector Aerospace, commented: "This year's show gives us an excellent opportunity to highlight the new capabilities Vector is offering to the wider European marketplace, including the recent announcement of our UK facility's European Aviation Safety Agency (EASA) Design Organisation Approval (DOA). Vector is well renowned for its exceptional Supplemental Type Certificates (STCs), and exhibiting at Helitech gives us the opportunity to highlight these alongside the many other solutions offered by the global Vector team, such as system integration, modifications/upgrades and extensive MRO capabilities."

Jones continued: "We can now also assist owners and lessors alike with end-of-lease support, by offering them a completely flexible, full storage capability, backed up by our highly skilled maintenance and paint teams. This superior customer service ensures that customers' aircraft are primed to reach their maximum utilisation as and when required. Our long history of MRO support, coupled with our extensive range of OEM accreditations, gives us a competitive advantage, and by promptly responding to our customer's requirements, Vector is able to offer a truly localised global support solution wherever and whenever it is required."

Vector's broad range of cost-effective service offerings will be displayed on Booth 10A20.

About Vector Aerospace:
Vector Aerospace is a global provider of aviation maintenance, repair and overhaul (MRO) services. Through facilities in Canada, the United States, the United Kingdom, France, Australia, South Africa, Kenya and Singapore, Vector Aerospace provides services to commercial and military customers for gas turbine engines, components and helicopter airframes. Vector's customer-focused team of over 2,300 motivated employees act with integrity in setting the standard of customer service.

Vector Aerospace holds approvals from some of the world's leading turbine engine, airframe and avionics OEMs. Powerplants supported include a wide range of turboshafts, turboprops and turbofans from General Electric, Honeywell, Pratt & Whitney Canada, Rolls-Royce and Safran. Vector Aerospace also provides support for a wide range of airframes from Airbus Helicopters, Bell, Boeing and Sikorsky, its capabilities including major inspections and dynamic component overhaul, and offers full-service avionics capability, including aircraft rewiring, mission equipment installation and glass cockpit upgrades.
Location :


Amsterdam RAI

Vector Aerospace