Night Emergency Medical Service by DRF


With more than 2.300 night missions in 2017, the DRF Luftrettung provides the broadest of experience in HEMS night operations throughout Europe

DRF Luftrettung, April 10, 2018 - As a pioneer in HEMS night operations using the first non-military night vision goggles (NVGs) in Germany in 2009, the DRF Luftrettung has rescued more than 2.300 patients by night in the past year alone.

With the latest generation of high-tech NVGs, digital glass cockpits and sophisticated autopilot systems, the modern DRF Luftrettung helicopters such as the new H145 are perfectly equipped for night time rescue missions.

The H145 demonstrates exceptional performance during night missions due to its superior engine performance, sophisticated stabilisation system and its Fenestron protected tail rotor. By starting night time missions more than 20 years ago and operating nine 24/7 sites, the DRF Luftrettung has the broadest experience in HEMS night operations throughout Europe.

Air rescue missions after sun down are of increasing importance as Dr. Peter Huber, Chairman of DRF Luftrettung states:

"Emergencies do not keep to office hours. If a person's life is at risk after a heart attack or a severe car accident, every second counts, whether it is day or night." Severely injured or ill patients who need immediate medical care must be transported to a hospital that is best suited to deal with their needs as soon as possible be it day or night. Dr. Huber adds: "The DRF Luftrettung is making a key contribution in this sector and is well equipped and prepared for night rescue flights with professional highly experienced medical and flight personnel using the latest in up to date technology. Our pilots have extensive experience with instrument night flying and the use of night vision devices".

Highest experience and safety with DRF Luftrettung

Since its founding in 1973 the DRF Luftrettung flew more than 800,000 missions in total and in 2017 was called out 38,509 times alone. It operates 31 HEMS (Helicopter Emergency Medical Service) bases throughout Germany and Austria, nine of which are 24 hour stations. 620 emergency doctors, 120 paramedics, and 160 experienced pilots are rescuing one hundred people each day.

What makes the DRF Luftrettung a key contributor to safety, quality and innovation in air rescue is its own Operation-Center in Karlsruhe, Germany. About 120 dedicated engineers ensure the airworthiness of the helicopter fleet and ambulance aircraft 365 days a year. The Sales Department of DRF Luftrettung offers a complete range of services to private or commercial customers as well as to other aviation operators.

National and international customers benefit not only from the extensive expertise of DRF Luftrettung in air rescue and technical services at our Karlsruhe facility, but also from flight operation training courses.

In addition, the ambulance jet aircraft of DRF Luftrettung repatriates people who have experienced an accident or have fallen seriously ill while abroad quickly and safely back to a hospital in their respective home countries. The experienced crews and flying ICUs (Intensive Care Units) allow for optimal patient care from hospital bed to hospital bed. These worldwide patient transports are coordinated in the Alert Center at Karlsruhe/Baden-Baden airport 24 hours, 365 days a year.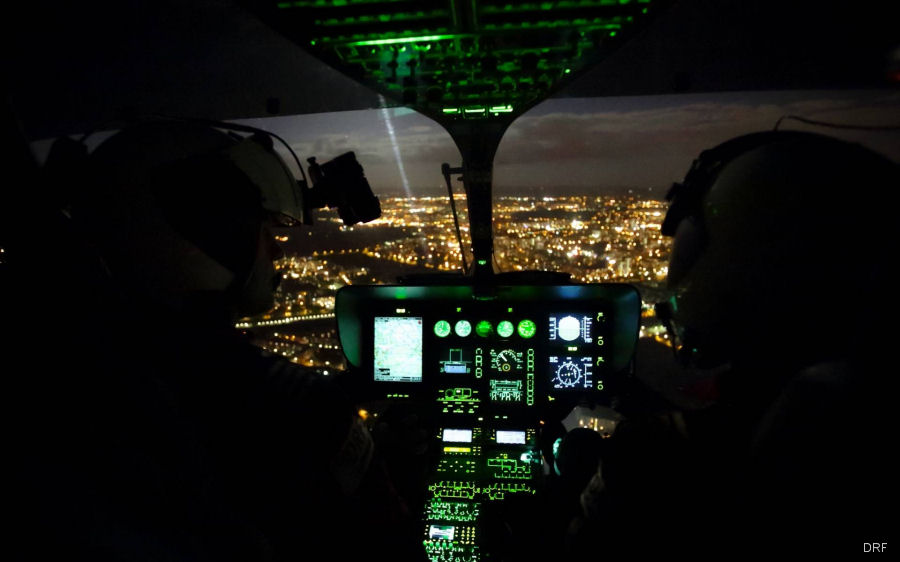 This article is listed in :
Airbus Helicopters H145 / EC145T2 in

DRF Luftrettung
What links here :
DRF Luftrettung Opens 10th Night Flights Base