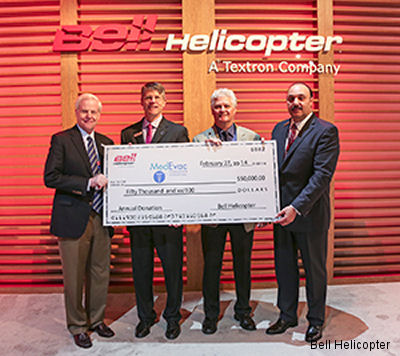 Bell Helicopter, February 27, 2014
- ANAHEIM, CA – Bell Helicopter, a Textron Inc. company, announced today its support for the Medevac Foundation's HEMS 101 Project, which is dedicated to producing a set of guidelines for establishing Helicopter Emergency Medical Service (HEMS)/Air Ambulance Programs in nations that currently do not have services in place.
Bell Helicopter will make a $150,000 donation spread equally over the next three years in support of the project and presented the first funding check at a special ceremony at Heli-Expo 2014 earlier today. The partnership will showcase the unique ability of helicopters to remove some of the barriers to accessible and timely care.
"For the last 60 years, Bell Helicopter has helped define helicopter emergency medical services and have worked closely with operators around the world to ensure we provide the best aircraft solutions to meet patient and safety needs," said Danny Maldonado, executive vice president of sales and marketing at Bell Helicopter. "At Bell Helicopter, we are on a mission to change the way the world flies through superior vertical lift that helps save lives. Our support of the Medevac Foundation is a natural extension of this mission by helping teach public and private sector leaders throughout the world more about the benefits of an EMS system that integrates helicopter transport into the larger healthcare system."
"We are absolutely thrilled to have the opportunity to work with Bell Helicopter on this specific research project," said Rick Sherlock, President and CEO of AAMS/MedEvac Foundation International. "This project is critical to expanding international HEMS markets for the benefits of patients around the world."
The HEMS 101 project is being developed in response to research conducted by the Medevac Foundation International and others that has shown that critically ill or injured patients who are transported by HEMS programs have a significantly greater chance of survival, more complete recoveries, and better long-term health outcomes compared with those who were denied access to care or whose access to care was delayed beyond a reasonable time. The use of general HEMS guidelines, tailored for each individual country, will enable HEMS providers to advocate for the development of HEMS capabilities in regions where they do not exist today in order to improve access to healthcare services in those nations. These guidelines will also help show the general public what types of system exists for them and what levels of care may be needed in an emergency.
The four goals of the "HEMS 101" Project include:
Educate multiple audiences (e.g., national legislators and regulators, business leaders, and healthcare and/or insurance company leaders, and the general public) about the life-saving contributions HEMS programs make to their communities, and how they provide the citizens of those communities a bridge to their nations' health-care safety nets.

Produce a set of guidelines for establishing Helicopter Emergency Medical Services (HEMS) programs in developed and developing nations without those services.

Explain how to integrate HEMS programs with existing local hospitals, clinics, or local emergency systems.

Provide options on how the HEMS programs would be recompensed for their operations.

The Medevac Foundation and Bell Helicopter are seeking additional partners in this major study. Please contact Jane Chittick, Medevac Foundation Chief Development Officer, for additional information at [email protected].

About MedEvac Foundation International: Founded by the Association of Air Medical Services (AAMS), the MedEvac Foundation International is a 501(c)(3) tax-exempt nonprofit dedicated to identifying and promoting air medical and critical care transport best practices and improvements worldwide. The Foundation funds research and disseminates safety, patient care, and operational resources throughout the industry via the web, educational presentations, and printed publications. For additional information, visit the Foundation's web site at www.medevacfoundation.org.

Bell Helicopter