HMM-364 in Partnership of the Americas 2014

* Partnership of the Americas 2014



US Marine Corps, August 17, 2014 - FUERTE AGUAYO, Chile by 1st Lt Michael Hopkins - As a part of Partnership of the Americas 2014, service members from different nations spent the day getting familiarized with partner nation helicopters in order to increase proficiency in joint humanitarian assistance/disaster relief operations here, August 15, 2014.

Marines from 1st Battalion, 23rd Marines, Marine Forces Reserve, as well as service members from Brazil, Mexico, Chile and Canada participated in air craft familiarization training which included periods of instruction on the uses of the CH-46 Sea Knight and the MI-17 Hip, their capabilities, medical evacuation procedures and proper procedures for getting on and off the helicopters.

One of the most important benefits of multinational exercises like POA is the fact that all the participants will be able to exchange their experiences, expertise, and will gain new knowledge about each other's culture and people.

Later in the day, service members had a chance to go live and were flown around the training area to practice getting on and off the aircraft as well as medical evacuations.

Canadian Army Capt. Carmen Archer, a logistics officer from 5th Canadian Division Headquarters, Halafax, Nova Scotia, stressed the benefits of the joint training. "They're loving working with the other nations. Learning how they operate has been key. It has been an invaluable lesson. We don't have the opportunity to do amphibious operations, so this is an opportunity to learn about it."

This was all in preparation for a final, mock amphibious operation that will take place later in the exercise. The exercise will enable all the partner nations to come together and provide the necessary assistance to a village constructed specifically for POA 14. Service members will have to deal with medical evacuations, crowd control, and other situations that are common when providing HA/DR.

POA is designed to enhance joint and combined interoperability, increase the combined capability to execute amphibious operations, peace support operations and humanitarian assistance/disaster relief missions and further develop strong and lasting relationships the U.S. Marine Corps has established with Partner Nations naval infantries/marine corps.
POA14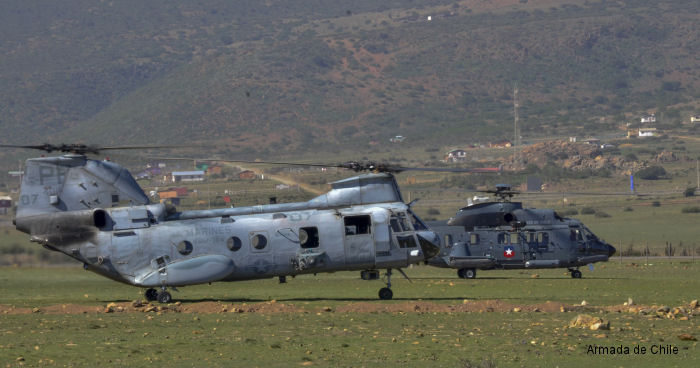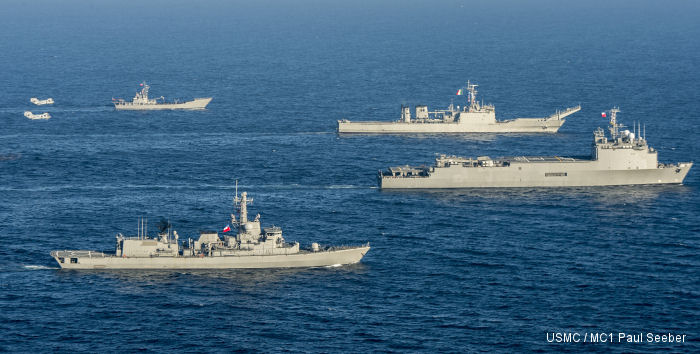 Aircraft mentioned in this article :
Boeing-Vertol CH-46D 153368 154011 154827 154832 ( US Marine Corps )

This article is listed in :
HMM-364

Marine Medium Helicopter Squadron 364
US Marine Corps
Mil Mi-8/17 Hip (2nd Gen) in

Armada de Mexico

Armada de Chile
Chilean Navy

Sargento Aldea ( LSHD-90, Foudre class )



Fuerte Aguayo