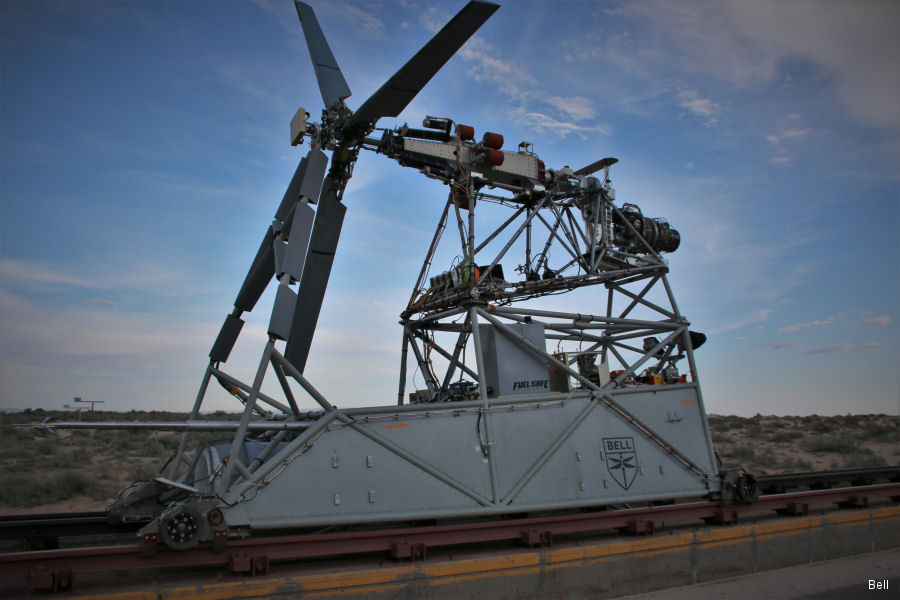 Bell, September 13, 2023
- HOLLOMAN AIR FORCE BASE, NM - Bell Textron Inc., a Textron Inc. company, announced the delivery of a High-Speed Vertical Takeoff and Landing (HSVTOL) test article to Holloman Air Force Base for demonstration and technology evaluation.
The team will leverage the Arnold Engineering Development Complex Holloman High Speed Test Track to test the folding rotor, integrated propulsion and flight control technologies at representative flight speeds.
"The HSVTOL test article delivery and start of sled testing operations serves as a major milestone in our mission to develop the next generation of high-speed vertical lift aircraft," said Jason Hurst, executive vice president, Engineering, Bell. "Bell plans to showcase HSVTOL technology informed by more than 85 years of high-speed rotorcraft development and leverage lessons learned to produce a flying prototype with game-changing capabilities."
The objective of Bell's sled test operations is to validate key technologies through a full-scale, integrated demonstration in a representative operating environment. Bell plans for the test article to execute a series of HSVTOL high-speed transition maneuvers, a first of its kind capability for vertical lift aircraft. Prior to delivery at Holloman Air Force Base, Bell successfully completed functional demonstrations at Bell's Flight Research Center.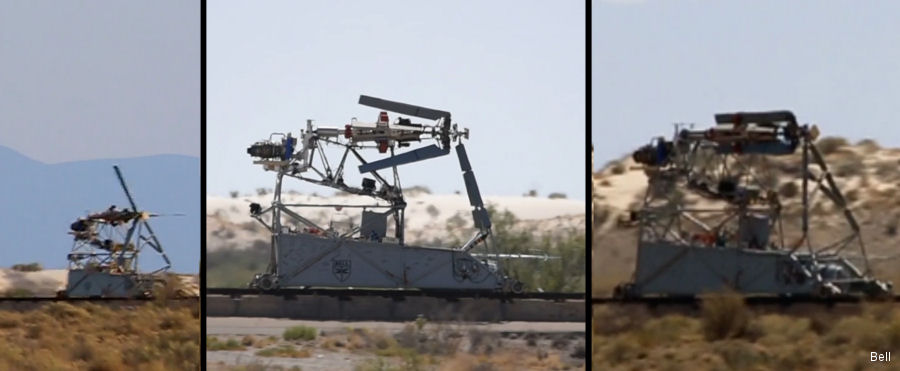 HSVTOL sequence
Bell's High-Speed Vertical Takeoff and Landing (HSVTOL) technology blends the hover capability of a helicopter with the speed (400+ kts), range, and survivability of jet aircraft. Bell has developed high-speed vertical lift technology for more than 85 years, pioneering innovative VTOL configurations like the X-14, X-22, XV-3 and XV-15 for NASA, the U.S Army and U.S. Air Force, and continues to build on its proven history of fast flight from the Bell X-1.
About Bell : Thinking above and beyond is what we do. For more than 85 years, we've been reimagining the experience of flight – and where it can take us. We are pioneers. We were the first to break the sound barrier and to certify a commercial helicopter. We were a part of NASA's first lunar mission and brought advanced tiltrotor systems to market. Today, we're defining the future of advanced air mobility.
Headquartered in Fort Worth, Texas – as a wholly-owned subsidiary of Textron Inc., – we have strategic locations around the globe. And with nearly one quarter of our workforce having served, helping our military achieve their missions is a passion of ours. Above all, our breakthrough innovations deliver exceptional experiences to our customers. Efficiently. Reliably. And always, with safety at the forefront.
About Textron Inc : Textron Inc. (NYSE: TXT) is a multi-industry company that leverages its global network of aircraft, defense, industrial and finance businesses to provide customers with innovative solutions and services. Textron is known around the world for its powerful brands such as Bell, Cessna, Beechcraft, Pipistrel, Jacobsen, Kautex, Lycoming, E-Z-GO, Arctic Cat, and Textron Systems.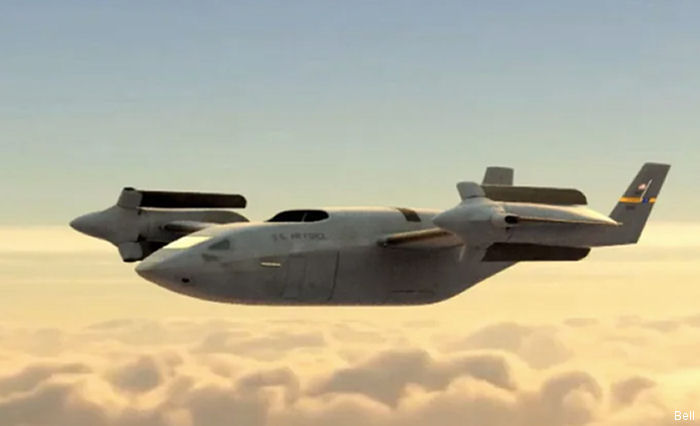 Bell High-Speed Vertical Takeoff and Landing (HSVTOL) aircraft
Location :

Holloman AFB

HSVTOL

Bell Helicopter


AFRL

US Air Force Research Laboratory
US Air Force