Devon Ambulance First Year Independent


Devon Air Ambulance is celebrating a year of delivering its clinical service as an independent healthcare provider

Devon Air Ambulance, May 19, 2020 - It's been a year since Devon Air Ambulance successfully registered with the Care Quality Commission (CQC) and since then we have been delivering our clinical service as an independent healthcare provider.

"Being clinically independent essentially means that we can develop our service in the way that best meets our patients' needs" said Nigel Hare, Operations Director at Devon Air Ambulance.

The process of becoming 'clinically independent' has involved building a new Patient Services team and structure that combines various functions including leadership, research, education and training, clinical governance, patient auditing and a Patient Support service.

Whilst most of this work was already being carried out, in one form or another, through the process of becoming an independent healthcare provider, we were able to bring together and shape these elements into an integrated Patient Services team who are now responsible for all the aspects that relate to treating and helping our patients.

The Patient Services team now sits alongside the Helicopter Services team within the Devon Air Ambulance Trading Company Limited, the operational arm of our organisation.

All of the continuing hard work and investment involved with being an independent healthcare provider underlines our commitment to achieving the best clinical outcomes for our patients.

Devon Air Ambulance is now a stand-alone healthcare provider just in the same way a nursing home, private hospital or GP surgeries are. We now directly employ our 23 Critical Care Paramedics and either employ or directly contract our 15 part time Critical care Doctors and we are now wholly accountable for the safety and care of our patients. We are one of only 8 Air Ambulances throughout the UK to have secured this independent status.

n April 2019, flying hours were extended to 19 hours a day from our Exeter airbase, meaning our service is available up to 2am every day. By March 2020 we have worked with communities across Devon to establish a network of 144 Community Landing Sites to support operations during the 'hours of darkness'.

In February of this year, we introduced two new Critical Care Cars into the service that will build resilience and extend our critical care capabilities across Devon, when our aircraft are offline.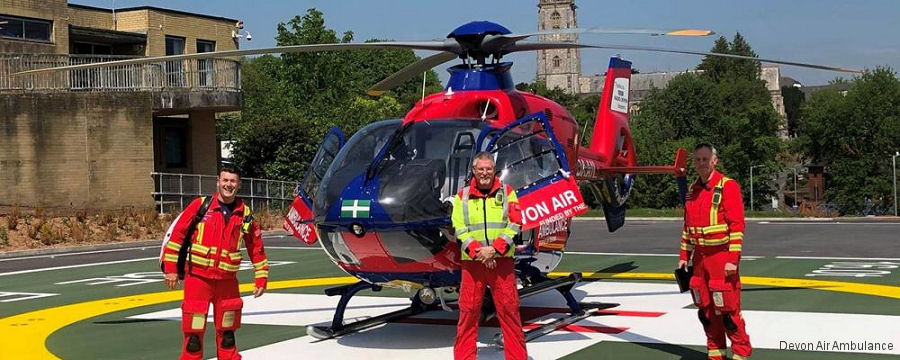 This article is listed in :
List of Air Medical Ambulance Services
DAAT

Devon Air Ambulance
UK Air Ambulances

Exeter