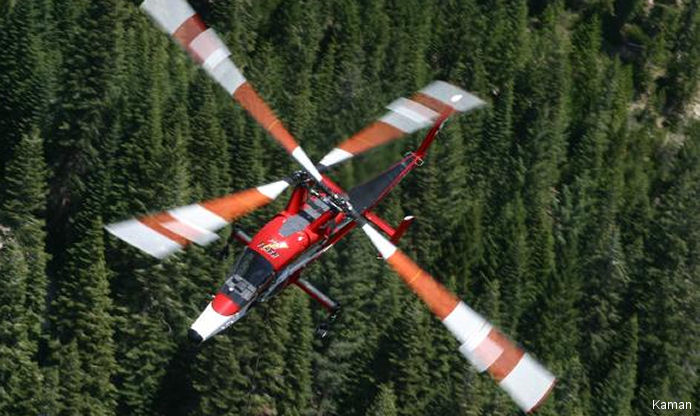 Kaman, June 05, 2015 - BLOOMFIELD, Conn. - Kaman Corporation announced today that its Aerosystems division has resumed production of commercial K-MAX heavy-lift utility helicopters.

The aircraft will be manufactured at Kaman's Jacksonville, Florida and Bloomfield, Connecticut facilities and production and hiring for the program has already begun. The first new helicopter is expected to be delivered in early-2017.

K-MAX® aircraft are used around the world for firefighting, logging and other missions requiring repetitive aerial lift capabilities. The U.S. Marine Corps maintains two unmanned K-MAX® aircraft developed with Lockheed Martin. These aircraft successfully supported the U.S. Marine Corps in Afghanistan for thirty-three months from 2011-2014 carrying more than 4.5 million pounds of cargo. Additional unmanned firefighting and humanitarian missions for K-MAX® are also being developed and tested.

Launch customers include current K-MAX® operators Rotex Helicopter AG, of Switzerland, and Helicopter Express, of Chamblee, Georgia. Rotex Helicopter AG is a long-time K-MAX® operator in Europe and uses the aircraft primarily for forestry missions in Switzerland, Liechtenstein and parts of Austria and Germany. "In addition to the economic aspect, we see ecological benefits," said Rolf Spichtig, the company's chief executive officer. "The K-MAX® makes less noise and consumes less fuel. With a payload of 2700 kg, the helicopter is very versatile. All of this makes the K-MAX® the preferred helicopter for many of our customers. It is a solid solution, which is why we have placed deposits for two new aircraft."

"This is great news for Kaman and for operators who need the K-MAX® to perform their missions effectively. Our team has done a great job assessing the market and working with customers to secure enough orders to support the business case for reopening the line," said Neal J. Keating, chairman, president and chief executive officer of Kaman.

Kaman Aerospace Group President Greg Steiner added, "The reopening of the production line is a positive development for our company, the industry and our customers. I am particularly pleased that Charlie Kaman's visionary design for this unique aircraft has stood the test of time."

Chief Financial Officer, Robert Starr commented, "K-MAX® production will result in a manageable near term investment in working capital and modest capital expenditures. With the aircraft already fully developed and certified, the non-recurring costs to restart production are expected to be minimal. The first ten aircraft produced are expected to generate revenues between $75 million and $85 million. Re-starting the K-MAX® line is not expected to impact our full year 2015 outlook."

Development of the K-MAX® was led by Kaman founder and former CEO, aviation pioneer Charles H. Kaman, and received Federal Aviation Administration certification in 1994. The single-engine, single-seat K-MAX® is a rugged low-maintenance aircraft that features a counter-rotating rotor system and is optimized for external load operations and designed specifically for vertical reference flight. The aircraft can lift up to 6,000 pounds (2,722 kg).

The company will celebrate the production milestone at the Paris Air Show, June 15-21. Representatives will be available to discuss the K-MAX® and Kaman's other products and services at the Kaman Stand D118, Hall 3.

About Kaman: Kaman Aerospace Group is a segment of Kaman Corporation (NYSE:KAMN), which was founded in 1945 by aviation pioneer Charles H. Kaman. Headquartered in Bloomfield, Connecticut, Kaman Corporation conducts business in the aerospace and distribution markets. The company produces and/or markets widely used proprietary aircraft bearings and components; complex metallic and composite aerostructures for commercial, military and general aviation fixed and rotary wing aircraft; aerostructure engineering design analysis and FAA certification services; safe and arm solutions for missile and bomb systems for the U.S. and allied militaries; subcontract helicopter work; and support for the company's SH-2G Super Seasprite maritime helicopters and K-MAX® medium-to-heavy lift helicopters. Additionally, the Company is a leading distributor of industrial parts, and operates more than 250 customer service centers and five distribution centers across the United States and Puerto Rico.
K-MAX in

Rotex Helicopter AG

Helicopter Express Inc
K-MAX in

Kaman
First K-MAX Airframe from Re-Opened Production Line