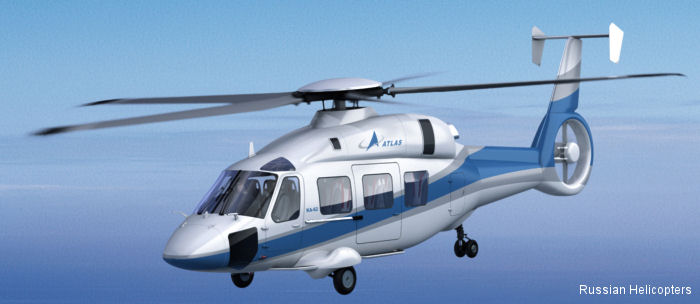 Russian Helicopters, December 14, 2012 - Moscow - Russian Helicopters, subsidiary of state defence holding Oboronprom – the part of Russian Technologies State Corporation and a leading global designer and manufacturer of helicopters, announces that it has signed its first export contract for the medium multirole Ka-62 with Brazilian Atlas Táxi Aéreo.

Seven Ka-62s are scheduled for delivery within the period of first quarter 2015 to first quarter 2016.

The contract was signed during a visit to Russia by Brazilian President Dilma Rousseff.

This is the first contract for the new medium multirole Ka-62, one of Russian Helicopters' most eagerly anticipated new models. The first two Ka-62s are scheduled for delivery in the first quarter of 2015. Four helicopters will be delivered in total during 2015, with another one following in the first quarter of 2016. The contract includes an option for an additional seven Ka-62s.

Testing of the Ka-62 is scheduled to start in 2013, and Russian Helicopters is targeting certification for international use by 2015. Under the contract with Atlas Táxi Aéreo, Russian Helicopters and its regional partners will establish a service centre providing after-sales care and maintenance in Brazil. The Ka-62's spacious and comfortable cabin makes it ideally suited for corporate use and carrying passengers, as well as special operations.

Atlas Táxi Aéreo already operates medium multirole Mi-171A1s which were delivered last year. This helicopter won a tender from Petrobras, the Brazilian national oil company, and the fleet will be expanded in the future.

The Brazilian Air Force employs a fleet of Russian Mi-35M multi-purpose attack helicopters, the newest consignment of which were delivered in August of this year under a contract with Rosoboronexport OJSC. According to the Brazilian Defence Ministry, the Mi-35M is an advanced attack helicopter with high firepower that can be used to escort other helicopters, isolate a combat zone or provide artillery support to ground forces. Russian helicopters were the first specialized attack helicopters integrated into the Brazilian Air Force fleet.

Russian Helicopters, JSC is a subsidiary of UIC Oboronprom, which in turn is a part of Russian Technologies State Corporation. It is one of the global leaders in helicopter production and the only helicopter design and production powerhouse in Russia. Russian Helicopters is headquartered in Moscow. The company comprises five helicopter production facilities, two design bureaus, a spare parts production and repair facility, as well as an aftersale service branch responsible for maintenance and repair in Russia and all over the world. Its helicopters are popular among Russian ministries and state authorities (Ministry of Defence, Ministry of Internal Affairs, Emergency Control Ministry), operators (Gazpromavia, UTair), major Russian corporations. Over 8000 helicopters of Soviet/Russian make are operated in 110 countries worldwide. Traditionally the demand is highest in the Middle East, Africa, Asia-Pacific, Latin America, Russia, and CIS countries. Russian Helicopters was established in 2007. In 2011 its IFRS revenues increased 27.8% to RUB 103.9 billion. Deliveries reached 262 helicopters.
Ka-62 in

Atlas Taxi Aereo