Airbus in Kenya During Heavy Flooding


The Airbus Foundation in partnership with Tropic Air Kenya which provided AS350B3e helicopter, delivered humanitarian relief during heavy flooding

Airbus Helicopters, June 10, 2020 - Heavy rains from March to May 2020 resulted in floods and landslides across many parts of Kenya, leaving thousands of households marooned.

The Airbus Foundation, Airbus Helicopters and Airbus Defence and Space have offered vital support to help the Kenya Red Cross Society (KRCS) assess the situation from an aerial perspective and to deliver emergency aid.

In Kenya, the months of April to late May are known as the "heavy" rain season. This year, torrential rain in the western part of the country has gone above and beyond the yearly average, causing significant flooding and landslides.

To date, approximately 170,000 people have been displaced across 43 counties. Most of the affected communities—from West Kenya, Coast, North and South Rift, and Central Region—live in remote areas, limiting KRCS' access and making delivery of aid difficult. In fact, certain isolated areas have been significantly affected—including the counties of Garissa, Tana and Kajiado—due to the overspill of the Masinga Dam and the Ewaso Ngiro River.

The rains have also caused infrastructure damage that has interfered with transportation and communications in all three counties, severely limiting humanitarian ground support.

To identify the affected areas in need of aid, the KRCS team required access to satellite imagery and helicopter transport. The Airbus Foundation—in collaboration with Airbus Helicopters and Airbus Defence and Space—offered support to KRCS to enable the humanitarian organisation to strengthen the on-the-ground response and aid delivery.


Satellite imagery for disaster aid delivery

Through a partnership organised by the Airbus Foundation, Airbus Defence and Space conducted a spatial assessment of the affected areas, using imagery from ESA Sentinel-1 and 2 satellites and Airbus Pléiades satellites. The resulting satellite images offered a detailed assessment of the full impact of the flooding in isolated areas.

"The relief aid provided by Airbus Helicopters and Airbus Defence and Space met the immediate need for survival. This collaboration effectively demonstrates how a unified approach can deliver humanitarian aid efficiently and effectively while addressing all the complex challenges involved in disaster relief." said Laurie Ceccan, Airbus Foundation

As a result, KRCS was able to consider access routes and priority areas, develop immediate steps in planning the response, and determine the disaster level.

"Determining the disaster level in isolated areas is a very complex and risky activity without the right information," explains Dr. Asha Mohammed, Secretary General, Kenya Red Cross Society "The satellite imagery provided by Airbus Defence and Space enabled us to have a clearer picture of the overall need, so we were able to take action quickly."

Two missions carried out by Airbus Helicopters also provided additional support to KRCS. A H125 from Tropic Air Kenya, transporting KRCS personnel, conducted an aerial assessment mission in Garissa and Tana River County to strengthen the response and provide aid delivery. By taking into account all the obstacles and the disaster level, the mission helped to determine that the damage was far beyond what had been predicted and reported earlier.

During a second mission, approximately two tons of shelter and non-food items were delivered to the community of Pakase in Kajiado County. There, over 200 households had been left stranded for almost two weeks.

"The relief aid provided by Airbus Helicopters and Airbus Defence and Space met the immediate need for survival," explains Laurie Ceccan, Airbus Foundation. "This collaboration effectively demonstrates how a unified approach can deliver humanitarian aid efficiently and effectively while addressing all the complex challenges involved in disaster relief."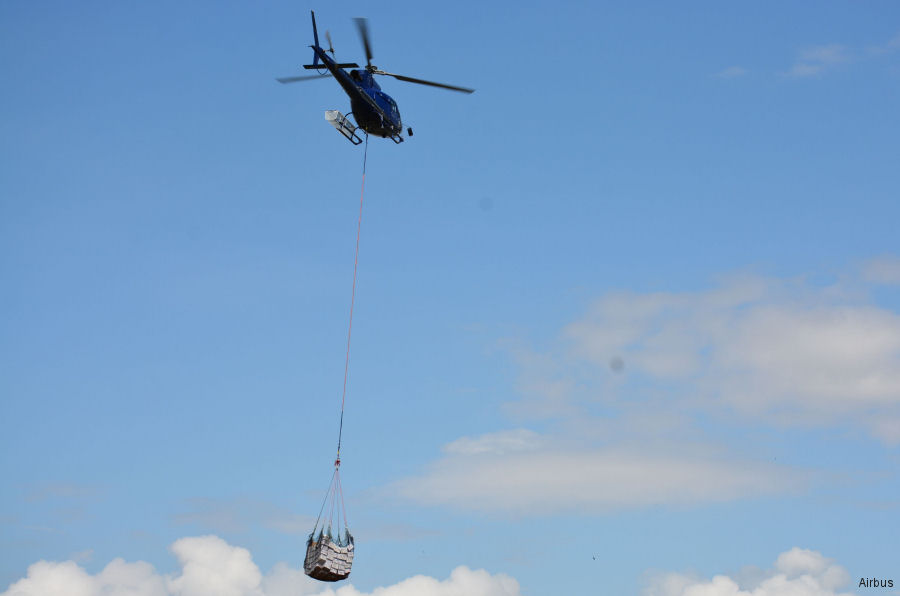 Aircraft mentioned in this article :
Eurocopter AS350B3e Ecureuil 5Y-CCP ( Tropic Air Kenya )

This article is listed in :
AHF

Airbus Foundation
Airbus Helicopters France

Tropic Air Kenya
Eurocopter AS350B3e Ecureuil