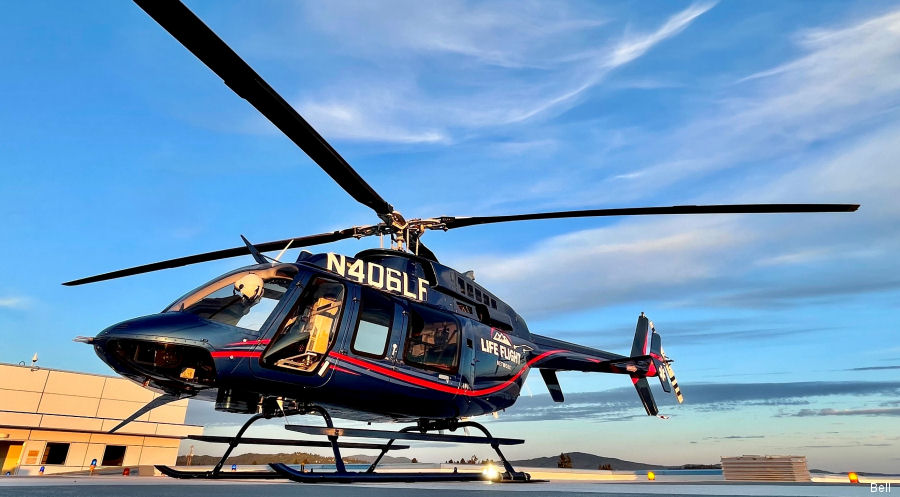 Bell, February 07, 2023 - Fort Worth, TX – Bell Textron Inc., a Textron Inc. company, announced that Life Flight Network, the largest not-for-profit air medical program in the country, will add four additional Bell 407GXi helicopters.

These aircraft will bring Life Flight Network's current operating fleet to seven Bell 407GXis, remaining the largest air medical operator of the Bell 407GXi in the Pacific Northwest and Intermountain West.

"Life Flight Network has continued to see the value and performance the Bell 407 platform has provided in the last several years," said Lane Evans, director, North America Sales.

"The additional four Bell 407GXis with certified IFR (Instrument Flight Rules) capabilities will grow their state-of-the-art transport resources, allowing Life Flight Network to further increase community access to industry leading critical care transport."

Life Flight Network's total Bell fleet will consist of four Bell 429s and 25 Bell 407GX-series helicopters, providing critical care transportation to those in need. The organization continues to be a leader in the air ambulance industry, with 27 rotor-wing bases, 10 fixed-wing bases, and two neonatal and pediatric bases across Oregon, Washington, Idaho, and Montana. For over 44 years, Life Flight Network has been providing ICU-level care to patients in need of emergency medical transport, supporting local hospitals and EMS to bring the highest quality emergency care to the communities and patients who need it most.

Bell proves its mature production and sustainment support capability with more than 1,600 Bell 407s globally, logging six million flight hours across the fleet and actively performing flight training as well as military and para-public missions. The 407GXi's Garmin G1000H™ NXi Flight Deck enhances situational awareness and reduces pilot workload by delivering easy-to-read information at a glance. The Bell 407GXi's new IFR capability will allow all-weather operations while continuing to provide multi-mission capability safely, reliably, and effectively.

About Bell : Thinking above and beyond is what we do. For more than 80 years, we've been reimagining the experience of flight – and where it can take us. We are pioneers. We were the first to break the sound barrier and to certify a commercial helicopter. We were aboard NASA's first lunar mission and brought advanced tiltrotor systems to market. Today, we're defining the future of on-demand mobility.

Headquartered in Fort Worth, Texas – as a wholly-owned subsidiary of Textron Inc., – we have strategic locations around the globe. And with nearly one quarter of our workforce having served, helping our military achieve their missions is a passion of ours.

Above all, our breakthrough innovations deliver exceptional experiences to our customers. Efficiently. Reliably. And always, with safety at the forefront.

About Textron : Textron Inc. (NYSE:TXT) is a multi-industry company that leverages its global network of aircraft, defense, industrial and finance businesses to provide customers with innovative solutions and services. Textron is known around the world for its powerful brands such as Bell, Cessna, Beechcraft, Pipistrel, Jacobsen, Kautex, Lycoming, E-Z-GO, Arctic Cat and Textron Systems.

List of Air Medical Ambulance Services
407 in

Life Flight Network
Bell 407GXi