Luton and Dunstable University Hospital Helipad


HELP Appeal,the only UK charity dedicated to funding hospital helipads, announced donation of £2.5M for the Luton and Dunstable University Hospital's helipad

HELP Appeal, September 15, 2018 - The HELP Appeal, which is the only charity in the country dedicated to funding hospital helipads, has announced that it will now pledge another £500,000 to Luton and Dunstable University Hospital's £5 million helipad.

This brings its total donation to £2.5million and will cover half of the entire project.

Luton and Dunstable University Hospital will continue to fundraise to build the onsite helipad, that will link to its Emergency and Critical Care services. But thanks to the HELP Appeal –the L&D is another £500,000 closer to its target and on track to complete the helipad by Summer 2020.

When someone suffers a major trauma the quicker they receive specialist emergency care the more likely it is that their treatment will prevent death or serious disability. Helicopters offer a much quicker and more reliable method of transporting critically ill patients to hospital compared to a land ambulance. Having a helipad on the hospital site will ensure people from across the county and beyond get the specialist care they need, as quickly as possible – saving precious minutes, saves precious lives. The HELP Appeal fully appreciates how vital this facility will be and are a key partner in getting the new helipad project off the ground.

Chairman of the L&D, Simon Linnett, said: "This helipad will provide a life changing facility for our community which will link directly into the centre of our leading Emergency Department. We can only achieve our life saving ambitions with the support of funders like the HELP Appeal and the local community. We would like to encourage others to help us secure a better future for people by contributing towards this vital cause. This generous donation and ongoing support from the HELP Appeal is greatly appreciated by the L&D's Board and our thanks go to them."

Robert Bertram, Chief Executive of the HELP Appeal, added: "We go where we are needed most and Luton and Dunstable hospital needed our help. This helipad will allow the East Anglian Air Ambulance and other AA to land a critically ill patient on site, where he or she can be transferred comfortably and smoothly to a consultant's care within a matter of minutes. This is a must when the slightest jolt or delay by road ambulance could jeopardise their survival.

"The £500,000 we are adding brings our total donation to £2.5 million, which allows the hospital to move closer to realising their dream of giving people from across the region a greater chance of a full recovery."


Photo: Ben Small, Paediatric Emergency Department Unit Manager, Simon Linnett, L&d Chairman And Robert Bertram, Chief Executive Of The Help Appeal.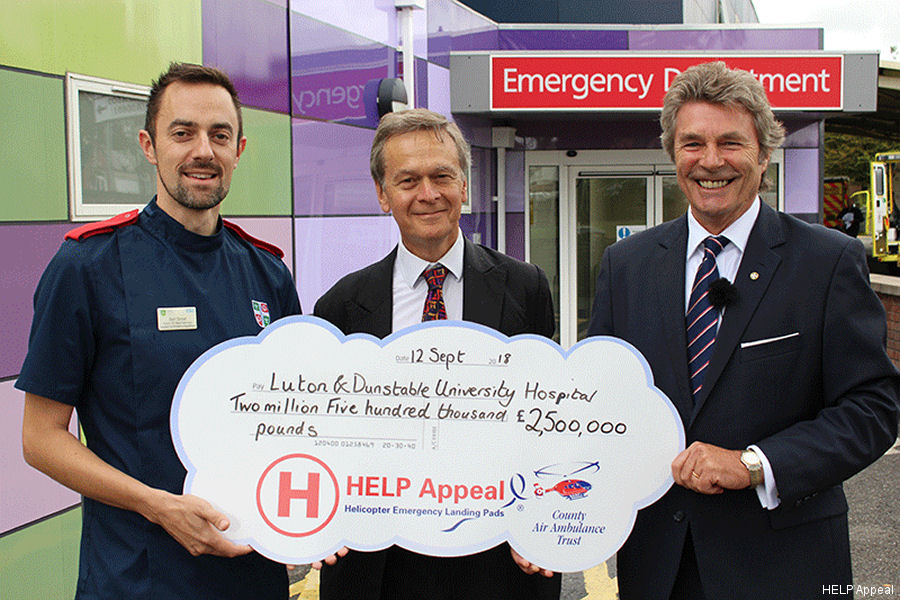 This article is listed in :


HELP Appeal


Luton and Dunstable University Hospital