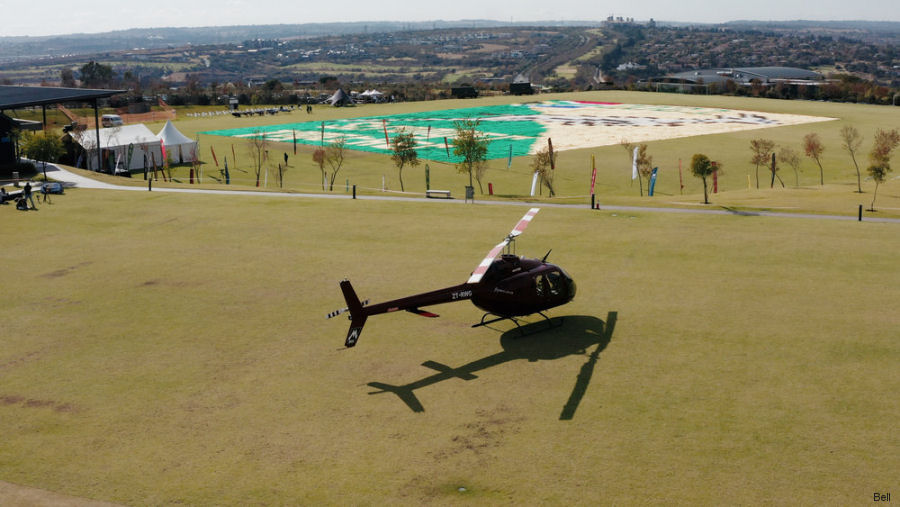 Bell, June 23, 2021 - Bell was proud to join MCC Aviation on June 9 in support of a special event in South Africa – the 67 Blankets initiative.

During the occasion, Bell flew prominent media and attendees in the Bell 505 and 407, which provided spectacular views of the 2,754 blankets on display.

Media influencers Rego and Modise Khoele attended the event, and there was a special VIP ceremony hosted by event founder and philanthropist Carolyn Steyn. Thabo Mbeki, South Africa's former president, was the featured speaker.

The 67 Blankets for Nelson Mandela Day began in December 2013, when Zelda la Grange, late former President Nelson Mandela's trusted personal assistant, presented Carolyn Steyn with a challenge: knit, sew or crochet 67 blankets. These blankets would then be distributed to the needy on Mandela Day. People all over the world came to Carolyn's aid in making the blankets, and the initiative has grown significantly since its inception.

The 2021 event took place at the Steyn City school, located in the scenic Steyn City Parkland Residence in Johannesburg developed by Douw and Carolyn Steyn. The helicopters flown in were positioned on the school's soccer field, visible to all attendees and media. More than 100 students and other attendees from across the country gathered at the school and participated in the initiative, with the handmade blankets subsequently being distributed to the underprivileged to stay warm, as temperatures can dip as low as -2°C in some cities during South Africa's winter months.

Carolyn Steyn is a friend of Mike Barnes, owner of MCC Aviation and a loyal Bell customer for more than 40 years. Barnes flew her husband, Douw, in the Bell 407 so he could get an aerial view of the event.

"It was an absolute honor and privilege for Bell to be invited to partake in this auspicious event," said Lynette Loosen, Bell regional sales manager, Africa and the Middle East.

"The atmosphere was humble and heartwarming with so many sponsors who raise awareness and give back to our communities and those less fortunate in South Africa. At Bell, we recognize that it is our responsibility to help communities and citizens in countries in which we operate, by building meaningful partnerships and trying to contribute in ways that go above and beyond what may be expected."

"We've been supporting Carolyn and this initiative for about five years now," said Mike Barnes, owner, MCC Aviation. One of my pilots learned about 67 Blankets during a radio interview with Carolyn. We contacted her, as we believed a helicopter was the natural necessity to film the blankets from above. It was a wonderful experience flying the Bell 407 for her first event, and this started a great relationship with Carolyn and her team. We are proud to support this unique initiative every year."

The 2021 theme was "Stronger Together," emphasizing the unity and commitment of the people of South Africa in helping each other. This year, the blankets were laid out to represent the iconic South African 'Bok' and flag, and the image was captured in a unique aerial view from the Bell 505 and 407 helicopters.

Bell is pleased to support our customers, such as MCC Aviation, in local events and national holidays that benefit local communities. We thank the team for including us and look forward to supporting these special events throughout the region.

Bell Helicopter