Airbus Producing Protective Medical Equipment


Providing urgent assistance to the health care sector due to the Coronavirus (COVID-19) epidemic, Airbus facilities in France and Spain are participating in the 3D production of protective medical equipment

Airbus Helicopters, April 04, 2020 - France - SURVEY Copter, the tactical drones division of Airbus with its main site based in Pierrelatte, in southern France, this week gave a rapid and positive response to the proposal for an association with the Montélimar "Convergences 26" FabLab in Drome Ardèche, to start up production of medical protection visors on the 3D printers normally used to build drones.

The parts produced with a 3D printer, using fused deposition modelling (FDM) on an ABS type plastic base, account for up to 15% of the components of a drone built by SURVEY Copter.

The SURVEY Copter 3D printers take about 45 minutes to produce a visor. It is not certified from the outset as medical equipment but it nonetheless offers the required protection and, given the urgency, is consequently being officially approved by the Montélimar CHU (university hospital). The challenge is to be able to produce a visor capable of withstanding the disinfection procedures used in a hospital environment at temperatures of up to 110°C, without deformation or opacity.

In various ways, including via the Gendarmerie, these visors are then shipped to the users, that is to the medical staff in the Montélimar and Valence university hospitals, freelance nurses, retirement homes and a certain number of Town Halls in the Ardèche and Drome départements.

SURVEY Copter normally employs about fifty staff on the Pierrelatte site and, on a volunteer basis, it has exceptionally enabled its 3D printer team to take part in this operation

"Providing our urgent assistance to the medical sector, faced as it is with the COVID-19 epidemic, is one of our priorities, both locally and internationally, and the reactivity of Nicolas Askamp and his teams at SURVEY Copter is a perfect illustration of this", said Dirk Erat, Head of Communications at Airbus Defence and Space.


Airbus Spain to produce 3D-printed hospital visors in fight against COVID-19


Getafe, Spain – The majority of Airbus sites in Spain have joined forces to produce 3D printed visor frames, providing healthcare personnel with individual protection equipment in the fight against Covid-19.

More than twenty 3D printers are working day and night. Hundreds of visors have already been produced and dispatched to hospitals close to the Airbus facilities in Spain. Airbus leverages a patented design to manufacture the visor frames, using PLA plastics.

"One of the reasons I love my job is the capability we have for advanced design and quick manufacture. Overnight, we have gone from making aerospace concepts to medical equipment. This genuinely makes a difference in the fight against the pandemic and I couldn't be prouder of our teams working day and night on this Airbus project," said Alvaro Jara, Head of Airbus Protospace, in Getafe, Madrid.

Despite the pause of the majority of production at Airbus' sites in Spain following the Royal Decree of 29 March, Airbus employees are allowed on site to continue with this essential activity.
In addition, Airbus in Germany also joined the project. The Airbus Protospace Germany and the Airbus Composite Technology Centre (CTC) in Stade, together with the 3D-printing network named "Mobility goes Additive," are now supporting this project in Spain, also coordinating the collection and transport of visors to the Madrid region.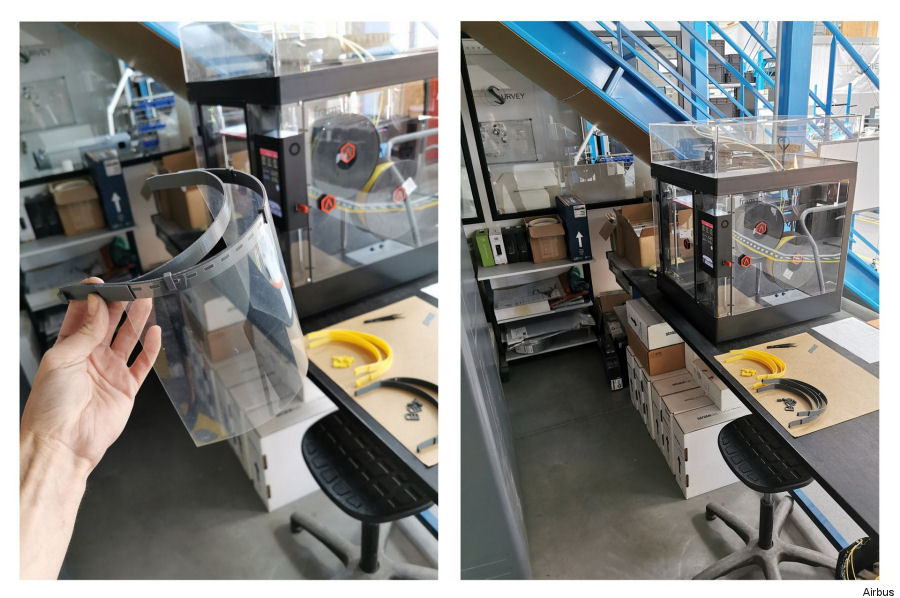 This article is listed in :
List of Coronavirus outbreak
Airbus Helicopters
What links here :
Bell Chemical Lab Produces Hand Sanitizer