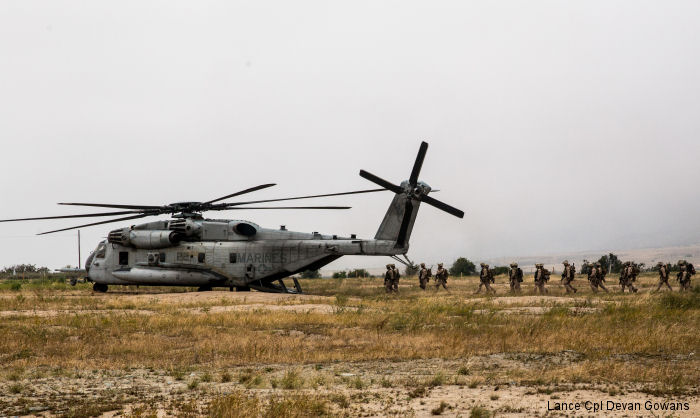 US Marine Corps, May 18, 2016 - MARINE CORPS BASE CAMP PENDLETON, Calif. by Lance Cpl. Devan Gowans - For the first major training exercise of the 11th Marine Expeditionary Unit's pre-deployment training regimen, Marines and Sailors with the MEU honed their warfighting capabilities and polished their standing operating procedures during a field training exercise aboard Marine Corps Base Camp Pendleton, Calif., May 9-13, 2016.

One of the main focuses of MEUEX was to plan, brief and execute several missions using the rapid response planning process, and then monitor these missions via the combat operations center. Knowing how to keep track of Marines on the battlefield and maintaining communication between different units is vital to mission success.

While simultaneously cultivating best practices during MEUEX, the other major training events consisted of reconnaissance and surveillance operations; helicopter raids; forward armament and refueling point operations; chemical, biological, radiological, and nuclear response training; MV-22 Osprey casualty evacuation drills, tactical water purification system operations; combat marksmanship, and machine gun employment.

This training enabled Marines from a wide array of occupational specialties to come together and work as a Marine Air-Ground Task Force, incorporating each individual's professional expertise in preparation for the MEU's upcoming Western Pacific 16-2 deployment to the Pacific and Central Commands' areas of operation.

"We have a huge responsibility resting on our shoulders as a crisis-response force, patrolling the seas during highly volatile and uncertain times," said Col. Clay C. Tipton, commanding officer of the 11th MEU. "It is imperative we train to the highest standard possible so we are ready to execute a full spectrum of operations ranging from sea-based assaults to providing humanitarian aid anywhere in the world."

The exercise focused on improving combat readiness and communication between the command element and its major subordinate elements, which consists of Battalion Landing Team 1st Bn., 4th Marines; Marine Medium Tiltrotor Squadron 163 (Reinforced); and Combat Logistics Battalion 11.

"This was the first time our command element and major subordinate elements trained together in a field environment", said Tipton. "We are building up our team, refining our skills across the warfighting functions, and solidifying our combat operations center procedures."

Following MEUEX, the Marines and Sailors with the 11th MEU will tackle the next task in their pre-deployment work-up: Realistic Urban Training.

The purpose of the RUT exercise is to familiarize Marines with operating in immersive urban environments, which they must be prepared for while conducting missions abroad.

"RUT's purpose is to help us plan to the complexities of landing in a built-up area or urban environment in the event the MEU conducts a ship-to-shore operation while deployed," said Master Gunnery Sgt. Adrian D. Virges, operations chief with the 11th MEU. "In essence, it will teach the Marines all of the coordinating aspects that will come into play in an urban environment, such as structures, population, vehicles, and obstructions."

RUT is scheduled to take place in June at various military installations throughout the Southwest United States.
Location :

MCAS Camp Pendleton


VMM-163

Marine Medium Tiltrotor Squadron 163
US Marine Corps
11th MEU