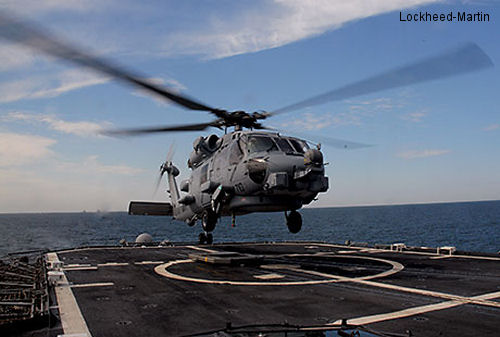 Lockheed Martin, February 07, 2013
- The U.S. Navy received the first of its planned 300 MH-60R Seahawk helicopters in 2007. In late January, the Navy accepted its 150th MH-60R during a ceremony at Lockheed Martin's facility in Owego, N.Y.
But don't confuse the two. Today's MH-60R is not the same as the one that came off the factory floor a little over five years ago.
"Yes, this aircraft is the most technically advanced multi-mission helicopter in the world," said Lt. Commander Holly Hoxsie in a Jan. 31 WICZ.com story. "The best way to maybe describe it is (like comparing) an older video game to the newer ones where I'm able to do everything easily from the cockpit."
Following the ceremony, which was attended by approximately 350 people including Congressman Tom Reed of New York, Hoxsie flew the Navy's newest MH-60R to San Diego, where it will be based.
"The sensor suit[e] that we have on this aircraft is really world class so it allows the Navy unprecedented capability to identify adversaries at sea for both anti-submarine warfare and surface warfare," said Tom Kane, director of Lockheed Martin's naval helicopter program, in the WICZ.com story.
In addition to its anti-submarine and anti-surface warfare capabilities, the helicopter also performs search and rescue, vertical replenishment, naval surface fire support, medical evacuation and communications and data relay missions.
Lockheed Martin provides the digital cockpit common to the MH-60R and MH-60S helicopters, while Sikorsky manufactures the airframe. The companies have co-developed and delivered helicopters for the Navy for more than 35 years.
Also during the Jan. 31 ceremony, Lockheed Martin rolled out its
400th common cockpit
, which will be installed in the first MH-60R being built for Australia. In 2011, Australia announced that it planned to purchase 24 MH-60Rs through the U.S. government's Foreign Military Sales program to replace its Navy's 16 existing S-70B-2 Seahawk helicopters, which entered service in the late 1980s.
Sikorsky MH-60R Seahawk