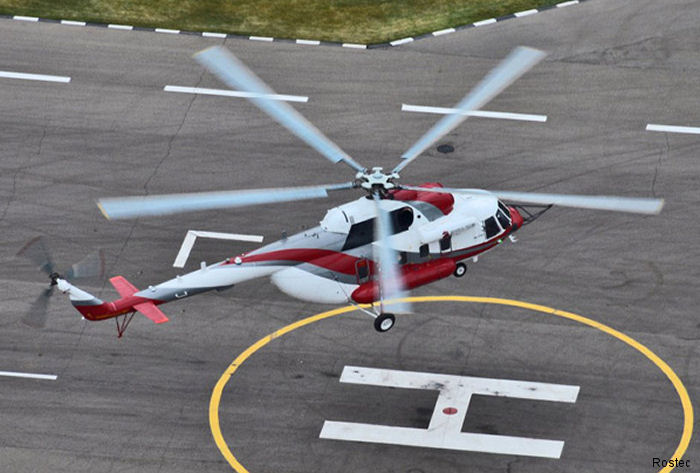 Russian Helicopters, November 09, 2015 - Moscow - Russian Helicopters, part of state corporation Rostec, has started flight testing of a second prototype of the medium multirole Mi-171A2 at Mil Moscow Helicopter Plant.

The new Mi-171A2 prototype includes all the unique features typical of this type of helicopter, making it competitive with its global peers. Pre-flight and certification testing are also currently underway.

The Mi-171A2 is the most eagerly anticipated new Russian-built helicopter. It represents the latest development of the internationally renowned medium multirole Mi-8/Mi17 series, with improved technical features as well as a higher level of safety, comfort and automation.

The power plant comprises a full FADEC VK-2500PS-03 engine and an auxiliary power plant by Safir, which enables the engine to be started at altitudes of up to 6,000m. The main rotor systems of the entire Mi-8/17 series have been completely overhauled.

The use of composite blades, as well as upgrades to the swashplate and bushing, have reduced the total weight of the main rotor and increased thrust by 700kg. An X-shaped tail rotor with composite blades has also been added to increase responsiveness and reduce noise.

These upgrades has increased the helicopter's total take-off weight by 1,000kg in category A. The maximum cargo load carryable on an external sling has also increased by 25%, to 5,000kg.

The helicopter's cruising and maximum speeds have also increased, as has the maximum flight time. Another result of the upgrades is greater transportation efficiency compared with models currently in serial production.

Another innovation is the KBO-17 avionics suite, which enables the helicopter to fly safely around the clock, including in poor weather conditions. The KBO-17 operates as a glass cockpit with five multifunction LCDs.

Increased automation on the Mi171A2 has reduced the crew size from three people to two.

Russian Helicopters, (part of State Corporation Rostec), is one of the global leaders in helicopter production and the only helicopter design and production powerhouse in Russia. Russian Helicopters was founded in 2007 and is headquartered in Moscow. The company comprises five helicopter production facilities, two design bureaus, a spare parts production and repair facility, as well as an aftersale service branch responsible for maintenance and repair in Russia and all over the world. Its helicopters are popular among Russian ministries and state authorities (Ministry of Defence, Ministry of Internal Affairs, Emergency Control Ministry), operators (Gazpromavia, UTair), major Russian corporations. In 2014 its IFRS revenues increased 22,8% to RUB 169,8 billion. Deliveries reached 271 helicopters.
Location :

Tomilino Heliport
Mi-171A2 in

Russian Helicopters