Upgrading the Mi-171E


Russian Ulan-Ude Aviation Plant (UUAP) fitting the Mi-171E helicopter with new rotors, polymer composite materials blades and FADEC VK-2500PS-03 engine with modified stabilizer and keel beam

Russian Helicopters, December 01, 2017 - Ulan-Ude - Russian Helicopters (part of Rostec State Corporation) started flight tests of the Mi-171E multipurpose helicopter with upgraded power unit and rotor system at Ulan-Ude Aviation Plant (UUAP) .

It is planned to finish them by the end of the 2017. Due to innovations, economic efficiency of Mi-171E helicopter was enhanced significantly.

Mi-171E helicopter is equipped with a new rotor and X-shaped tail rotor with blades made of polymer composite materials, upgraded swash plate, Russian-made VK-2500PS-03 engine with a FADEC-type digital control system, and with modified stabilizer and keel beam.

"Equipment of Mi-171E helicopter with a new carrier system allowed to increase the maximum speed, increase the flight range and external sling payload, and to make flights in the thin air of high altitudes and in high temperatures more reliable. Also, a new form of blades of tail and main rotor makes it possible to significantly reduce the noise level. We hope that the modernized helicopter will appeal to both traditional buyers and new clients," said Managing Director of JSC UUAP Leonid Belykh.

Maintenance Complexity Decreased

All components of the carrier system are lighter, their resources are increased and maintenance complexity is decreased. Digital de-icing system for composite blades of main and tail rotor is also a new feature.

Resources of the VK-2500PS-03 engines with emergency mode power of 2700 HP are increased by 1.5 times. FADEC-type digital engine control system adapts controls to external conditions, significantly reduces the weight and volume of the electronic units of the system and connecting cables, ensures synchronization of the engine working mode by turbocharger rotation frequency. It allows to maintain the optimum performance of engines with minimal fuel consumption. Auxiliary power unit Safir 5K/G MI with a powerful 20kW generator provides greater height of the engine starting and fuel economy.

Russian Helicopters, (part of State Corporation Rostec), is one of the global leaders in helicopter production and the only helicopter design and production powerhouse in Russia. Russian Helicopters was founded in 2007 and is headquartered in Moscow. The company comprises five helicopter production facilities, two design bureaus, a spare parts production and repair facility, as well as an aftersale service branch responsible for maintenance and repair in Russia and all over the world. Among Russian Helicopters customers - Russian ministries and state authorities (Ministry of Defence, Ministry of Internal Affairs, Emergency Control Ministry), operators (Gazpromavia, UTair), major Russian and foreign corporations. In 2016 Russian Helicopters IFRS revenues reached RUB 214.3 billion. Deliveries reached 189 helicopters.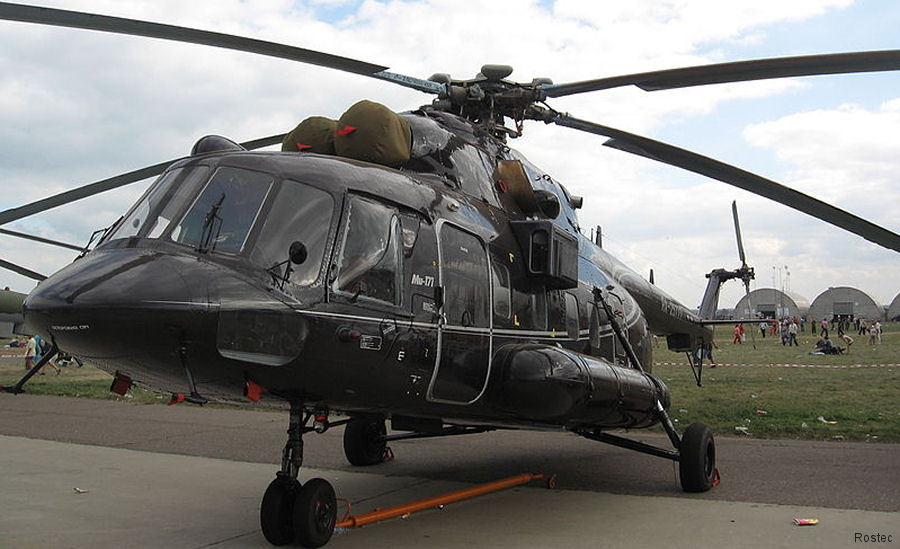 This article is listed in :
Mil Mi-171E
UUAP

Ulan-Ude Aviation Plant
Russian Helicopters