Mi-17V-5 and Police Ansat at Army-2018


Kazan Helicopters, part of Russian Helicopters, featuring Ansat Police and Mi-17V-5 during Army-2018 expo in Kubinka, Moscow August 21-26

Russian Helicopters, August 23, 2018 - Kazan Helicopters, part of the Russian Helicopters Holding Group, presenting the light utility Ansat helicopter in law enforcement configuration and the Mi-17V-5 military transport helicopter in static exposition at the Army-2018 International Military-Technical Forum.

The police version of the Ansat helicopter has been designed to perform patrol and rescue operations, as well as to render assistance in emergency situations and ecological catastrophes.

The helicopter is equipped with the SON-730 electro-optical system ensuring round-the-clock surveillance, detection and recognition of objects. This device can recognize car plates, distinguish people and transmit data in real time to the ground indicator of a command post within the range of five kilometers.

The SX-5 adjustable searchlight ensures illumination of a target during night, and the TS-200WR external loudspeaker can be used for voice commands and public notification.

"Army-2018 forum is one of the largest expos in the world used for demonstration of armament and military materiel; Russian and foreign customers can enjoy the exposition of Kazan Helicopters", said Yuriy Pustovgarov managing director of Kazan Helicopters. "We will showcase two modern helicopters, Mi-17V-5 and Ansat, fitted with state-of-the-art equipment for performing a wide range of missions for law enforcement agencies."

The Ansat is a light twin-engine utility helicopter, and depending on configuration it can accommodate up to nine people. To date, the maximum take-off weight of the helicopter has been increased up to 3.6 tons, with a payload of 1.3 tons, a cruise speed of up to 260 kilometers per hour, a maximum speed of 275 km/h, and full-tanks range of 520 km.

The Mi-17V-5 military transport helicopter is used to transport cargoes and materiel with the weight of up to four tons. The helicopter can also be used for other missions, such as search-and-rescue or civilian operations. Equipped with state-of-the-art communication and navigation suites, the cabin is fitted with equipment compatible with night vision goggles.

According to Kazan Helicopters, the Mi-17V-5 helicopter has proven that can successfully fulfill missions in any weather condition and is widely regarded as one of the best helicopters in the world in its class

The Mi-17 helicopter series produced by Kazan Helicopters have been delivered to 80 countries in Asia, Africa, Latin America and the CIS.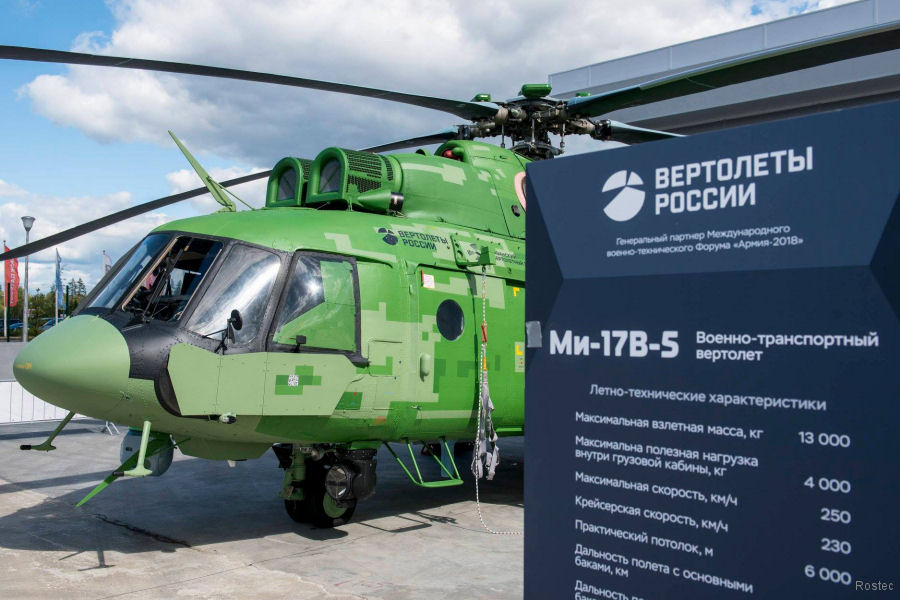 This article is listed in :
Ansat in

Russian Helicopters
Mil Mi-17V-5

Kazan Helicopters
Russian Helicopters
See also
Modernized Mi-35 at Army-2018