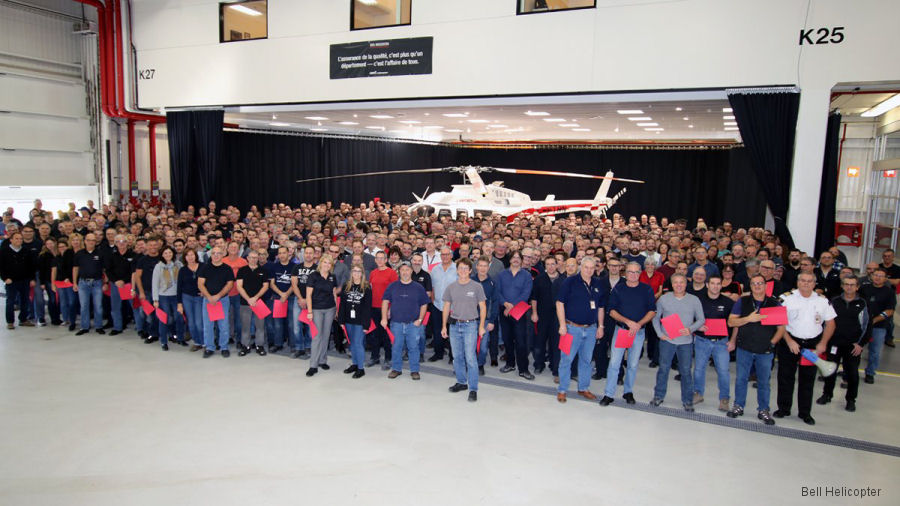 Bell Helicopter, December 12, 2017 - Mirabel, QC, Canada - Bell Helicopter, a Textron Inc. company, announced today that the company's Canadian facility located in Mirabel has completed its 5,000th aircraft.

The aircraft, a Bell 407GXP, will be owned by China's Shaanxi Helicopter Co. Ltd. (SHC), which had signed a purchase agreement for 100 Bell 407GXPs earlier this year.

"This is an incredible milestone for Bell Helicopter and a testament to the talent and dedication of everyone here at Mirabel and across the company," said Cynthia Garneau, president, Bell Helicopter Textron Canada Ltd (BHTCL). "We are confident this new 407GXP will live up to the high performance that SHC expects from the aircraft and we look forward to working with SHC to bring this aircraft into service in China and ensure the smooth delivery of the rest of the 407s on order."

To celebrate this significant moment in BHTCL' history, all Mirabel employees proudly gathered around the 5000th aircraft in the facility's Delivery Center for a special ceremony.

The Bell 407GXP, launched in 2015, is an upgrade to the Bell 407 product line that provides an additional 50 lbs. (22.5 kg) of payload capability, coupled with a new M250 Rolls-Royce engine that improves performance and fuel efficiency delivering class-leading hot and high performance. The Bell 407GXP is also equipped with new avionics features such as hover performance calculator improvement, as well as transmission TBO extension of +500 hours that is designed to lower maintenance costs. The Bell 407GXP integrates reliability, speed, performance and maneuverability with a cabin configurable for an array of missions and payloads.

There are almost 1,400 Bell 407s in operation around the world today performing a myriad of missions in the corporate, Helicopter Emergency Medical Service (HEMS) and energy space.

Bell Helicopter started in 1935 as Bell Aircraft Corporation, a small aviation company committed to expanding the scope of vertical lift. Now an industry leader with unmatched name recognition, Bell Helicopter continues to set the pace for developing advanced aircraft and finding innovative solutions for both commercial and military markets. Bell Helicopter opened its Mirabel manufacturing operations in 1986 and the facility is the final assembly and delivery site of the majority of Bell's commercial product lines including the Bell 505 Jet Ranger X, 429, 412EPI and 407GXP.

About Bell Helicopter: Bell Helicopter, a wholly owned subsidiary of Textron Inc. (NYSE: TXT), is an industry-leading producer of commercial and military, manned and unmanned vertical-lift aircraft and the pioneer of the revolutionary tiltrotor aircraft. Globally recognized for world-class customer service, innovation and superior quality, Bell's global workforce serves customers flying Bell aircraft in more than 120 countries.
Location :

Mirabel

Bell Helicopter Canada