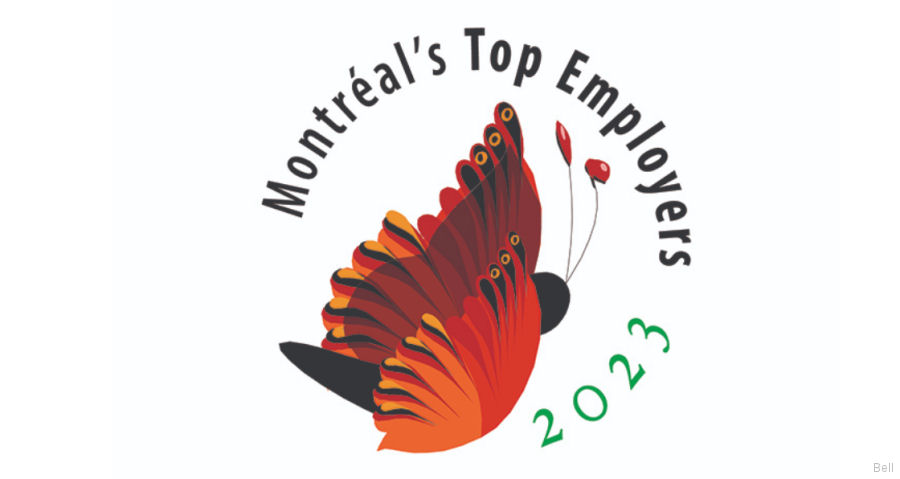 Bell, March 13, 2023 - For the third year in a row, Bell in Canada has been recognized as one of the top employers in the Greater Montreal area by Canada's Top 100 Employers.

This special mention recognizes the industry's leading employers. Employers are evaluated on the physical workplace; work atmosphere; benefits; financial, family and health benefits; training and skills development; and community involvement.

Bell works every day to ensure the well-being of its 1,400 employees so that everyone can thrive within the company. Among other things, we have made significant investments in the transformation of office spaces to create more collaborative environments and inaugurated a Wellness Centre to provide employees with access to exercise stations and health professionals.

In addition to helping employees save for the future and offering a comprehensive health plan, Bell offers specialized health services on site, including a nutritionist, kinesiologist, physical therapist, psychological health occupational therapist, massage therapy and a fitness reimbursement program. Employees also benefit from flexible work schedules, shortened work weeks, compressed work weeks and telecommuting. Bell also focuses on charitable initiatives related to education, health and social services, the military and industry, and facilitates employee participation in volunteer work.

To support the career development of its employees, Bell offers development opportunities at all stages of their careers, including apprenticeship programs for skilled trades, paid internships for students and recent graduates, in-house training, mentoring and tuition subsidies for employees who wish to take work-related courses.

Bell continually strives to excite its customers through the design and delivery of high-quality vertical lift products and by providing exceptional experiences. The same is true for the commitment of its employees. As the demand for helicopters and green technologies in aerospace increases, Bell continues to support the Canadian economy and the Greater Montreal community.
Location :

Montreal (Bell) heliport

Bell Helicopter Canada