Leonardo on ILandMiami' Heliboat Debut


ILandMiami' new marine utility vessel (MUV or heliboat) is a fully navigable vessel and first self-propelled marine landing solution to transport attendees to and from events. It can accommodate helicopters up to 7,000 lbs

Leonardo, December 17, 2018 - MIAMI, FL - ILandMiami debuts it's new marine utility vessel (MUV) to transport Art Basel attendees to and from events.

Established 2016 in Miami, ILandMiami designs, engineers and manufactures custom-made landing solutions including helicopter dollies, helidecks, and temporary helistops as well as its patented, trademarked marine utility vessels (MUVs).

The MUV, also referred to as a heliboat, was engineered as a fully navigable vessel and is the first self-propelled marine landing solution.

These revolutionary vessels can accommodate helicopters up to 7,000 lbs.

Art Basel attendees saw this world-class innovation first hand on Dec. 7, as ILandMiami's strategic partner Leonardo Helicopters sent its AW119Kx to collect VIP guests from the prestigious Fontainebleau Aviation at Miami's Opa Locka airport, flew them in five minutes over to Miami Beach's Biscayne Bay where luxury yachts from yacht charter partner, YachtLife, transported guests onward to Art Basel locations — showcasing a partnership that provides the highest caliber of luxury travel in the aviation and marine industries.

Considered a Tier 1 City, Miami is attracting new investments, massive global events, and is established as a major business and cultural hub. However, its lack of landing locations has historically been an issue. ILandMiami provides a viable, mobile, multi-function solution to this unique dilemma.

Partnering with both aviation and marine partners, ILandMiami offers unprecedented accessibility for the helicopter industry, enabling new and current helicopter owners to not only buy helicopters, but also their own landing locations simultaneously — allowing them to arrive directly to their waterfront home, yacht or marina.

ILandMiami has an MUV available for flagship partner The Ritz-Carlton Residences Miami Beach, where the MUV will be the ultimate amenity for its residents travelling to/from local airports and other South Florida destinations. ILandMiami also works with 135 charter operators to provide helicopter charter service to/from their landing sites.

"Leonardo Helicopters is a world leader in the corporate helicopter market. We're excited ILandMiami can offer customers more operational flexibility getting to their final destination," said Christopher Sirkis, Leonardo Helicopters' sales manager

"We are elated to be spearheading innovative landing solutions for the helicopter and VTOL [vertical take-off and landing] industries to provide much needed infrastructure for these industries and to create new marine real estate," said Krystal Fiksdal, CEO.

"We are so excited to introduce ILandMiami to both the marine and aviation industries! Our versatile and multi-purpose MUVs will also help Miami to continue to host and attract events like Art Basel and other events without being crippled by our traffic," said Michelle Terris, co-founder.

The AW119Kx is a best in class single engine helicopter featuring an advanced avionics system for enhanced situational awareness, mission effectiveness and safety. The AW119Kx is provided with the largest cabin in its category, able to accommodate up to six passengers, and redundancy of all critical systems, typically available on multi-engine aircraft, ensuring outstanding safety and reliability. Almost 320 AW119 helicopters have been ordered to date by nearly 130 customers in 40 countries. The new AW119Kx is perfectly suited to perform many roles including government/military duties, utility, EMS, firefighting, law enforcement, training, VIP/corporate transport and offshore transport.

The Ritz-Carlton Residences, Miami Beach is an exquisite collection of 111 Miami luxury condos and 15 stand-alone villas designed by Piero Lissoni, with impeccable service by The Ritz-Carlton. Private, waterfront residences available from $2 to $40 Million. The Developer of The Ritz-Carlton Residences, Miami Beach is 4701 North Meridian, LLC, a partnership comprising of Lionheart Capital and Elliott Management Corporation. Lionheart Capital is a Miami-based real estate investment firm engaged in the investment, development and repositioning of Miami new construction and existing commercial, hospitality and residential assets.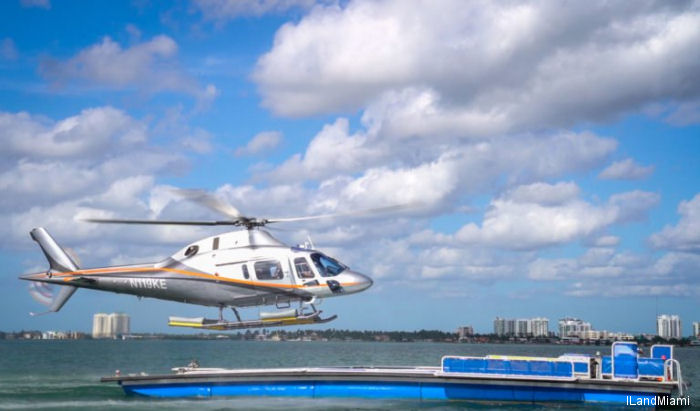 Aircraft mentioned in this article :
AgustaWestland AW119Ke Koala N119KE N965TC

This article is listed in :


AgustaWestland Philadelphia
AgustaWestland USA

Opa-locka