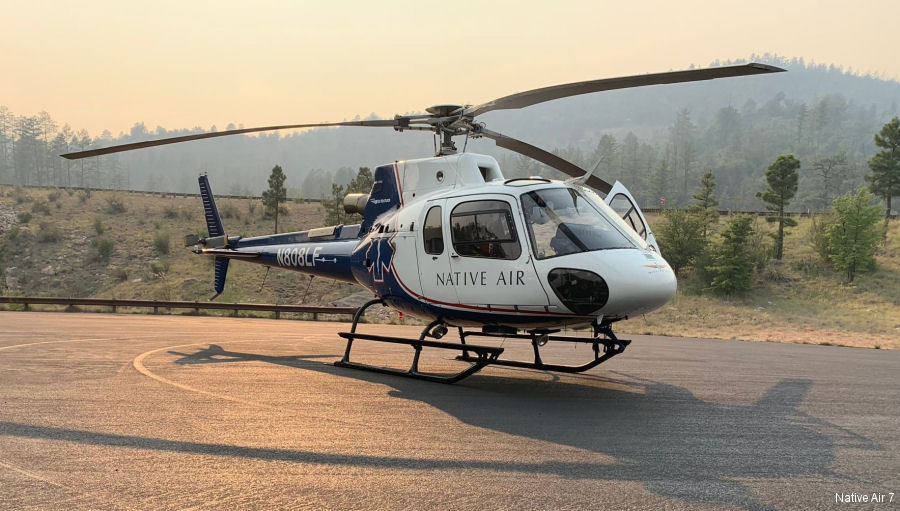 Air Methods, April 19, 2022
- Payson, Ariz., – Native Air, a subsidiary of Air Methods, the leading air medical service provider in the U.S., announced that it is celebrating the 20th Anniversary of its Native Air 7 air ambulance service this month long.
Since opening their doors in April 2002, the Native Air 7 crew has remained committed to providing lifesaving care to residents in the region.
Native Air 7 provides essential lifesaving air medical services in central Arizona. This air medical team came to the region purely based on the need for Air Medical service. Rural communities often face disadvantages when it comes to higher level medical care. Limited services are provided at many small hospitals around the country.
During missions the highly trained air medical teams care for patients with lifesaving interventions to significantly improve patient outcomes. These interventions include advanced trauma care such as blood products administration; advanced airway intervention; cardiac/hemodynamic monitoring; ventilator management; vasoactive medication administration and titration; and advanced surgical procedures.
"Having access to potentially lifesaving air medical services is incredibly important to our community, especially with the continued consolidation of hospitals and the growing number of rural hospital closures throughout the region," said Jessica Villanueva, Outreach Specialist at Air Methods. "Ensuring residents in the region have access to fast and efficient transports to lifesaving care is our top priority."
Native Air 7 is stationed at the Payson Airport and is staffed by a highly trained Air Methods crew of four pilots, four critical care nurses, four critical care paramedics and two aviation mechanics. With years of extensive training, these skilled clinicians are required to have practiced at least three years in an emergency care or intensive care setting before joining a flight crew.
Importantly, Native Air 7 aircraft is the only helicopter in the area that is stocked with blood and plasma in flight to be administered during prehospital air medical transport for patients at risk for hemorrhagic shock. This combined with rapid air transport, can help critically ill or injured patients who otherwise might not survive.
Patients suffering significant blood loss are at risk for hemorrhagic shock which causes the body's organs to fail and can lead to death. According to a study in the New England Journal of Medicine, the administration of thawed plasma during prehospital air medical transport to patients at risk for hemorrhagic shock resulted in lower 30-day mortality and faster blood clotting than standard-care resuscitation.
"We are tremendously proud of this anniversary for Native Air 7, as we continue to see our crew deliver safe, reliable and high-quality care and transport to the residents and visitors in central Arizona," Villanueva continued. "As we celebrate this momentous occasion all month long, we look forward to seeing Native Air 7 reach new heights delivering excellence in care and air medical services to this community for many years to come."
Air Methods is committed to providing air medical services to all members of the communities we serve. Their average out-of-pocket patient cost per flight is less than $265 and they have secured in-network agreements with Blue Cross Blue Shield, United, and more than 30 additional health insurance companies. In addition, their patient advocacy program works with all patients, regardless of insurance, to ensure affordability.
About Air Methods: Air Methods is the leading air medical service, delivering lifesaving care to more than 70,000 people every year. With nearly 40 years of air medical experience, Air Methods is the preferred partner for hospitals and one of the largest community-based providers of air medical services.
United Rotorcraft
is the Company's products division specializing in the design and manufacture of aeromedical and aerospace technology. Air Methods' fleet of owned, leased or maintained aircraft features more than 450 helicopters and fixed wing aircraft.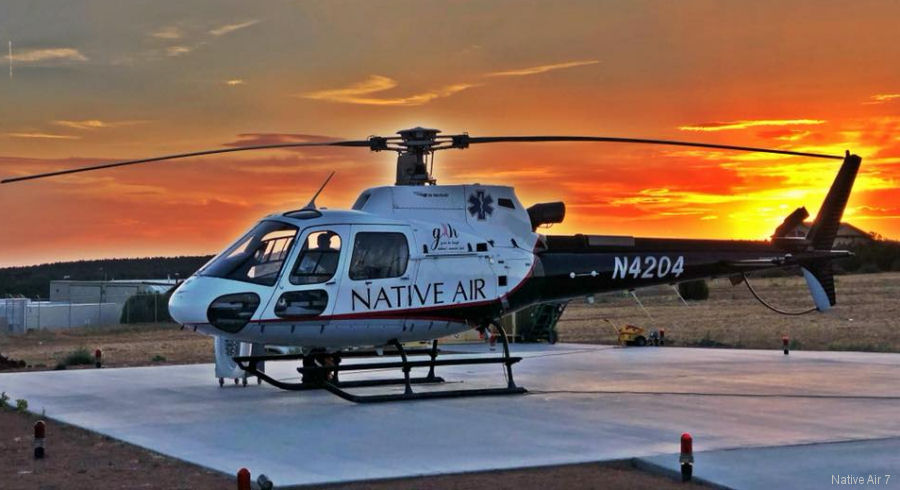 Location :

Payson


List of Air Medical Ambulance Services


Native Air
State of Arizona
AS350/EC130 in

Air Methods