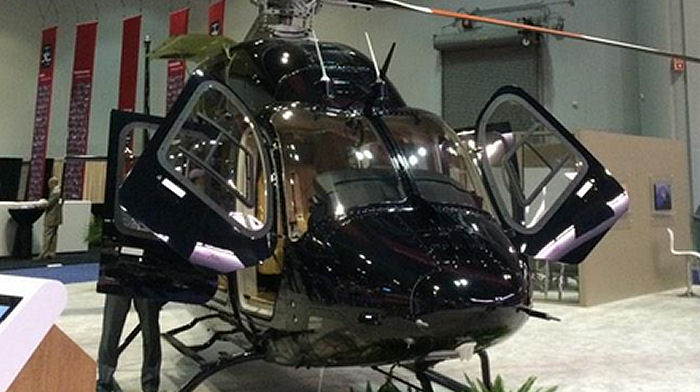 Bell Helicopter, October 21, 2014
- ORLANDO, FLORIDA – Bell Helicopter, a Textron Inc. company, will display the Bell 429 in corporate/VIP configuration at the National Business Aviation Association (NBAA) 2014 conference, held this year in Orlando, Florida from October 21 to 23.
In addition, Italy-based Mecaer Aviation Group will be featuring a mockup of the
Bell 429 MAGnificent interior
inside the Bell Helicopter booth. Both the aircraft and the mockup can be seen at Booth 212 at the Orange County Convention Center during the show.
"This aircraft and particular configuration have proven to be a popular choice, making up more than 40 percent of our Bell 429 customer base worldwide," said Danny Maldonado, Bell Helicopter's executive vice president of Sales and Marketing. "We have not only seen a tremendous response to this aircraft, but also the newly introduced Mecaer MAGnificent interior. We look forward to engaging our global corporate customers from around the world at the conference and showcasing not only the Bell 429, but our entire line of modern helicopters designed to serve this demanding market."
The Bell 429 is one of the most advanced light twin helicopters ever developed, offering a fully integrated glass cockpit with advanced drive system and best-in-class WAAS navigation and IFR capability. Additional safety features include a collective mounted throttle, damage tolerant hub and rotor system, and energy attenuating seats. It is the first helicopter certified through the MSG-3 process, resulting in reduced maintenance costs for operators.
"We are excited to bring our new MAGnificent interior to NBAA" said Co-General Manager of Mecaer Aviation Group, Armando Sassoli. "We have had a great deal of success showcasing it to customers at events throughout the world and look forward to showing the unique features and high level of comfort unique to this configuration."
The Bell 429 MAGnificent interior can be customized to a variety of seating configurations and offers a wide range of Italian fabrics, colors and optional equipment. MAG's specialty custom interior incorporates two proprietary products, a passive noise abatement system called SILENS, and an In-Flight Entertainment Enhanced Lounge (I-FEEL), that provides a fully customized interactive touch screen based entertainment, communication and flight information management system.
Additionally, representatives from Bell Helicopter's award-winning customer support and services team will be available to discuss capabilities with show attendees.
NBAA 2014 is one of largest business aviation events of the year and the sixth largest tradeshow in the United States. More than 25,000 operators and industry leaders are expected to attend.
About Bell Helicopter: Bell Helicopter, a wholly owned subsidiary of Textron Inc., is an industry-leading producer of commercial and military, manned and unmanned vertical-lift aircraft and the pioneer of the revolutionary tiltrotor aircraft. Globally recognized for world-class customer service, innovation and superior quality, Bell's global workforce serves customers flying Bell aircraft in more than 120 countries.

Bell Helicopter
429 in

Mecaer