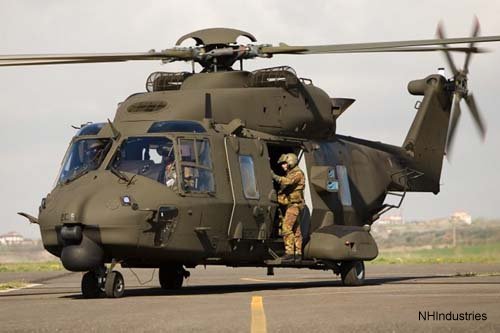 NHIndustries, January 03, 2012 - NHI is proud to announce the delivery of the 100th NH90 heliciopter.
This helicopter is a NH90 TTH (tactical transport ) variant , it has been delivered to the Italian army the 3rd january.

The NH90 is already deployed and operational in several countries replacing several types of previous generation rhelicopters for utility, transport or maritime missions.


About NHIndustries
NHIndustries is a French SAS company, based in Aix-en-Provence. It is wholly owned by Eurocopter, AgustaWestland and Fokker Aerostructures and provides the focal point for these companies for the NH90 programme. Established in 1992, NHI has managed the design, development and entry to service of the NH90 for both NAHEMA (NATO Helicopter Management Agency) and export customers.

NHIndustries is certified to EN 9100, ISO 9001 and AQAP 2110, for prime Contractorship and Management of International Aeronautical Programmes.
NH Industries NH90