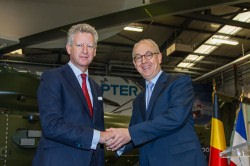 NHIndustries, December 21, 2012 - NHI is proud to announce the delivery to the Belgian Defence Forces of the first NH90 Tactical Transport Helicopter.

This event occurred in the presence of Mr Pieter de Crem, Belgian Minister of Defence in Marignane (Eurocopter Facility) where the helicopter was built.

This helicopter will be based in Beauvechain, home of the 1st Wing. It will be used for Tactical transport and utility missions.

"We are very pleased to participate to the modernization of the Belgian Defence Forces with the NATO helicopter of the 21st century" declared Xavier Poupardin, Delegated Managing Director of NHIndustries.

The delivery of this Full Operational Capability standard helicopter takes place four months only after its first flight in Marignane.

Belgium ordered eight NH90s, four NH90 TTH for army transport missions and four NH90 NFHs for Navy missions.

The Belgian NH90 TTH is very close to the french NH90 Caiman TTH for which deliveries started in the end of 2011 in Full Operational Capability Standard. This commonality brings to the Belgian customer all the return of experience collected during the development of the french NH90 TTH.

The NH90 TTH (Tactical Transport Helicopter) variant is a helicopter of 11 ton class primarily configured to perform tactical transport missions in all environments by day and night. The NH90 TTH flexibility allows its users to perform additional missions such as internal/external load transport, Heliborne Operations, Special Operations, Search and Rescue, Casualties Evacuation and Training missions.

The NH90 TTH is the most modern helicopter of its class available on the market. It features a high level of system integration built around a dual bus Core Avionic System, full glass cockpit with Multifunction Displays, Fly-by-wire controls with 4-axis Automatic Flight Control System. The dedicated Mission System includes among others: Piloting Forward Looking Infrared system, Helmet Mounted Sight and Display, Electronic Warfare System, Tactical Control and Tactical Communication System, Weather Radar, Digital Map Generator and an on-board Monitoring and Diagnostic System. It features a fully composite crashworthy fuselage fitted with a rear ramp which allows the transport of a light tactical vehicle. The two Rolls-Royce/Turbomeca RTM322 modern engines provide power reserve in all environments. The NH90 helicopter has provision for a number of role equipment to enable mission flexibility and effectiveness coupled with a high level of safety and survivability. More than 130 NH90s have been delivered to 13 countries.

The twin-engine, medium-size NH90 helicopter program is managed by the consortium NHIndustries, the Company owned by AgustaWestland (32%), Eurocopter (62.5%), and Stork Fokker (5.5%).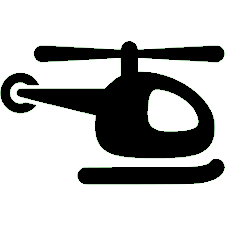 Aircraft mentioned in this article :
NH90 TTH RN05 ( Force Aérienne Belge )


NH90 in

Force Aérienne Belge
NH90 in

Eurocopter France