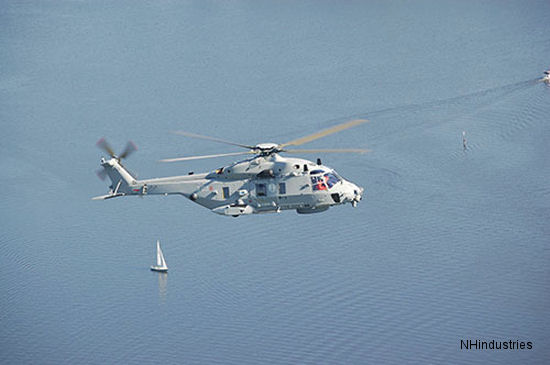 NHIndustries, May 14, 2014 - NHI is proud to announce that the NH90 helicopter will be displayed at ILA Berlin airshow.

The helicopter displayed is an Italian Navy NH90 NFH of the 5th helicopter group based in Luni. It will be visible in flight and on static display.

"Our presence at ILA Berlin is natural since Germany, is one of the key actors of this outstanding programme. Today, NHI and its partner companies continue the ramp up in production and deliveries while paying a special attention to the support activities of the operational units" explained Xavier Poupardin Delegated Managing Director of NHIndustries.

The NH90 is the optimal choice for modern operations thanks to its large full composite airframe, its excellent power to weight ratio; and its wide range of rôle equipment. It features a redundant Fly-by-Wire flight control system for reduced Pilot's workload and enhanced flight characteristics.

The NH90 is proposed in two main variants, one dedicated to naval operations, the NH90NFH (Nato Frigate Helicopter) is particularly adapted to Search and Rescue missions thanks to its integrated mission system taking into account the data of a multimode Radar, an ESM suite an E/O suite. It can as well be used to perform special operations, anti piracy operations or ASW/AsuW missions.

The land based counterpart of the NH90 is the NH90 TTH or Tactical Transport Variant. As of today, around 200 NH90s have been delivered in Naval and Tactical transport variants. They are in service in Germany, Belgium, France, Italy, The Netherlands, Sweden, Finland, Norway, Greece, Oman, Australia and New Zealand.

The twin-engine, medium-size NH90 helicopter program is managed by the consortium NHIndustries, the Company owned by AgustaWestland SpA (32%), Airbus Helicopters (62.5%), and Fokker (5.5%).
Location :

Berlin Brandenburg
NH Industries NH90