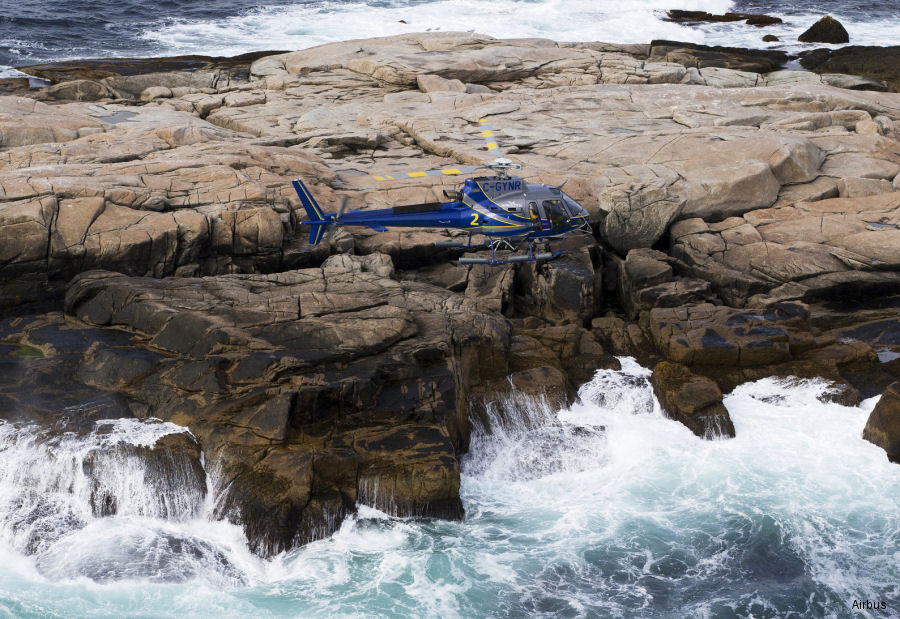 Airbus Helicopters, June 26, 2018 - SHUBENACADIE, NS - Airbus has delivered four H125 helicopters to Nova Scotia Department of Natural Resources (NSDNR), completing the province's air fleet renewal, following a competitive bid in 2016.

The aircraft will play an instrumental role in increasing service capacity for a wide range of NSDNR missions including search and rescue, forestry programs, wildlife and geological surveys, as well as firefighting. The H125's lifting power capacity, endurance and maneuverability make it the reference for the most rigorous hot and high missions and swing operations.

"The Airbus H125 helicopter is made for the extreme environmental conditions our team often operates under and provides us the level of performance and safety we require," said the Honourable Margaret Miller, Minister of Natural Resources, Nova Scotia. "The addition of these new helicopters will assist our team in providing increased support for the vast resources of Nova Scotia, including the ability to access remote areas quickly, providing support during weather events and managing resources more efficiently."

The Department of Natural Resources' mandate is to develop, manage, conserve and protect forest, mineral, parks and wildlife resources, in addition to the administration of the province's Crown land.

"The protection and management of Nova Scotia's natural resources is mission critical and the H125 is a workhorse that is up for this challenging task," said Romain Trapp, President of Airbus Helicopters Canada. "We are extremely proud of our successful and lasting relationship with Nova Scotia Department of Natural Resources and we thank them for once again entrusting Airbus Helicopters to support their operations."

Customized specifically for NSDNR, the H125 fleet are equipped with a glass cockpit, floor window, high-visibility doors, cable cutters, cargo mirror and cargo pods. The H125 helicopter will also allow the NSDNR to double its water carrying capacity when fighting wildfires.

About Airbus: Airbus is a global leader in aeronautics, space and related services. In 2017 it generated revenues of € 59 billion restated for IFRS 15 and employed a workforce of around 129,000. Airbus offers the most comprehensive range of passenger airliners from 100 to more than 600 seats. Airbus is also a European leader providing tanker, combat, transport and mission aircraft, as well as one of the world's leading space companies. In helicopters, Airbus provides the most efficient civil and military rotorcraft solutions worldwide.

NSDNR

Nova Scotia Ministry of Natural Resources
Government of Canada
H125/H130 in

Airbus Helicopters Canada
Airbus H125