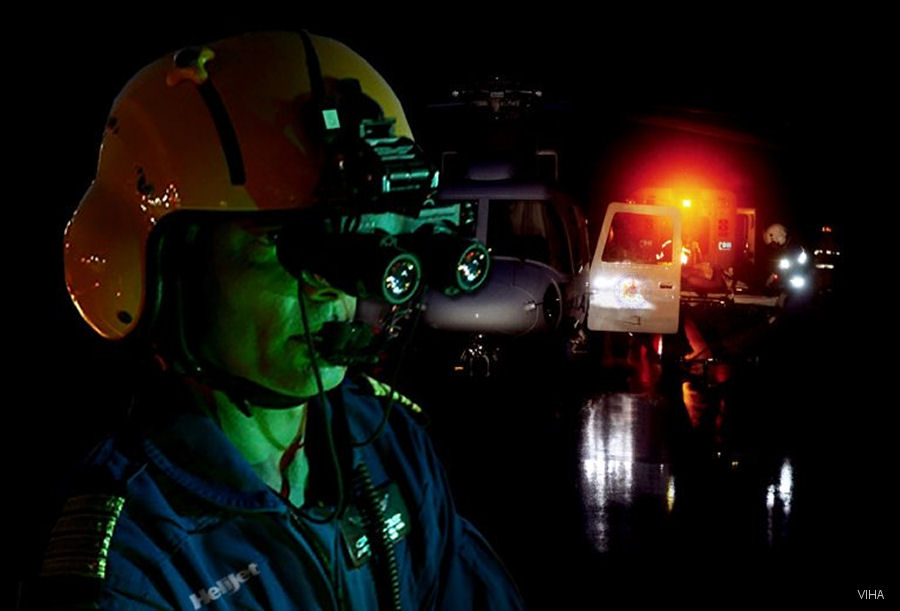 VIH Aerospace, February 27, 2018 - Victoria, British Columbia - Canada – VIH Aerospace (VIHA), a leading provider of helicopter maintenance, repair and overhaul (MRO) services; announces it has completed installations of three Supplemental Type Certified, Night Vision systems for Helijet International, Incorporated.

Danny Sitnam, president-CEO at Helijet, explains that VIH Aerospace and its development partner, Rebtech Technologies (Rebtech) were selected to perform the night vision installations for Helijet's S-76C+ helicopters because of the level of confidence his team has in the reputation and depth of NVIS knowledge and expertise held by VIHA and Rebtech, as partners in designing and performing these upgrades.

VIH Aerospace and Rebtech are recognized leaders in the development and integration of NVIS systems for a wide variety of helicopters and fixed-wing aircraft operating in EMS, Defense and various other sectors.

The S76C+ night vision system lighting upgrade was managed and performed by the VIH Aerospace avionics team, in collaboration with Rebtech and Night Flight Concepts. The detailed project included analysis of the existing lighting configuration to determine upgrade requirements, and the subsequent design and installation of the night vision systems.

Helijet's three Sikorsky S-76C+ helicopters are dedicated to supporting the British Columbia Emergency Health Service's BC Ambulance Service.

VIHA offers a comprehensive suite of services that improve helicopter safety and reliability while increasing Return On Investment for operators including:

component overhaul; structural/airframe repair; ADS-B; avionics and electrical modifications, including NVG upgrades and installations; manufacturing, aircraft refurbishment and completions; scheduled inspections; paint; product engineering and Supplemental Type Certificate Development; and parts and special operations equipment sales.

Aircraft types supported by VIHA include:
- Sikorsky S-61/S-76/S-92
- Bell Helicopter 205/206/212/222/230/407/412/429/UH1
- Airbus AS350/AS355/H130/H135

VIH Aerospace is exhibiting at Heli-Expo 2018 (Booth # C4045)

About VIH Aerospace: VIH Aerospace services include airframe & component MRO, Manufacturing, Engineering & Design, Fabrication & Refurbishment, Avionics & Electrical & Non-Destructive Testing; all performed to Original Equipment Manufacturer specification and in accordance to aviation industry regulatory bodies and organizations.

VIH Aerospace
S-76 in

Helijet International
Helijet to Install NVIS to BC Ambulance S-76s
BCEHS

BC Ambulance

Canadian Ambulance Services


REBTECH

REB Technologies
State of Texas