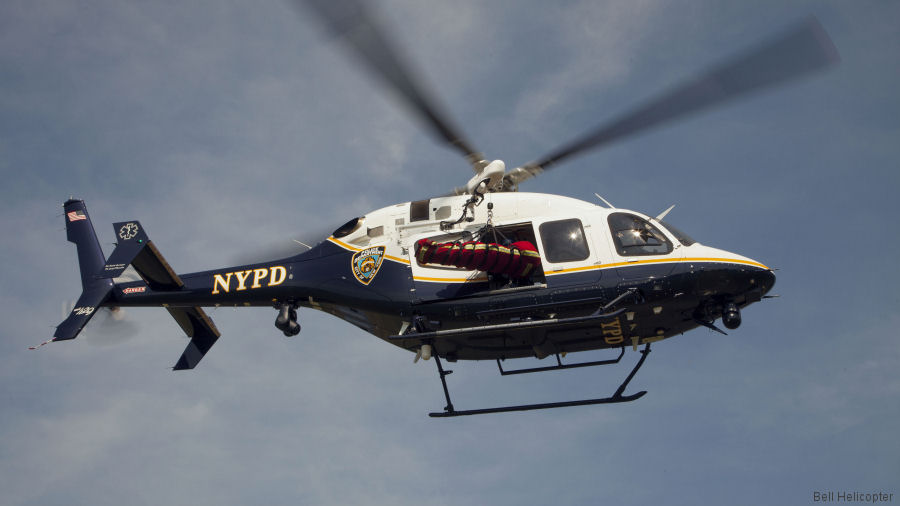 Bell Helicopter, December 07, 2017
- On October 22, Matthew Fredricks of New City, New York was hiking Anthony's Nose, a peak along the Hudson River at the north end of Westchester County, New York. Bell Helicopter's Communications team was grateful enough to speak with Matthew about his experience that day.
"Let me begin by saying that I am not a very religious person, but after hearing from quite a few people that have heard my story, or were directly involved in it, the phrase 'someone was watching from above' and decided that 'it wasn't your time', well I'm thinking that there may be some truth in it. I'm thinking maybe that 'someone' very well might have been in a helicopter."
That Sunday morning, Matthew began his hike to the peak of Anthony's Nose, in Harriman State Park. As he neared the summit, Matthew began experiencing tremendous chest pain and recognized the signs of a heart attack. The attack, so severe, doctors would later tell Matthew and his family, that he survived what the medical community refers to as the "widow maker." This tragedy is caused by 100 percent blockage in one of the main arteries to the heart. Without emergency revascularization treatment, survival is near zero.
"Because I've been medically trained as a member of the National Ski Patrol, when I began to have the heart attack, I knew that I was in an area of the mountain that would be incredibly difficult for any first responders to get to me, let alone, have any hope of getting me off the mountain. Because I have climbed this particular peak many times in the past, I knew that the only place that I could be air-evacuated from was at a clearing several hundred feet down the mountain, on a large rock outcropping. As I said, I knew almost immediately that the only way I had a chance of survival was if I were to be air-lifted."
After what seemed like an eternity, Matthew hiked back down to the clearing he was familiar with.
"By amazing luck, a couple that I had met earlier in the day, at the trail-head, were returning back down from the summit. They saw me laid out on the rocks and asked if I had made it to the top. I said 'no, but I'm in trouble. I think I'm having a heart attack.' The man pulled out his cell phone, dialed 911, and he got through. Getting any cell reception just doesn't happen in these mountains, it just doesn't."
Because this fellow hiker was not from the area and didn't know the mountain, or their location, Matthew himself was able to speak with the 911 operator for the 1 hour and 15 minutes it took for the assembled EMT, Paramedics, Park Rangers, and Volunteer Fire Fighters to climb to the scene.
"The 'someone looking out from above' came into play once again. This time in the form of large group of young women that found themselves in the middle of this medical emergency on the side of the mountain. When they realized what was going on, they all began to render aid and support."
It was while they all waited for medical help to arrive, that the remarkable, truly compassionate side of these young women became apparent. Several sat by his side, Matthew was now going into shock.
"They took my hands into their own, and reassured me that 'I would all right and they would stay with me until help arrived.' It made all the difference in the world."
It turns out that these women were all medical students from Mount Sinai Medical School in New York City. Matthew added "I saw some humor in having women surround me, saying that if this was indeed how I was to leave this earth, perhaps it wasn't such a bad way to go."
The Only Hope Was An Helicopter

Once the first responders arrived and began treatment on Matthew, they quickly realized that time was working against them and if there was to be any chance of a successful outcome to this rescue, the only hope was by helicopter. Westchester already had a helicopter on the scene, but was not able to perform an extraction.

The call then went out to NYPD's Aviation Unit. "Luck" smiled down once again. A fully manned Bell 429 crew was just returning to the airfield when the call came in.

Once the location was identified, NYPD'S crew and their Bell 429, swiftly jumped into action. Without missing a beat, the emergency response team accomplished what they came to do.

"While I was being lifted hundreds of feet into the air by the cable, I was overwhelmed not only by the view of the underside of this amazing machine that was here to save me but also by an over powering feeling of being humbled. Realizing the sheer magnitude of what was happening, not one, but two helicopters, a dozen or more Fire and Rescue vehicles, all the men and women, paid and volunteers, all the thousands of hours of skills and training, all of it boiled down to really one thing: saving would require getting me off that mountain. It's surreal."

Since that day, Matthew and his family have visited the Mount Sinai Medical School and he is determined to thank every single organization and individual that was involved that Sunday afternoon.

"You might not always fully understand what it is that you do every day, you might not really believe that you and your skill set makes a difference but I'm here to tell you otherwise. Because of countless people at Bell Helicopter and the combined efforts to create and design this amazing machine that did exactly what it was built to do: allow humans to be our very best, which is when we are helping one another."

Among the next stops on Matthew's "Thank You Tour" will be with the NYPD's Aviation/Rescue.

NYPD

New York City Police Department
State of New York
429 in

State of New York