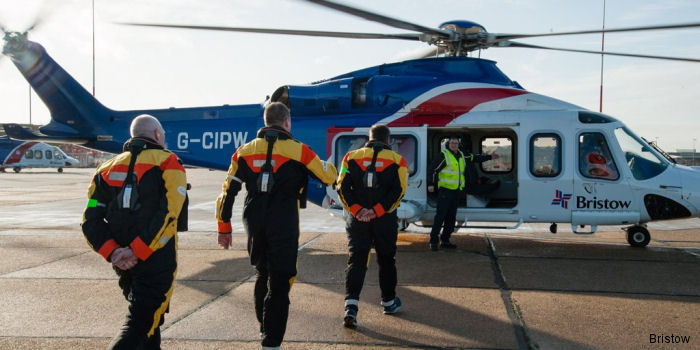 Bristow, January 30, 2017 - HOUSTON – For the second consecutive year, Bristow Group was ranked first in helicopter services in the oilfield services segment of EnergyPoint Research's 2016 Oilfield Products & Services Customer Satisfaction Survey that recognizes high-quality suppliers.

"I'm incredibly proud of what the Bristow team has accomplished by working together to deliver safe and reliable services globally," said Bristow Group President and Chief Executive Office Jonathan Baliff. "Our measures to improve safety, operate more efficiently, and focus on the client experience yielded positive results in what was another very challenging year for the oil and gas market."

EnergyPoint's oilfield product and services survey focused on the oil and gas industry's satisfaction with major upstream oilfield suppliers.

Survey respondents rate suppliers in four segments:
- onshore contract drillers,
- offshore contract drillers,
- oilfield products and
- oilfield services.

Suppliers were evaluated in various areas such as total satisfaction, pricing and contract terms, performance and reliability, technology, engineering and design, job quality, safety and environmental, service and professionalism, post-sale support and corporate capabilities.

About Bristow: Bristow Group Inc. is the leading provider of global industrial aviation services offering helicopter transportation, search and rescue (SAR) and aircraft support services, including maintenance and training, to government and civil organizations worldwide.

Bristow has major operations in the North Sea, Nigeria and the U.S. Gulf of Mexico, and in most of the other major offshore oil and gas producing regions of the world, including Australia, Brazil, Canada, Russia and Trinidad. Bristow provides SAR services to the private sector worldwide and to the public sector for all of the U.K. on behalf of the Maritime and Coastguard Agency.

Bristow

Oil and Gas Industry in

United Kingdom

Bristow US

Bristow Helicopters Nigeria

Bristow Australia

Bristow Caribbean

Líder Aviação
Lider Taxi Aereo