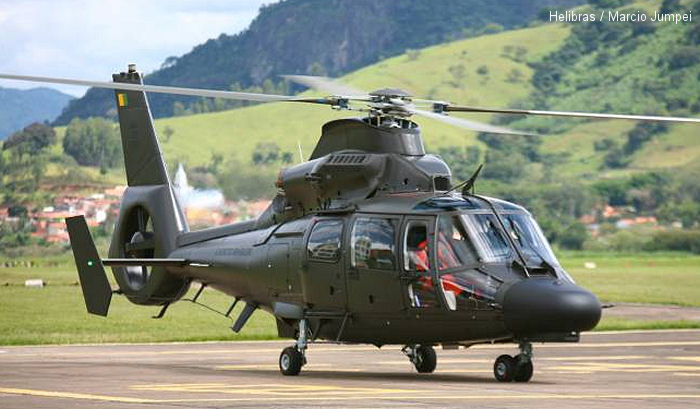 Airbus Helicopters, March 13, 2014 - The first two upgraded AS365 Panther K2 rotorcraft will be delivered this month by Airbus Helicopters' Helibras subsidiary to the Brazilian Army Aviation Command (AvEx), providing a modernized platform with more power, updated avionics and increased mission capability.

These deliveries follow the signature in Brasília of an amendment standardizing the modifications introduced to the helicopter's enhanced configuration – which will be assessed by AvEx's various battalions during mission operations. Should these evaluations prove favorable, Helibras will continue modernizing the remaining 32 AS365 K Panthers in the Brazilian Army's inventory through 2021.

Helibras' Panther K2 is the first helicopter to be fully certified in Brazil by the country's Aerospace Technology and Science Department (DCTA). It is a landmark achievement for the Itajubá, Brazil-based Helibras, as this particular version has been developed entirely in Brazil.

Featuring state-of-the-art equipment and systems, the Panther K2 upgrade will enable Brazil's AS365s to remain operational for another 25 years. The contract value for modernizing all 34 Panthers in Brazilian Army service is 347 million Brazilian reais.

"The modernization of military aircraft such as the Panther K2 is taking place in fleets with hi-tech assets and a high purchase value, be they fleets of helicopters, airplanes or ships," said Helibras CEO Eduardo Marson, who sees the upgrading of the Panthers as a strategic step forward in his company's expansion program.

"This upgrade effort allows Helibras to gain expertise in the key technologies offered in high-performance aircraft types such as the Dauphin family – on which the Panther military helicopter is based – and opens the way for the development of new projects through the company's engineering center," he added. "The Super Puma and Cougar helicopters are examples of this, and just by introducing a process whereby old parts are replaced by more modern systems, we are able to extend their service life for 25 years at least."

Helibras Manufacturing Vice President Richard Marelli said the company's engineering center was responsible for the Panther K2's preliminary and detailed designs for the enhancement. "As part of the process, a team of engineers and mechanics received on-the-job training at Airbus Helicopters with a view toward specialization in major operations," he continued. "The program also included training for pilots and instructors."

The Panther K2 has been fitted with new Arriel 2C2CG engines that deliver 40 percent more power, new engine fairings, a new glass cockpit with a 4-axis autopilot, new wiring and a cable-cutting device. In addition to night vision goggle-compatibility, the helicopter also features a new altimeter and weather radar, the latest navigation and communication radios and a new tail rotor – significantly improving performance and safety. These changes provide a helicopter with greater range, more speed and reduced pilot workload.

The Panther K2 has capacity for one or two pilots and 10 troops, a maximum takeoff weight of 4,300 kg., and a top speed of 175 kts. – which is increased from 150 kts. prior to its upgrade.

About Airbus Helicopters: Airbus Helicopters, formerly Eurocopter, is a division of Airbus Group, a global pioneer in aerospace and defense related services. Airbus Helicopters is the world's No. 1 helicopter manufacturer and employs more than 23,000 people worldwide. With 46 percent market share in civil and parapublic sectors, the company's fleet in service includes some 12,000 helicopters operated by more than 3,000 customers in approximately 150 countries. Airbus Helicopters' international presence is marked by its subsidiaries and participations in 21 countries, and its worldwide network of service centers, training facilities, distributors and certified agents. Airbus Helicopters' range of civil and military helicopters is the world's largest; its aircraft account for one third of the worldwide civil and parapublic fleet. The company's chief priority is to ensure the safe operation of its aircraft for the thousands of people who fly more than 3 million hours per year.
AS565AA Panther in

Comando de Aviação do Exército
AS565AA Panther in

Helibras