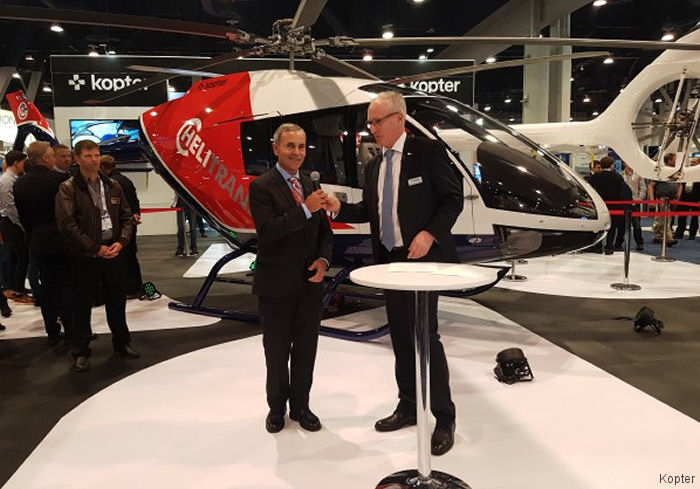 Kopter, February 27, 2018 - Las Vegas - Kopter Group AG announced today the signature of a Memorandum of Agreement with Paradise Helicopters for the purchase of four (4) SH09 helicopters to be delivered after the helicopter is awarded FAA certification expected around end of 2019.

This signature took place at Heli-Expo in Las Vegas between the Chief Executive Officer of Kopter, Andreas Loewenstein, and the Chief Executive Officer of Paradise Helicopters, Calvin Dorn who is based in Waikoloa on Hawaii's "Big Island".

This new contract underlines the success in expanding interest in the multirole SH09 helicopter, which is currently under final development in the company's recently opened engineering and manufacturing/assembly facilities near Zurich, Switzerland.

Calvin Dorn said: "For 20 years Paradise Helicopters has offered exclusive air tours and charters that immerse guests in the awe-inspiring natural beauty, history and culture of Hawaii. We envision the capabilities of the SH09 airframe, and its powerful Honeywell engine, as an exciting and efficient means to expand our unique air tour and charter packages going into the 21st century. The entire team is thrilled to be a launching partner and look forward to the certification and fielding of this new, powerful helicopter into the air tour and charters market in Hawaii".

Andreas Loewenstein added, "I am extremely gratified to see firsthand the level of acceptance we are experiencing with the SH09, the fact that Paradise Helicopters located in Hawaii has selected to operate our helicopter is an outstanding indication of the trust important operators have in Kopter and of the wide range of application the helicopter is capable of handling".

Paradise Helicopters operates primarily from the Kona airport in the "Big Island" offering helicopter transportation and tour services. The company is known for providing customers dazzling helicopter tours around the majesty of the Big Island's cliffs and canyons as well as dramatic views of volcanoes like Mauna Kea, Mauna Loa and the lava flows of Kilauea.

About Kopter Group AG: We develop, produce and support a new generation of helicopter. Our 260 talented team members are based near Zürich, with production and assembly facilities in Mollis and Näfels.

Our first model, the single-turbine SH09, outperforms its peers through increased modularity, modern systems, and a larger cabin and cargo hold. It delivers safety, performance and comfort at low operating costs. It is built for missions accomplished, from the most demanding to the everyday.

Paradise Helicopters
State of Hawaii
SKYe SH09 in

Kopter
Paradise Helicopters Visits Kopter' SH09