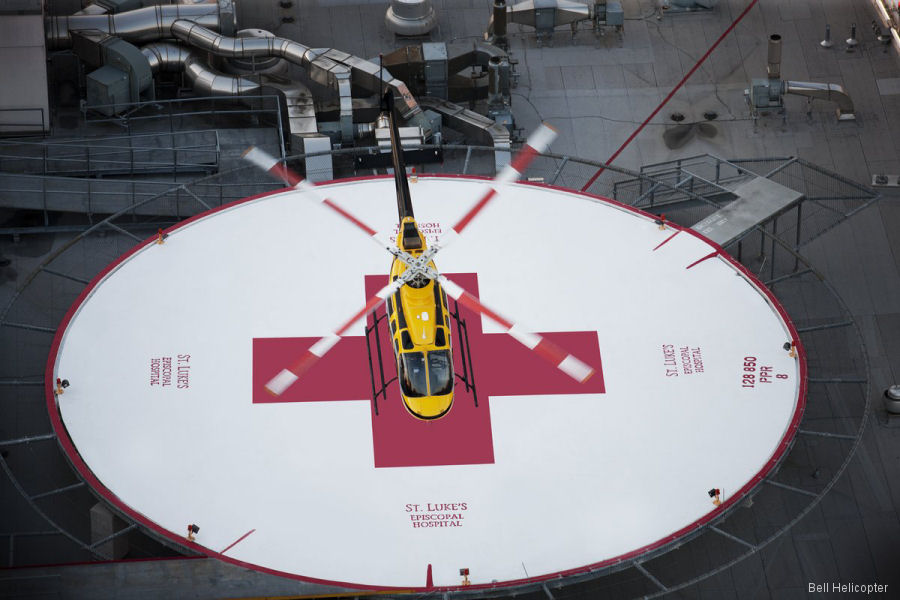 Bell Helicopter, April 28, 2017 - Phoenix-based PHI Air Medical is a leading air ambulance provider across the country, providing air medical services and outreach education to communities and healthcare systems.

They transport more than 30,000 patients each year, operating out of more than 65 bases across the United States.

PHI Air Medical is the only Helicopter Emergency Medical Services (HEMS) in North Texas which carries blood products, provided by the American Red Cross, to the scene of the accident.

PHI Air Medical also offers extensive educational programs approved for pre-hospital/nursing CEUs as well as programs for civic and community groups, and they regularly assist law-enforcement agencies and other first responders with search and other operations.

As one of Bell Helicopter's largest fleet operators, PHI has partnered with Bell for more than 68 years. Bell Helicopters is honored that PHI continues to place their trust in our services and products. Overall, PHI, Inc. operates around eighty 407s – of which about 30 are HEMS outfitted for PHI Air Medical – six 206s, four 212s, and four 412s.

"Bell Helicopter and PHI Air Medical are avid supporters of the communities in which we live and work. PHI's fleet of Bell helicopters bring medical professionals and supplies such as blood to the scene of an accident, which results in shorter wait times for the patient and quicker transfers to a hospital," said Anthony Moreland, Bell Helicopter's vice president of North American sales. "PHI Air Medical's Bell 407GXP provides a fast, safe, and effective means of providing critical care for the people around us."

On April 26, 2017, Bell Helicopter and PHI Air Medical joined forces for a blood drive with the American Red Cross and provided employees an opportunity to donate blood, continuing efforts to support the community.

"PHI Air Medical and Bell Helicopter together have made great strides in delivering this critical service to carry blood products to the North Texas region to better serve our communities," explained Graham Pierce, Director, PHI Air Medical. "This capability has allowed us to provide an even higher level of care to the communities around the Metroplex and we are grateful for the partnership and leadership Bell Helicopters has provided to us."

"Bell Helicopter was happy to co-host this blood drive to donate to the American Red Cross and help save lives," added Anthony Moreland.

PHI Air Medical
PHI Inc

Bell Helicopter