Truth Data QuantiFLY for Bell 407GXi and 429


FAA (Federal Aviation Administration) approval of Truth Data QuantiFLY, a low-cost, lightweight aircraft communication unit (ACU) will a fully automatic flight data monitoring (FDM) solution for the Bell 407GXi and 429 helicopters

Bell, January 14, 2021 - Fort Worth, TX – Bell Textron Inc., a Textron Inc company, announced the Supplemental Type Certificate (STC) for the Installation of QuantiFLY, a new aircraft communication unit (ACU) powered by Truth Data, offering a true low-cost, lightweight, and fully automatic flight data monitoring (FDM) solution currently available for the Bell 407GXi and Bell 429.

Bell developed QuantiFLY with Appareo and FDM analytics to enable operators to affordably use the data from QuantiFLY to be actionable and drive safety.

"As innovators, Bell is continuously exploring advanced solutions to provide customers with smart helicopter technology to enhance their flight experience," said Michael Thacker, executive vice president, Innovation and Commercial Business. "The introduction of Bell's QuantiFLY will offer greater visibility into flight operations while integrating seamlessly with Bell's current connected fleet offerings for our commercial aircraft."

Bell selected Appareo Systems for connectivity hardware based on its proven track record for both world-wide cellular telematics and aircraft data monitoring. The device utilizes cellular (4G LTE / 3G GSM) on the ground data transmission to offboard aircraft fight parameter and maintenance data via cloud for processing and analytics. Bell worked with Microsoft to build on its Azure cloud infrastructure to route data securely around the world The data is then uploaded to Bell's MissionLinkTM, an innovative off-board data platform that delivers intuitive analysis to customers.

Bell collaborated with Truth Data, a proven leader in rotorcraft flight data monitoring, to provide a scalable flight data analysis platform and benchmarking capabilities to better identify safety issues and reduce operator risks. Coupled with QuantiFLY, this provides a completely automatic FDM service. Network regulatory and certifications include Verizon Network, Vodafone, CE, IC, FCC, RCM.

QuantiFLY is offered as an aftermarket kit forward or retrofittable for legacy and new aircraft, analog and digital through Aeronautical Accessories.

QuantiFLY Equipment Features:

Dual-core ARM cortex A9 processors

- 512 MB DDR3L RAM
- 32 GB eMMC standard storage
- LTE CAT 4 cellular radio with 3G/2G fallback
- Bidirectional communication
- 100BASE-TX 10/100 ethernet
- Discrete I/O
- RS-422
- ARINC 429 RX (up to 10 Hz)
- Inertial measurement unit & GPS
- Secure boot
- Low power mode
- Ultra-Low power sleep mode
- Weights less than two pounds

About Bell: Thinking above and beyond is what we do. For more than 80 years, we've been reimagining the experience of flight – and where it can take us. We are pioneers. We were the first to break the sound barrier and to certify a commercial helicopter. We were a part of NASA's first lunar mission and brought advanced tiltrotor systems to market. Today, we're defining the future of on-demand mobility.

Headquartered in Fort Worth, Texas – as a wholly-owned subsidiary of Textron Inc., – we have strategic locations around the globe. And with nearly one quarter of our workforce having served, helping our military achieve their missions is a passion of ours. Above all, our breakthrough innovations deliver exceptional experiences to our customers. Efficiently. Reliably. And always, with safety at the forefront.

About Textron: Textron Inc (NYSE:TXT) is a multi-industry company that leverages its global network of aircraft, defense, industrial and finance businesses to provide customers with innovative solutions and services. Textron is known around the world for its powerful brands such as Bell, Cessna, Beechcraft, Hawker, Jacobsen, Kautex, Lycoming, E-Z-GO, Arctic Cat, Textron Systems, and TRU Simulation + Training.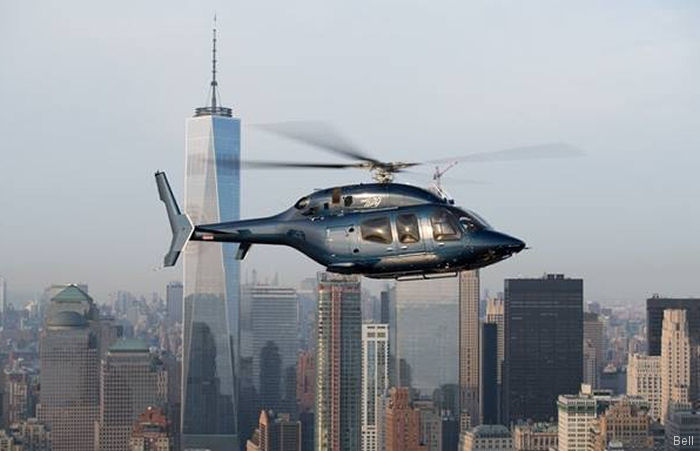 New communication unit is also available for the Bell 429

This article is listed in :


Truth Data
State of Texas
Bell 407GXi
Bell 429

FAA
Federal Aviation Administration
--Helicopters Avionics