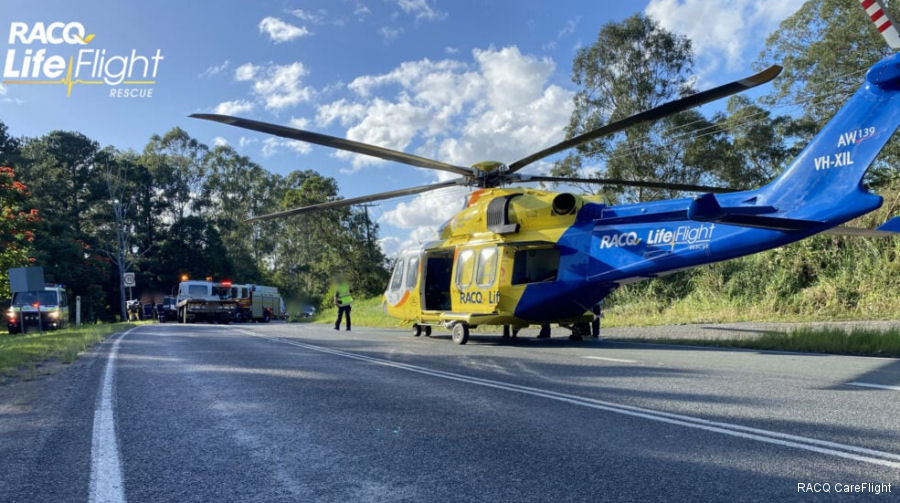 Pratt & Whitney Canada, May 31, 2021
- RACQ LifeFlight Rescue's Queensland fleet of helicopters completed a record 2,022 critical missions between 2019 and 2020. This large undertaking equates to over 4,700 flight hours.
In its last financial year, crews across the state responded to 224 motor vehicle accidents; a 15% rise from the year before. High dispatch reliability, achieved through proper aircraft and engine maintenance, is crucial for successfully achieving more missions.
The Queensland rescue service's fleet includes five Leonardo AW139 and three Bell 412 helicopters; all powered by Pratt & Whitney's PT6 turboshaft engines. RACQ LifeFlight Rescue has aeromedical bases in Brisbane, Bundaberg, Sunshine Coast, Mount Isa, Roma, and Toowoomba in Australia.
Its engineering and maintenance operation is based at Brisbane's Archerfield Airport, but the organisation boasts line maintenance facilities throughout Queensland, as well as in Victoria. The LifeFlight engineering operation also maintains six AW139s for the organisation's sister company, StarFlight Australia. Three of StarFlight's AW139s are operated by Victoria Police's Air Wing.
LifeFlight engineering operations manager, Michael Dopking, said medevac and search and rescue operations often require helicopters to land in small zones, and be able to quickly and safely take-off and move on. "LifeFlight's AW139 and Bell 412 helicopters are able to do that, because of the engine's power, performance and reliability," Mr Dopking said. "I've been involved with many different engines, on many different helicopter types in my more than 40-year career – much with the Australian Defence Force – including the Bell UH-1H Huey, Sikorsky S70 Black Hawks, Airbus MRH and ARH Tiger helicopters."
Dopking added that he is fond of the PT6 engine, because it is easy to maintain and extremely consistent. "Pratt & Whitney Canada has continually improved the engine over the years; which is why it is so reliable. The machinery is also easy to engineer, thanks to new innovations such as data analytics."
AW139 PT6C-67C engines

LifeFlight maintains PT6C-67C engines on its Leonardo AW139s, using Pratt & Whitney Canada's Full flight data Acquisition, Storage and Transmission (FAST™) engine condition trend monitoring system (ECTM).

"FAST™ has proven to be very reliable and provides highly accurate data to the engine health management team, to keep track of engine performance trending," said Dopking. "We are particularly impressed with the great service we receive from the tech support crew, namely Pratt & Whitney's field service manager based in Brisbane [who] is very responsive to our needs."

"The Pratt & Whitney team members in Singapore, who look after our Guaranteed Maintenance Cost Plan (GMCP), are most helpful resolving technical and administrative issues, when they arise," he said.

The AW139 is a twin-engine machine, so with 11 aircraft across the LifeFlight and StarFlight fleets, the engineering team is tasked with maintaining 22 PT6C-67C engines in operation. Mr. Dopking said LifeFlight has operated the PT6C-67C for over 26,000 hours and, in that time, only encountered one unscheduled removal.

"During that time, our GMCP provided a timely loaner engine and the team in Singapore kept us up to date with the engine's repair progress in Montreal, where the engine was sent to be worked on." The field service team continues to be most helpful in assisting LifeFlight engineering staff with the recognition and implementation of effective maintenance schedules and housekeeping best practices. "Thanks to that high level of service, RACQ LifeFlight Rescue has been able to keep our AW139 fleet operating to high levels of availability and ultimately, saving lives."

RACQ LifeFlight Rescue has been Queensland's leading community helicopter service for the past 40 years. It brings emergency, lifesaving medical treatment to seriously ill and injured people, with the steadfast purpose to save lives and support Australian Queenslanders during their time of need.

About Pratt & Whitney: Pratt & Whitney, a unit of Raytheon Technologies (NYSE:RTX), is a world leader in the design, manufacture and service of aircraft and helicopter engines, and auxiliary power units. Raytheon Technologies Corporation is an aerospace and defense company that provides advanced systems and services for commercial, military and government customers worldwide.

Pratt & Whitney has been a pioneer of predictive maintenance, which is made possible thanks to engine and aircraft performance data. Its Flight Data Acquisition Storage and Transmission System (FAST™) solution allows for real-time monitoring of aircraft performance trends, providing a complete picture, predictable maintenance and performance optimization.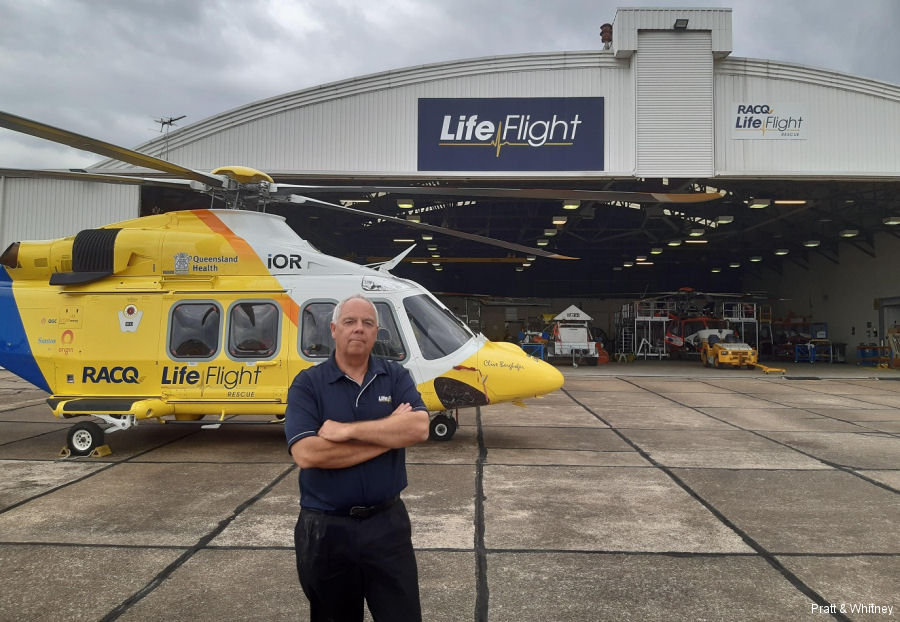 List of Air Medical Ambulance Services


LifeFlight
Australia Air Ambulances
AW139 in

Australia Air Ambulances
Busiest Year for Australian RACQ LifeFlight