10,000 Flight Hours for Australian EC135 Trainers


Royal Australian Navy 723 Squadron training helicopters achieved 10,000 flight hours since reception in 2015. The milestone was logged during firefighting missions for NSW Bushfires from RAAF Base Williamtown

Royal Australian Navy, December 02, 2019 - by LCDR Helen Ward - The Royal Australian Navy EC-135 helicopters of 723 Squadron recently logged 10,000 flying hours during normal operations in support of the New South Wales bushfires.

This significant milestone proved the aircraft's rotary wing aircrew's training capabilities and reliability in highly demanding operations.

The first EC-135 helicopters joined 723 Squadron in 2016 and have since completed more than 6700 flights while training the newly formed instructor workforce and delivering an initial rotary qualification to 34 pilots, 11 Aviation Warfare Officers and 33 Aircrew for the Navy and Army.

Commanding Officer 723 Squadron, Commander Bruce Willington was proud to see his aircrews and the fleet of 15 EC-135 helicopters reach the milestone in only three years.

"I would like to congratulate my skilled and committed aircrew, maintenance teams and support personnel who have all contributed to this milestone," Commander Willington said.

"The training opportunities we provide to our next generation of aircrew in the EC-135 is world class and is creating professional and resilient aircrew with the decision-making and teamwork skill to be effective in future land and maritime operations," he said.

The EC-135 helicopter is a commercial off-the-shelf training helicopter that offers a glass cockpit with high visibility, a multi-axis auto-pilot, plus other advanced technologies to help instructors perform training missions.

The EC-135 offers the performance and safety of a twin-engine helicopter that replaced both the Navy Squirrel and Army Kiowa single-engine helicopter types.

While two of the helicopters were supporting the New South Wales bushfire operations out of RAAF Base Williamtown (near Newcastle), the rest of the Squadron celebrated the 10,000-flying-hour milestone.

"While it would have been nice to have had everyone here to celebrate the milestone, we are an operational squadron and honoured to support our fellow Australians in their time of greatest need," Commander Willington said.

"I am extremely proud to see representatives of our Squadron making a contribution to this national operation and the opportunity for our recent graduates to demonstrate their skills while supporting the community," he said.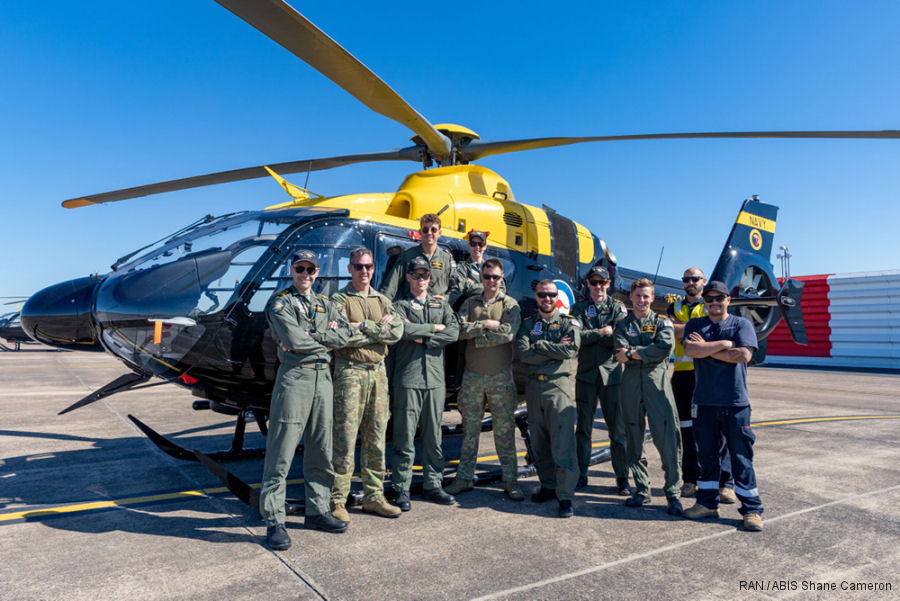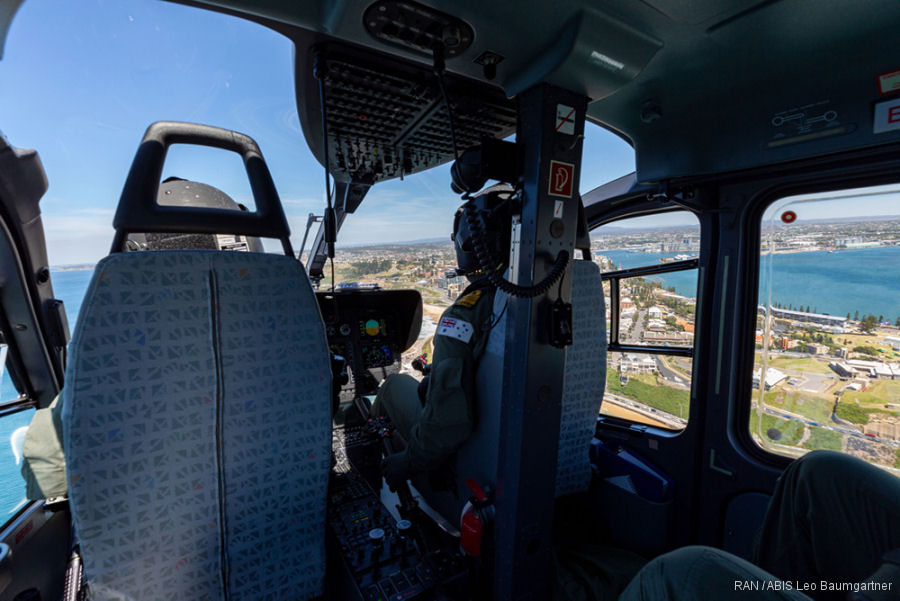 This article is listed in :
Airbus Helicopters EC135T2+ in

Fleet Air Arm (RAN)

723 Squadron

Fleet Air Arm (RAN)

Royal Australian Navy


JHS

Joint Helicopter School
Fleet Air Arm (RAN)
Royal Australian Navy
--Helicopters Firefighting

Williamtown