Austria S-70A Avionics Upgrade


Ace Aeronautics awarded us$ 40M contract to design, manufacture and install a new avionics system for the 9 Austrian Bundesheer S-70A-42 Black Hawk. Work will be done in Alabama and completed by 2020

Ace Aeronautics, June 09, 2017 - Huntsville, Ala. – Ace Aeronautics, LLC d/b/a Global Aviation Solutions (GAS) is pleased to announce the award of a direct commercial sale contract with the Republic of Austria Federal Ministry of Defense and Sport on 01 June 2017.

The contract is valued at over $40 million dollars and involves the design, manufacture, installation and test of a new avionics system for nine (9) Austrian S-70A-42 Black Hawk helicopters.

Work will be performed at the company headquarters in Huntsville, Alabama and at its new hangar facilities located in Guntersville, Alabama. All work on the contract will be completed by the third quarter of 2020.

"Global Aviation Solutions is pleased to provide the Austrian Armed Forces with our GARMIN® G5000Hbased avionics upgrade kit called the ACEHAWK. The ACEHAWK kit offers the proven civil pedigree of the GARMIN® G5000H Integrated Flight Deck and the tactical military grade agility of the Avalex Technologies Cockpit Management Unit (CMU) and Digital Mapping System. The ACEHAWK is the only day/night VFR/IFR, NextGen/Single European Sky compliant solution available on the market today for UH-60A/Ls and S-70s." said Global Aviation Solutions President and CEO Darrell Kindley.

With four 12-inch, NVIS compatible, 4K UltraHD displays and two touchscreen controllers, the GARMIN® G5000H offers one of the most intuitive pilot-vehicle interfaces (PVI) available on the market.

The GARMIN® G5000H provides pilots the ability to more efficiently manage and control navigation and communication systems, traffic surveillance systems, augmented reality/street view, flight management systems, electronic entries, and remote audio/intercom systems. The systems features include:

- Revolutionary Integrated Flight Deck with DO-178B Compliant Software
- Panoramic View and Synthetic Vision Technology (SVT™)
- Day/Night VFR/IFR operation
- NextGen/Single European Sky Communication and Navigation. WAAS Enabled. CNS/ATM GATM. Advanced ADS-B Technology
- Fully Integrated Comprehensive Flight Management System (FMS)
- TCAS II Traffic System
- Advanced Digital Audio Processor
- Global Connectivity/Flight Data Services
- Weather Radar
- Seamless integration of 3rd-party radios, sensors and other mission equipment without impacting the G5000H core software

The ACEHAWK cockpit for the Austrian Armed Forces also includes the military qualified Avalex Technologies Cockpit Management Unit and Digital Mapping System offering seamless integration of tactical radios, tactical map, mission planning, survivability equipment, and the Thales day/night Scorpion® Helmet Mounted Display.

"We are happy to be selected by the Austrian Armed Forces to solve the avionic parts obsolescence problems with their Black Hawk helicopters." said Kindley. "This avionics modernization program will keep the Austrian Black Hawks supportable for another 20 years."

About Global Aviation Solutions: Global Aviation Solutions provides innovative and long-term avionic and airframe solutions to commercial and government aviation users worldwide. Global Aviation Solutions offers commercial and military off-the-shelf (COTS/MOTS) products for fixed and rotary wing aircraft that provide state-of-theart system solutions to resolve avionics obsolescence and capability gaps. Our commercially developed and qualified business model offers customers the best value, quickest to market and lowest risk approach to upgrading existing fleets or inducting new aircraft into operation.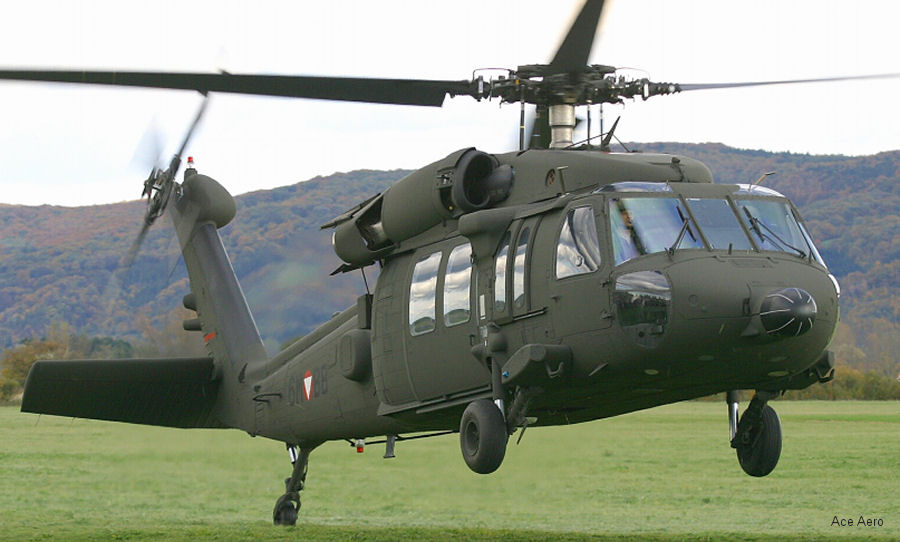 Aircraft mentioned in this article :
Sikorsky S-70A-42 Black Hawk N60RN ( State of Alabama )

This article is listed in :
Sikorsky S-70A-42 Black Hawk in

Österreichische Luftstreitkräfte
--Helicopters Avionics

Ace Aeronautics

State of Alabama


What links here :
Avalex and Garmin Partners in Austria S-70 Upgrade
Austria Ordered Three "Acehawk" Black Hawks