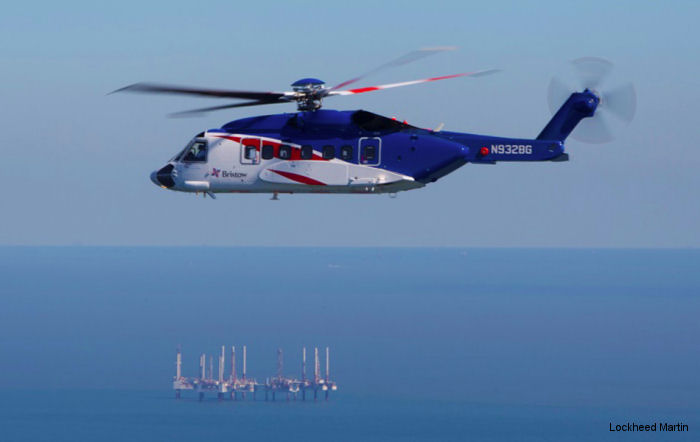 Lockheed Martin, July 12, 2016 - FARNBOROUGH - Sikorsky, A Lockheed Martin Company and Bristow Helicopters today signed a 10-year agreement providing Bristow's S-92 fleet with extended support for its aftermarket material needs.

Sikorsky's Total Assurance Program provides Bristow continued aftermarket support to operate its S-92 fleet within a known budget, reducing the risk of unplanned costs.

The contract was signed in a ceremony at the 2016 Farnborough Air Show by Sikorsky Vice President, Strategy & Business Development Nathalie Previte and Bristow Vice President Operations Transformation & Chief Technical Officer John Cloggie.

"This agreement with Sikorsky keeps our customers flying and helps us all more effectively manage costs during this prolonged market downturn," said Cloggie. "As a demonstration of our longstanding relationship and our trust in Sikorsky's products, we have committed to a 10-year term, which underpins the importance of the S-92 in our fleet."

"Bristow has been a loyal operator of the S-92 helicopter, and we are proud to meet their aftermarket material needs to keep their customers flying," said Previte. "This agreement represents our continued commitment to Bristow."

Sikorsky and Bristow have done business together for more than 40 years. The Bristow fleet currently features more than 160 Sikorsky aircraft, including more than 75 S-92 helicopters which are operated in Europe Caspian, Africa, Asia Pacific and the Americas. Bristow Helicopters Ltd. currently operates 14 S-92 helicopters on behalf of the UK Maritime and Coastguard Agency for the critical mission of search and rescue.

Certified to meet the most stringent safety requirements around the world, the S-92 helicopter is one of the most successful helicopters in operation.

Sikorsky, a world leader in helicopter design, manufacture and service, has delivered more than 275 S-92 helicopters world-wide. The global fleet recently surpassed one million flight hours. S-92 helicopters perform a variety of missions including offshore oil gas personnel transport, search and rescue, and a variety of other transportation missions for head of state, utility and airline passengers.

About Lockheed Martin: Headquartered in Bethesda, Maryland, Lockheed Martin (NYSE:LMT) is a global security and aerospace company that employs approximately 125,000 people worldwide and is principally engaged in the research, design, development, manufacture, integration and sustainment of advanced technology systems, products and services.

About Bristow Helicopters: Bristow Helicopters Limited is an affiliate of Bristow Group, the leading provider of industrial aviation services offering exceptional transportation, search and rescue (SAR) and aircraft support services, including helicopter maintenance and training, to government and civil organizations worldwide. With headquarters in Houston, Texas, Bristow has major operations in the North Sea, Nigeria, the U.S. Gulf of Mexico, and in most of the other major offshore oil and gas producing regions of the world, including Australia, Brazil, Canada, Russia and Trinidad. Bristow provides SAR services to the private sector in Australia, Canada, Guyana, Norway, Russia and Trinidad, and to the public sector for all of the UK on behalf of the Maritime and Coastguard Agency.
S-92 in

Bristow US
S-92 in

Bristow
S-92 in

Bristow Australia
S-92 in

Bristow Norway AS
S-92 in

Bristow Caribbean
S-92 in

HM Coastguard