Firefighting System for Santa Barbara County Black Hawk


United Rotorcraft (Air Methods), delivered an aerial fire system for the Santa Barbara County Fire Department HH-60L Black Hawk helicopter

Air Methods, March 23, 2022 - United Rotorcraft, a division of Air Methods Corporation, announced the delivery of a HH-60 aerial fire system to Santa Barbara County Fire Department's Air Support Unit.

United Rotorcraft configured the aircraft with their FIRESYSTEM, including a 1,000-gallon water tank attached to the belly of the aircraft, extended landing gear to accommodate the tank, and a retractable snorkel than can refill the tank in 90 seconds. This equipment is designed to extinguish fires rapidly at their inception.

Santa Barbara County Fire Department's Air Support Unit currently operates an assortment of Bell OH-58 Kiowas and Bell UH-1 Hueys to support the growing demand of Aerial Firefighting and Search and Rescue operations in their region.

The addition of this HH-60 fire support helicopter will not only significantly increase the unit's but will also provide a higher level of safety for the operators and occupants.

Santa Barbara County Fire Department's Division Chief, Anthony Stornetta, said, "With the addition of this state-of-the-art aircraft, we now have longer fuel cycles, shorter turn-around times, less time in the dip (filling the water tank), more water on the fires, and longer commitment to the command and control over the incident. Having the 1,000-gallon water capacity tank with the Blackhawk helicopter compared to the 260 gallons on the Huey aircraft, will provide the county better capability to extinguish fires. The modified HH-60 helicopter will also provide for safer trips to the islands for rescues and medical transport, while flying over the ocean. We would like to say thank you to the skilled workforce at United Rotorcraft, which was able to troubleshoot and correct deficiencies in the aircraft, all while providing seamless communication and a passion for detailed-oriented success."

United Rotorcraft has transformed the legacy HH-60 aircraft by converting the twin-engine aircraft to a best in class aerial firefighting configuration by installing a Macro Blue avionics system to give pilots control over the FIRESYSTEM.

The aircraft retains its multi-mission capability, allowing aircrew to perform search and rescue missions, medical evacuation, and carry cargo either internally or as an external load, while becoming an amazing firefighting asset. These upgrades will significantly reduce pilot workload and increase mission effectiveness, while operating in a high-stakes environment.

"We thank the Santa Barbara County Fire Department's Air Unit for its trust in United Rotorcraft to bring a life-saving, mission-critical asset to the Santa Barbara County Fire Department's team." said United Rotorcraft's President, Larry Alexandre.

"We are proud to provide them with a tool that will significantly increase their mission capabilities. Santa Barbara County firefighters and the citizens they protect now have a powerful and proven helicopter that can attack fires at night, maneuver with agility in every condition imaginable, and save their livelihood on a greater scale than ever before."

About United Rotorcraft: United Rotorcraft, a division of Air Methods Corporation, specializes in the design, manufacture and installation of ground and aerial mission critical equipment for front line workers, from firefighting and law enforcement to HEMS and Medevac.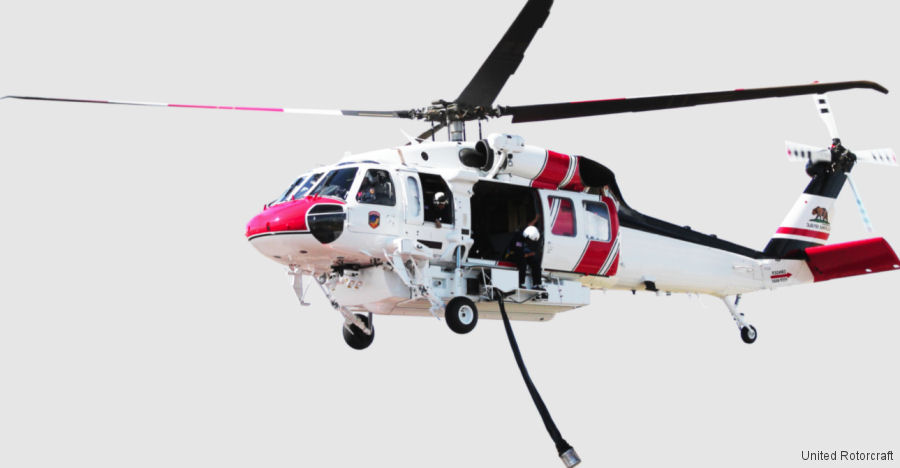 United Rotorcrafy firefighting equipment for S-70 / H-60 Black Hawk helicopter

Aircraft mentioned in this article :
Sikorsky UH-60L Black Hawk N964SB ( State of California )

This article is listed in :
SBCFD

Santa Barbara County Fire Department
State of California

United Rotorcraft
Air Methods
Sikorsky S-70 Firehawk
--Helicopters Firefighting