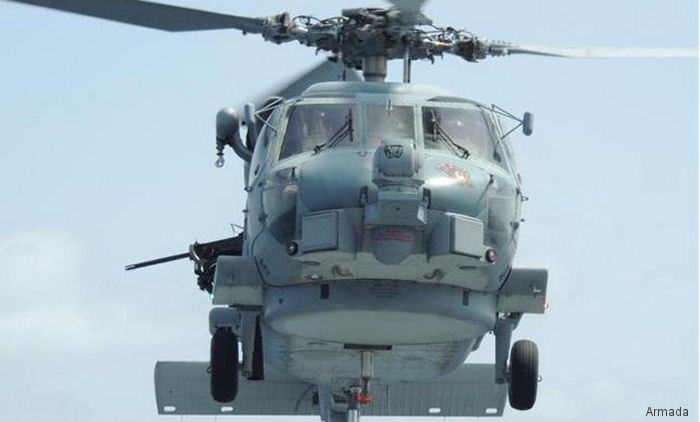 Sikorsky, October 26, 2000 - STRATFORD, Conn. - Spain is buying six new Sikorsky SH-60B Seahawk helicopters in a contract that also includes upgrades to the six SH-60B aircraft already serving the Spanish Navy.

The Foreign Military Sale (FMS) was announced by the U.S. Defense Department. Under the FMS, the U.S. Navy will buy the aircraft for the Spanish Navy.

The $77.4 million firm-fixed-price contract is for the production of six SH-60B Block I airframes, six Block I upgrade kits, six armed helicopter kits and two spare left-hand extended pylon wings.

Under the contract, Sikorsky will install one Block I kit and one armed helicopter kit and assist with the installation of a second Block I kit and armed helicopter kit.

Work will be performed in Stratford, Conn. (80%) and Rota, Spain (20%) and is expected to be completed by March 2004.

"We are proud that Spain is ordering more Seahawk helicopters and pleased that we can play a role in upgrading the current fleet," said Sikorsky President Dean C. Borgman.

The Seahawk is designed to perform Anti-Submarine Warfare (ASW) and Anti-Surface Unit Warfare (ASuW) missions with its integrated suite of dipping sonar, search radar, electronic support measures and anti-ship missiles.

Sikorsky's technical expertise enables international customers to modify the S-70 Seahawk to their maritime helicopter requirements.

Thailand, Spain, Australia, Japan, and Taiwan all fly custom-equipped Seahawks, while deliveries to Turkey will begin in 2003.

About Sikorsky: Sikorsky Aircraft Corporation, based in Stratford, Conn., is a subsidiary of United Technologies Corp. and a world leader in helicopter design and manufacturing. United Technologies Corp., based in Hartford, Conn., provides a broad range of high technology products and support services to the building systems and aerospace industries.
SH-60B/F in

Arma Aerea de la Armada Española