H125 in the Wake of Storm Alex


Last October, Storm Alex hit Nice, France countryside. More than 30 public and private helicopters came to the rescue. Between them were the H125 from Helicoptères de France (HDF) and RTE

Airbus Helicopters, February 18, 2021 - In the aftermath of Storm Alex – which hit the Nice, France countryside last October, destroying almost everything in its path – more than 30 helicopters provided vital support that included supply runs, evacuation of the injured, search operations for missing persons and more.

Storm Alex's impact was massive, devastating homes and cemeteries, with torrential rains that destroyed several bridges and more than 50 km of roads. The towns and villages of the Tinée, Vésubie and Roya valleys were cut off from the world, sometimes left without running water or electricity.

When the first alerts began to reach the base of Helicoptères de France (HDF) in Carros, Florence Mayere, a flight assistant and sales executive for the company, thought that the floods would be like many others that had affected the valley in the past. "Nobody had predicted the scale of Alex," Mayere said. At this HDF base, where an Airbus-built H125 is usually flown for aerial work, the fleet was quickly increased to four aircraft that operated at full capacity.


A highway in the sky

Other rotorcraft immediately joined them. In the first few days, more than 30 helicopters were operating in the valleys. With the support of the French armed forces, the region's prefecture immediately established an extremely effective organisation: all take-off clearances required approval, and permanent radio contact was introduced to give priority to the most urgent missions.

"We managed material damage: roads, electricity and water. It was a great example of collaboration," Mayere explained. "With so many helicopters in the sky and a unique configuration with many electric power lines, we needed really effective rules. It was like a highway: permanent radio contact, ascending and descending on the left…," Mayere remembers.

15,000 households without power

Power cuts deprived many households of heating and hot water, creating a dangerous situation as overnight temperatures already had fallen to zero degrees. With several roads closed or blocked, electrical provider Enedis relied on STH – the helicopter operations services division of the French electricity carrier network (RTE) – to transport emergency teams and heavy equipment to villages without electricity.

For Philippe Anfosso and his team at RTE, responsible for the maintenance and upkeep of power lines in the Var and Alpes-Maritimes regions, there was nothing ordinary about this mission. "I've been flying over these valleys for more than 30 years as part of my job, and I live in the countryside. Emotionally, it felt like an apocalypse, as we know people who live in the valley. I even have colleagues who lost their homes," he added.

The most urgent need was to assess the extent of the damage, deal with alarms from transformers in the Roya valley and monitor the electrical network connected to hydroelectric plants that had been buried.


An "impossible mission" if not for helicopters

"No high-voltage network had been impacted, because all lines are installed up high in our valleys," Anfosso said. "As a result, we were able to focus on electrical substations to find out if it was possible to keep the lines going."

For the surveillance of electrical cables, teams used the H125. "We inspected close to 350 km of cables, most of which are inaccessible on foot. It's basically an impossible mission without a helicopter. On foot, it would have involved a distance of around 1,200 km., and we'd still be inspecting these lines many months later."

RTE set about helping Enedis by transporting generators and other essential equipment for repairs. A week later, 97% of the people affected by the storm once again had electricity in their homes. For several weeks, RTE continued these helicopter missions to monitor high-voltage installations.

The only connection with the outside world

Roads and railways were cut off, isolating thousands of inhabitants who were unaware of what was happening in the neighbouring valley. "When we flew over the valley for the first time the Saturday after the storms, it looked like a war zone. It was as if the road had been bombed; in some places there was no road left," explained Antoine Albin, a coordinator at NGE Foundations for the French SNCF railway system. "It's scary when you know the valley and what it used to look like."

Albin and his team currently are securing the Conti-Vintimille line. In inaccessible areas where machines and equipment are delivered by HDF helicopters, they are working non-stop to restore rail traffic as quickly as possible. "Here, rail access hasn't been as badly hit as road access, so it's important to sustain it to open up the villages above the valley as soon as possible," he states.

"In this emergency situation, the helicopter is an essential tool, to ensure the safety of personnel when moving loads, and because of its flexibility, which allows us to go wherever we need quickly. There is a price, of course, but all things considered, the helicopter offers maximum guarantees for safety and technical performance."

Tende Hospital, which was forced to accept some patients from Saint-Lazare Hospital when it was rendered unusable after Alex hit, also was isolated.

"Medicine, oxygen, gas, heating fuel, food…everything had to be brought in by air," explained Xavier Coye de Brunelis, pilot and coordinator, who was responsible for regulating helicopter resources for the CHU (University Hospital Centre) in Tende. "Under ordinary circumstances, the H125 can carry 15 tonnes of freight in less than one week, including a tonne of oxygen, 12,000 litres of fuel, medicine, masks, food, etc. We operate around 20 rotations per week that enable the hospital to continue treating its patients."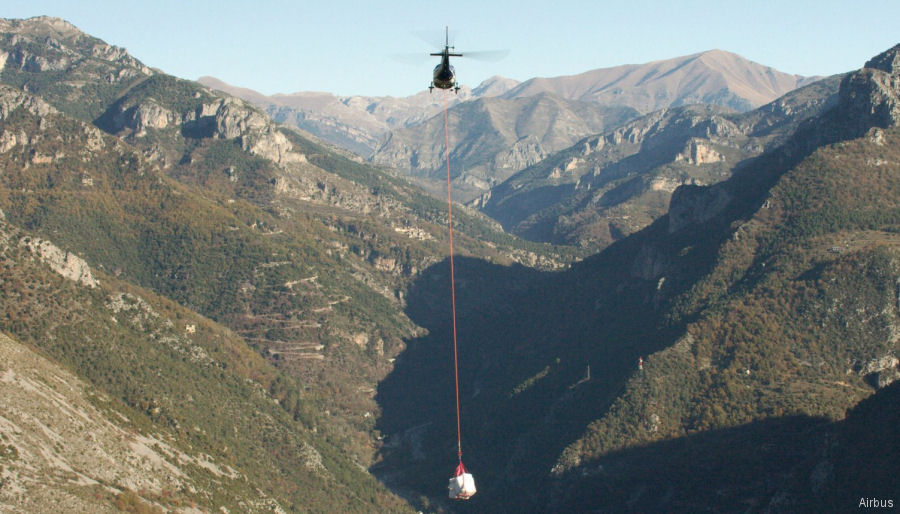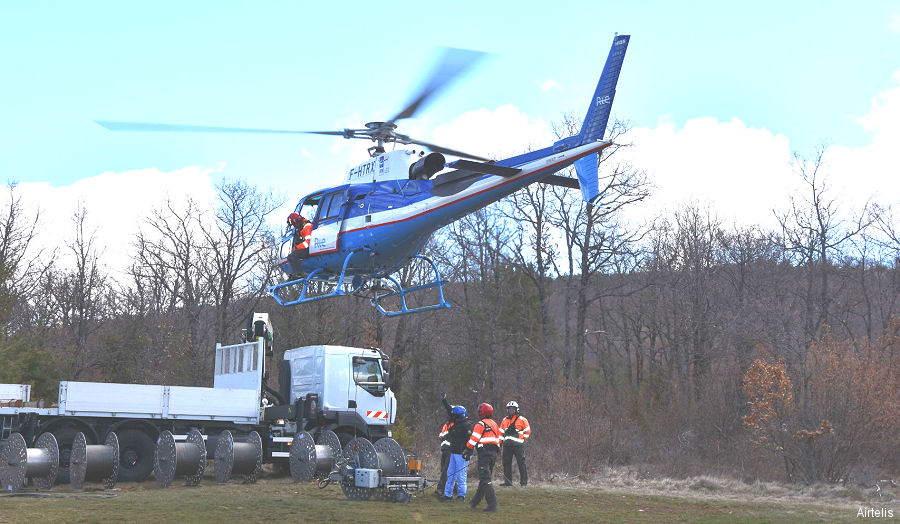 RTE Airtelis normally uses the AS350/H125 for construction and maintaining high-voltage power network

This article is listed in :


Helicoptères de France
Airbus Helicopters H125 in

Airtelis
See also
Storm ALEX Hit Southeastern France