First Anniversary of the Teide Cable Car Rescue


On March 2017, a HASA W-3 Sokol helicopter rescued 42 people trapped in the Teide cable car at Tenerife, Canary Island

FAASA, April 05, 2018 - March 16 was just one year since the helicopters from Hispánica de Aviación (HASA) under contract by the Emergency and Rescue Group of the Canary Islands Government rescued 42 people trapped in the Teide cable car at Tenerife due to a breakdown in the security systems of one of the cabins.

The rescue, performed by a Sokol helicopter model, was accomplished in groups of three to four people at a time without having any incident.

The PZL Sokol W-3A/AS is a twin-engine helicopter of Polish origin of medium size capable for any type of service. Is equipped with an ice-protection system in the main rotor of four blades and the one in the tail with three blades.

HASA has approval to transport up to fourteen passengers (including crew) or cargo during day (VFR) and night (IFR) with this model.

Hispánica de Aviación has a modern fleet of helicopters, which three of them were recently acquired (less than two years old), for aerial jobs related to civil protection such as mountain and sea rescue, observation, patrol and general emergency support with maximum security and reliability.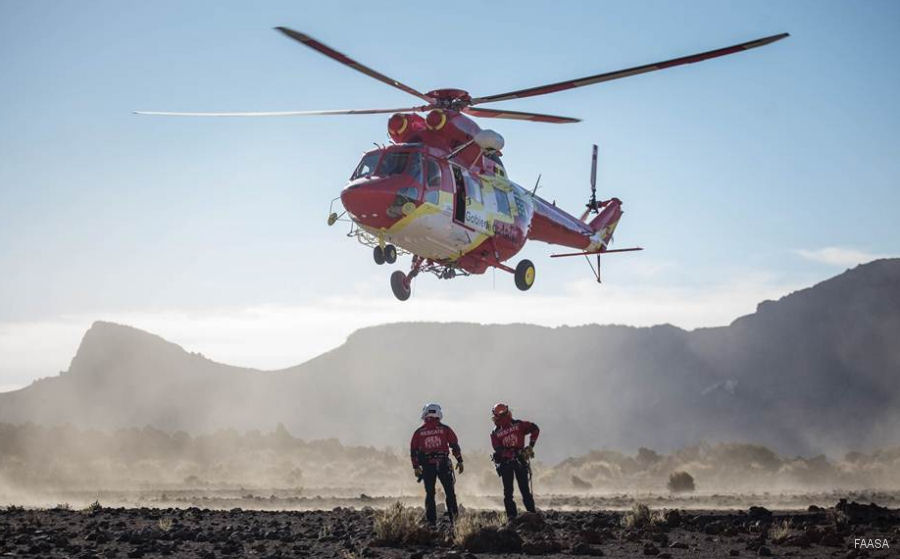 This article is listed in :
PZL W-3 Sokol in

Hispánica de Aviación SA

Gobierno de Canarias
Administraciones Locales
Local Government