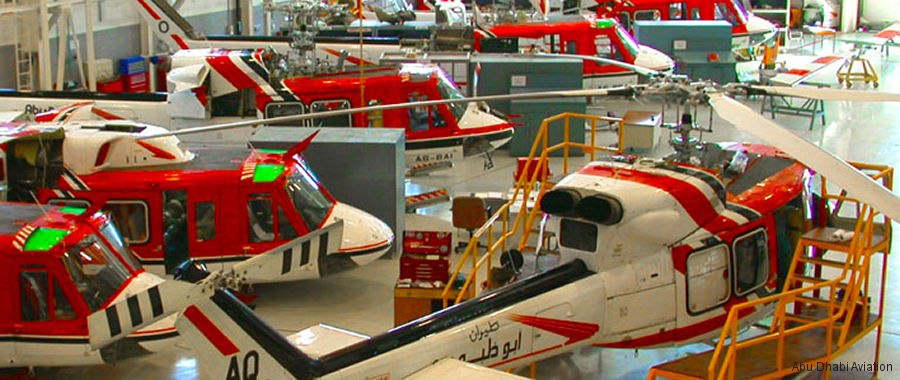 Bell Helicopter, November 13, 2017
- Dubai – Bell Helicopter, a Textron Inc. company, has appointed Abu Dhabi Aviation as an authorized Bell Helicopter Customer Service Facility (CSF) for Bell 412s and Bell 212s to support continued customer growth in the Middle East.
"The Middle East is an extremely important market for Bell Helicopter. As our operator network grows it is important we provide our customers with smart and simple service solutions to accommodate the expanding region," said Glenn Isbell, executive vice president, Customer Support and Services. "Bell Helicopter and Abu Dhabi Aviation share a rich history of 40 years accumulating more than one million flight hours on their Bell helicopter fleet."
"This authorization is considered as an international certification of the efficiency of Abu Dhabi Aviation's maintenance services that meet the highest standards," said Nader Ahmed Al Hammadi, chairman, Abu Dhabi Aviation. "Through quality customer and maintenance services we have been able to achieve 100 percent operational readiness on our Bell fleet."
Abu Dhabi Aviation is the largest commercial helicopter operator in the Middle East, with 61 helicopters and four fixed wing aircraft. The company has 1,250 employees and provides aviation offshore oil support and other services worldwide, in particular to oil and gas production companies in the Emirate of Abu Dhabi. The company also provides VVIP passenger transportation services, search & rescue for the United Arab Emirates, crop spraying, aerial construction, seismic support, firefighting in Europe and third-party maintenance support.
Quality and Safety

Khalid Mashhour, commercial director, Abu Dhabi Aviation said, "Quality and safety are key elements in all the company's decision-making and operating processes. Abu Dhabi Aviation holds the Platinum Award for Safety from the prestigious Helicopter Association International since 2006, and is Part 145 approved by the European Aviation Safety Agency and the U.S. Federal Aviation Administration; it's also ISO 9001:2000 certified by the International Standards Organization. The company also secures maintenance authority from several regional regulatory agencies as needed, in addition to the important maintenance work carried out by the company."

Bell Helicopter provides its customers with local support in every corner of the world and has the largest support network in the industry with over 100 Authorized Customer Service Facilities in 34 countries. Ranked number one in customer support for 23 consecutive years by Professional Pilot magazine, Bell Helicopter is committed to having resources where customers operate to speed up delivery of service and support.
412 in

Abu Dhabi Aviation
212 in

Abu Dhabi Aviation