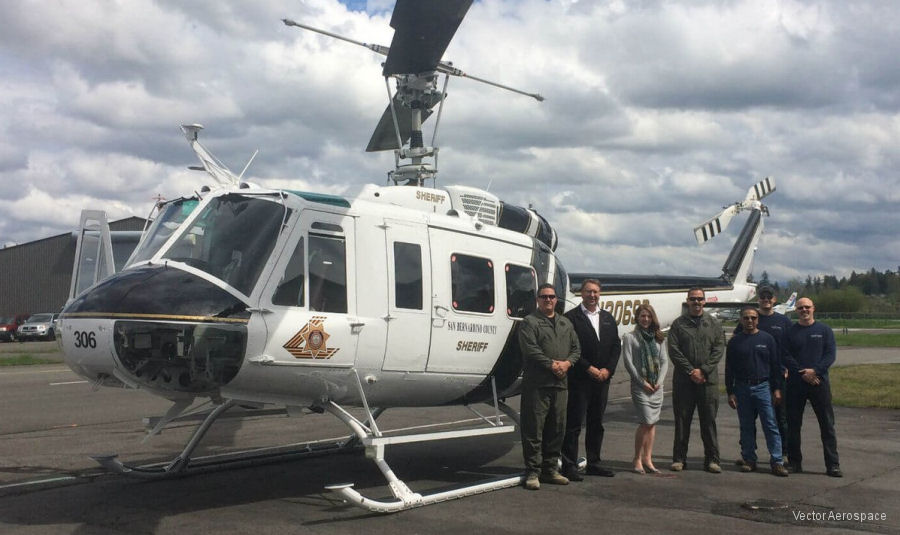 Vector Aerospace, April 26, 2017 - Langley, BC – Vector Aerospace, a global independent provider of aviation maintenance, repair and overhaul (MRO) services, continues to support the needs of Bell Huey helicopter operators worldwide with its UH-1H3 ("Hot, High, Heavy") upgrade & modernization program.

Developed as a cost-effective means of enhancing the performance of the enduring UH-1H platform, 1,500 of which remain in service worldwide, the UH-1H3 'Hot, High, Heavy' upgrade offers operators a portfolio of technical solutions with which to customize the Huey to their specific requirements. These include:

- High performance tailboom, with upgraded upper longerons, improved skins, BLR FastFin® and dual strake system
- Upgraded main rotor transmission, hub, swashplate assembly, stabilizer and blades
- Upgraded main and tail rotor drive shaft and couplings
- Upgraded tail rotor, tail rotor gearbox and push-pull tube control system
- Airframe upgrade, including lift beam, main beam and cross tube tunnel
- Honeywell T53-L-703 engine

Vector also offers a range of electrical and avionics upgrades to complement the UH-1H3 'Hot, High, Heavy' upgrade, including complete airframe rewire, instrument panel modifications and three- or four-screen glass cockpit avionics suites.

Customers for the UH-1H3 upgrade include the San Bernardino County Sheriff's Department (SBCSD), which operates the UH-1H in support of a wide range of missions across the San Bernardino Valley and San Bernardino Mountains, including search & rescue, fire suppression and homeland security.

Vector is proud to serve the SBCSD, and will be delivering an upgraded UH-1H3 – complete with Garmin GTN 650H GPS/nav/comms and GTX transponder, integrated to display TCAS, HTAWS and ADS-B – back to them this week to the support the Department's missions.

About San Bernardino County Sheriff's Department: San Bernardino County Sheriff's Department is a Southern California law enforcement agency. The aviation division of SBCSD provides general law enforcement support, narcotics surveillance, personnel/cargo transport, airborne photography, search and rescue/recovery, multi-agency pursuit coordination, wildland fire suppression and emergency medical services transport.

About Vector Aerospace : Vector Aerospace is a global provider of aviation maintenance, repair and overhaul (MRO) services. Through facilities in Canada, the United States, the United Kingdom, France, Australia, South Africa, Kenya and Singapore, Vector Aerospace provides services to commercial and military customers for gas turbine engines, components and helicopter airframes. Vector's customer-focused team includes over 2,200 motivated employees.

Vector Aerospace holds approvals from some of the world's leading turbine engine, airframe and avionics OEMs. Powerplants supported include a wide range of turboshafts, turboprops and turbofans from General Electric, Honeywell, Pratt & Whitney Canada, Rolls-Royce and Safran. Vector Aerospace also provides support for a wide range of airframes from Airbus Helicopters, Bell, Boeing, Leonardo Helicopters and Sikorsky, its capabilities including major inspections and dynamic component overhaul, and offers full-service avionics capability, including aircraft rewiring, mission equipment installation and glass cockpit upgrades.

Bell UH-1H Iroquois
SBSD

San Bernardino County Sheriff Department
State of California

Vector Aerospace USA
Vector Aerospace UH-1H modified cockpit